Narratives of Loss and Hope
The Photographs of Marti Friedlander
LEONARD BELL
In Marti Friedlander's photograph, Mural (1986), kia ora, the Maori word of welcome and thanks, now a key term and concept in the New Zealand vernacular, is a graffito, hastily written, 'broken' by a hyphen, likely to have a fugitive existence, on a foreground brick wall spanning the picture space; the wall a barrier, blocking off access to what is beyond, save a narrow strip of light sky. Her Menorah (1963) features a huge, seven-branched candelabrum, created for Israel's fifteenth Independence Day in Jerusalem that year-a candelabrum that harkens back to the menorah of Exodus, made by Bezalel for the Tabernacle in the wilderness, later to be placed in the Temple in Jerusalem, of which only the Western Wall, the Wailing Wall, remains. Friedlander's menorah is viewed from immediately below, at an angle, against the sky, so that it appears like a tilted scaffold, reaching up, in which strength and fragility, rootedness in the earth and a sense of instability coalesce. It is a stunning image and an apt metaphor, whether intended or not, for the situation of Israel and its peoples, both then and now. These two photographs are the first and last of a sequence of 147, unbroken by text, in the book, Marti Friedlander Photographs, that accompanied the eponymous exhibition at the Auckland Art Gallery.
MARTI FRIEDLANDER Ruapekapeka 1970 Black and white photograph
There have only been two previous one-person exhibitions of Marti Friedlander's photographs in New Zealand-at the Wynyard Tavern, Symonds Street, Auckland in 1966, and at the Waikato Art Museum in 1975. Her work, though, as it has been published in books, magazines, newspapers and exhibition catalogues, has been well-known and widely seen since the mid 1960s. Nevertheless, the Auckland Art Gallery show, curated by Ron Brownson, with 150 photographs from 1957 to 1986, provided the opportunity to see the photographs as they have never been seen before-the first survey of her work and career, with unique, large new prints toned with gold, of superb quality, made expressly for the exhibition by Mark Adams and Haru Sameshima. This was a classic retrospective: one that clearly established the diversity, complexity, high quality and compelling presence of an artist's works, individually and collectively; and asserted that the artist is one of the best practitioners in this country in her medium and genre.
The exhibition was spread over seven gallery spaces; the photographs placed within seven inter-related themes and sections, each with introductory or explanatory wall texts: 'New Zealand and New Zealanders', 'Wine', 'Israel', 'Kuia moko kauwae', 'Protest', 'Artists', and 'Pacific'. Three vitrines in the larger spaces displayed books which feature her photographs (e.g. Moko: The Art of Maori Tattooing (text by Michael King, 1972), Larks in a Paradise (text by James McNeish, 1974), Contemporary New Zealand Painters: Volume One A-M (text by Jim and Mary Barr, 1980), Judith Huntsman and Anthony Hooper's Tokelau: A Historical Ethnography (1996), covers and pages from magazines (e.g. Wine Review, New Zealand Listener, British Journal of Photography) and exhibition catalogues and pamphlets, and, in one instance, an interview, 'Marti's People', from the periodical, Zoom (1978). In a small, otherwise empty corner gallery space one could listen to the disembodied voices of Friedlander and Brian Edwards, from a radio interview in 1996; the recorder itself perched a little incongruously above the entrance.
MARTI FRIEDLANDER Eglinton Valley 1970 Black-and-white photograph
Two videos featuring Marti Friedlander talking (recently) about her work and experiences as a photographer and immigrant to New Zealand brought her personal, emotional and intellectual presence very strongly into the exhibition itself. Her fluency together with her narrative ease and skills in these videos wonderfully enhanced the living, dialogic qualities of her work, since these photographs, both of people and places, are fundamentally images of meetings, encounters, relationships and 'conversations', among and between people, including, crucially, the photographer herself. However understated, they can be seen to be about the nature of peoples' being in various places, with their attendant ambivalences, tensions, certainties and uncertainties.
MARTI FRIEDLANDER Model Couple 1972 Black-and-white photograph
The advertisement for the exhibition in the New Zealand Herald proclaimed 'See what we look like through the lens of one of New Zealand's most renowned camera artists'. That points to what has been a common tendency: to regard Marti Friedlander's projects, whether photographs of elderly Maori women with moko, people in New Zealand's suburbs, farms and vineyards, artists and writers, or those taking to the streets to voice their concerns and passions, primarily or simply as exercises in social documentation; as first and foremost records, albeit 'empathetic',(1) of what was there to be seen. She has been described as 'one of our most accomplished . . . chroniclers of the New Zealand condition',(2) and as a photographer whose "style" has always been focused on revealing the human situation of a photograph's content'.(3) That is, the emphasis has usually been on what her photographs denoted. While the photographs in the exhibition are invariably invaluable social documents which both record and bring into visibility aspects of individuals and groups of people in particular social situations at particular times, that constitutes just one dimension of Marti Friedlander's work. For me her works have other substantial qualities too-in terms of connotation and metaphor, and in terms of the complexities of relationships between photographers and their subjects.
MARTI FRIEDLANDER Jerusalem 1963 Black-and-white photograph
Her various photographic projects can be seen as exploratory journeys (looking for ways round), in which many of the resulting images are not necessarily clearcut and straightforward in meaning, but characterised rather by ambiguities and a richness of suggestion-a searching suggestiveness that can hold within it differing, even conflicting registers or possibilities of meaning. Friedlander's eye is a thinking eye-subtle, nuanced and quietly complicating, not hectoring, lapel-grabbing or histrionic. There are no bold claims to know or reveal the 'truth'. For all their apparent literal realism, her photographs, especially from New Zealand and Israel, imply the problematics of identity and peoples' relationships to the places they inhabit. That is, rather than just showing 'us' 'what we look like', these are photographs that ask us questions-not necessarily easy ones to answer.
Consider, for instance, Eglinton Valley (1970), a photograph of an encounter on a misty rural road with a flock of sheep, many of which look back at us. This photograph is also on the cover of the accompanying book and, blown up huge, in the display window of the Auckland Art Gallery with the caption, 'What are you looking at?'. On one hand it references a cliché of New Zealand as a land of sheep (with all the connotations that can have); on the other hand it subverts and transforms that cliché, with those sheep, warily emerging from the mist, coming into sight, sentient beings, whose presentness seems to question 'us', about, perhaps, the very nature and purpose of our being here or there. Ruapekapeka (1970) is more loaded in that respect: a foreground cow, marking the pastoralisation of New Zealand, face to face with 'us', and a cannon, a relic of the 1846 battle between British forces and Ngapuhi for control of the region, against an idyllic, rural landscape, under a meteorologically charged, lowering sky.
MARTI FRIEDLANDER Tiraha Cooper and her great-granddaughter, Waikato 1970 Black-and-white photograph
Friedlander's photographs of elderly Maori women with moko are renowned. Immediately, these photographs capture both a sense of the strength, resilience, and 'certainty of identity'(4) of the women and a sense of loss and that these were the last days of an era. Insofar as the latter is the case they can be difficult for some people to look at in a public exhibition. Yet the photographs also suggest the continuity and inseparability of past and present; that an affirmative future lies in that past. Thus, for instance, Tiraha Cooper and her great-granddaughter, Waikato (1970)-a photograph made 'off the record', not strictly part of the assignment to document women with moko-has the child, looking cautiously back at the photographer and viewer, and the old woman, lit from an unseen window, effectively as one body. The child's head is framed by the white of the clothes of the kuia, whose own head is framed by the darkness of the interior.
Friedlander's photographs can be tough and unflinching, attuned to the paradoxical. Jerusalem (1963) features three young Israeli women-girls, really-in military service; a firearm dangling from the hand of one of them. Deceptively casual and set on typically dry, stony ground, it heartachingly suggests a whole history-in its admixture of tenderness, hardness, intimations of conflict. Modern Israel, it could suggest, a place of homecoming for many, was never going to be a rose garden. And for a different take on the prospect of 'home', her New Zealand Model Couple (1972) has a handsome young man and woman, whose looks are elsewhere, on a steep slope below a half-built house-the promise of suburbia double-edged. One could read this story-for the figures, house and their interrelationships imply a narrative-in various quite different ways.
MARTI FRIEDLANDER Rita Angus 1969 Black-and-white photograph
Likewise, Friedlander's United Women's Convention (1979) is an ambiguous dramatic tableau, which brings together a standing, elderly nun reading aloud, a young, cocky-looking woman emblazoned with badges (e.g. 'Killer Dyke', 'Lesbian Nation'), and another seated young woman, marginalized, head framed by her hands, casting an impenetrable gaze back at 'us'.
The dualities or pluralities of suggestion that Friedlander's photographs can 'embody' are, perhaps, most clearly exemplified in her series of pictures of artists (mainly), writers, art dealers and critics. Friedlander has always been an ardent advocate for such people in a cultural climate that could be philistine and antagonistic to the arts and her photographs more than hint at that climate. Many of her subjects look both wary and weary. Often their arms are folded guardedly. Some of them-Louise Henderson (1972), James K. Baxter (1966), for instance-are haunted-looking, almost lost in shadow. Others, though, come across as bearers of light, but not in a simplistic or obvious way-a puckish Peter McLeavey (1981), smiling, with a touch of melancholy, Gordon Walters (1978), with an introspective, 'far away' look, against one of his multivalent 'koru' paintings, or Rita Angus (1969), positioned statuesquely, her head in light, smiling face and eyes, against dark surrounds, in fact at this time seriously ill, yet 'standing for', if you like, forces and values beyond her own predicament.
This portrait of Angus could be seen too as paradigmatic of the relationships of Marti Friedlander and her subjects. There is no pretense to objectivity about her photographs. Indeed, Friedlander herself, if not literally in her pictures (except for the self-portraits), can be as much part of the occasion or experience photographed as the ostensible subjects or primary protagonists in the image. And within this dynamic Friedlander's questioning of the nature of the relationship between photographer and her or his subjects can be implicit, or so it seems to me. It has been frequently argued or asserted, for instance, that photography as a medium is by its very nature appropriative; that it inevitably involves the photographer taking something from the subjects, to the extent even of objectifying and 'possessing' them. Indeed, there has been a lot of photography which has so operated.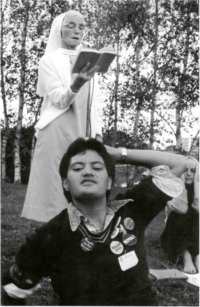 MARTI FRIEDLANDER United Women's Convention 1979 Black-and-white photograph
However, photography has not necessarily functioned in that way. Relationships between photographer and subject can be sustained by very different manners of working. In this respect Marti Friedlander's work is exemplary. Her photographs elicit a sense of the fundamental individual personhood of her subjects, whether they are identified by name or unidentified, single or in crowds. Her unnamed subjects have as much singularity, individual presence, and status as her known and named subjects. They are not anonymous, dependant, or lost, 'faceless' in a crowd. Indeed, a sense of a rich diversity of human faces in all their irreducible individuality is an abiding characteristic of Friedlander's exhibition and work overall. Crucial to these encounters with faces is the photographer's role as witness, not master or mistress; encounters in which her own place and identity are explored and questioned as much as those of her subjects. Fundamental to her photographs is that turning to others which involves an openness to their singularity and difference. This quality, interestingly and perhaps quite coincidentally, brings to mind the ideas of the French (by way of Lithuania) Jewish philosopher, Emmanuel Levinas, for whom the face-to-face encounter necessarily involved, or should involve, an ethical relationship, and who defined subjectivity itself primarily in terms of vulnerability.(5)
Marti Friedlander came to New Zealand in 1958 as an immigrant. Her photographs in this exhibition map journeys, tell stories of querying, questing, looking for, maybe negotiating, places to stand or rest. On the evidence of the photographs the people she encountered in various places-in Israel and Pacific Islands, as well as New Zealand-and what she found in them, were complex, full of contradictory qualities, not reducible to single or pat labels, categories, or prescriptions. In that respect the exhibition is both a timely one in this country and long overdue.
1. Ron Brownson, 'Marti Friedlander Photographs', Gallery News, March-May 2001, p. 6. 2. Michele Hewitson, 'Portrait of Our Artist', New Zealand Herald, 5 March 2001. 3. Ron Brownson, 'Are You Looking For Us? We Are Here', Marti Friedlander Photographs, Godwit Press in association with Auckland Art Gallery Toi o Tamaki, Auckland 2001, p. 15. 4. As characterised by Marti Friedlander in the video presentation at the exhibition. 5. See, for instance, Susan Handelman, Fragments of Redemption: Jewish Thought and Literary Theory in Benjamin, Scholem and Levinas, Indiana University Press, Bloomington 1991.