Artists' Papers: Base Material for Art History
SHERRAH FRANCIS
A birthday bonfire, four moves in twenty years and a clear-out every time, a venture abroad and all one's papers carefully left with an accountant who (in spite of special instructions) destroys them after the statutory seven years - these, and many other hazards, make it difficult to find and preserve raw material for future historians.
The collecting of artists' papers has been a neglected field, particularly for contemporary artists. People have perhaps not been sufficiently aware of the possibility that the written word can throw light on the visual image.
The Alexander Turnbull library has been making a considerable effort, trying to gather brands before the burning, and has met with a fair degree of success. But it has become more and more obvious that it would be an enormous help if people could be persuaded of the importance of keeping papers.
Preliminary sketches by Rita Angus (1908-1970) for her painting
Dannevirke
(from the Turnbull Library's collection of artists' papers)
'Papers' - what are they? Letters, of course: and immediately one runs into difficulty because not many people these days keep letter-books with copies of their letters to other people. They have the 'inwards' but one has to look to friends and what one might call related institutions for the 'outwards'. All aspects of an artist's life can be relevant - the person produces the art. Letters may contain something as directly relevant as William Hodges' statement in 1793 that 'truth is the base of every work of mine' or Frances Hodgkins' comment, writing to her mother in 1918: 'what a depressing thought that in order to make sales one must "go back" to one's former style Wellington is not an artistic centre - Neither I, nor my work was ever popular there'. They may also give insights on personality: the caustic wit when Frances Hodgkins remarked of a young 'shy girl painter' - 'she may look like a poem but she paints like a pudding - the suet variety'.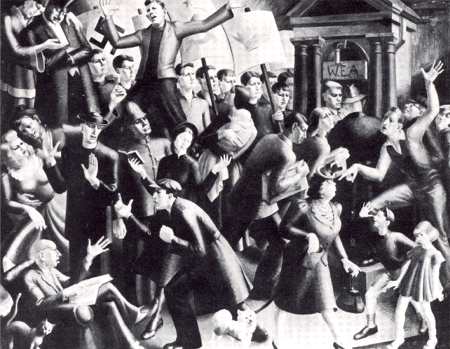 LOIS WHITE,
Controversy
1945, mural painted for a W.E.A. hall: a building that was destroyed by fire several years later (photograph from the Turnbull Library's collection of artists' papers)
Art class at Canterbury School of Art, 1910, photograph by Steffano Webb (from the Webb Collection of photographs)
Bread and butter facts are also important and details of an artist's life can disappear surprisingly quickly if they are not recorded. Such is our dearth of records that one needs to dig hard to discover even bare outlines of the yearly events in the lives of artists who flourished in the 'thirties and 'forties. Unfortunately the habit of keeping diaries had disappeared: though sometimes these have been kept for a trip and give first reactions to painting 'abroad', It isn't everyone who jots down illuminating remarks on the back of a pad: but Rita Angus kept some notes and we find 'painting is a job to me and it's hard work'. Gaps can be filled in by tapes. Oral history is of growing importance and recollections of one's past or of one's friends help both to provide facts and to fill out the bare outlines.
The works themselves are central but few artists are organised enough to keep lists of what they painted and what happened to it. If they don't, there may still be clues in accounts and receipts and references to exhibitions. Working drawings and colour notes are invaluable, both to show the development of an idea for a particular painting: like the preliminary sketches of Rita Angus illustrated here, which result in Dannevirke; or to show the particular way in which an artist worked. Photographs too can provide factual information about a person and about the paintings themselves.
Exhibition catalogues are central pegs: but although we have been collecting them for some time the coverage is not total and artists may have earlier ones in their papers. Not only papers of artists, of course, but of art societies, art galleries and the more recently established dealer galleries are and have been an essential part of the artistic development of their times. Their papers are a vital part of any attempt to establish an 'art archive'. The Turnbull library, for example, has already processed a large collection from the New Zealand Academy of Fine Arts, 1882-1970, and another collection from the Architectural Centre, Wellington, 1953-1962, which, after Helen Hitchings' Gallery, kept open the possibility of one-man shows in Wellington.
The really important thing is the recognition that papers should be kept and eventually placed where they will be accessible to the researcher.
Sherrah Francis, Art librarian in the Alexander Turnbull library, has been a research assistant at the London School of Economics and cataloguer in the National library between long periods of residence overseas. She has a special interest in collecting both colonial and contemporary New Zealand art.