Alexander Turnbull: Merchant and Collector
ANTHONY MURRAY-OLIVER
Alexander Horsburgh Turnbull, F.L.S., F.R.G.S. (1868-1918) might be considered the perfect exemplar of an atypical New Zealander. Born in Wellington of Scottish parents, at six this younger son was taken to England and there educated at a public school. In London he was a carefree young man-about-town, indulged by wealthy parents; on the fringe of the literary and artistic world, frequenting the Cafe Royal with his brother; fishing for salmon in Scotland, shooting game-birds on the moors; cruising the Mediterranean, where he ventured as far as Turkey one year, Algeria another. Returning to New Zealand, he might have passed as an authentic Englishman-exile, with his cigarettes suits and shirts hand-made in London.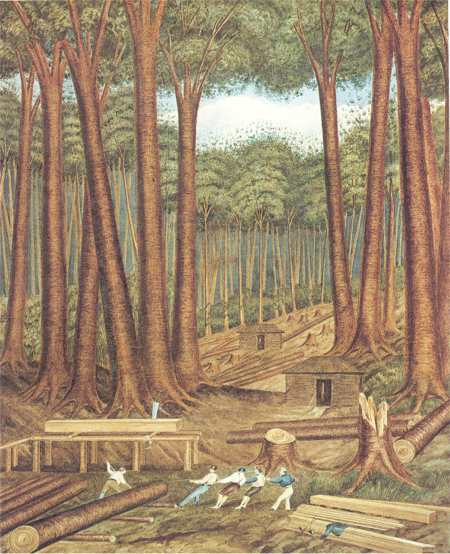 CHARLES HEAPHY (1820-1881)
Kauri Forest, Wairoa River,
Kaipara (Northland) 1839
watercolour, 470 x 375 mm.
Heaphy arrived in New Zealand in August 1839 with Colonel William Wakefield in the Tory, as artist and draughtsman to the New Zealand Company. At the end of that year they visited Hokianga and Kaipara. In the last sixty years the library has added seventeen more Heaphy watercolours, by gift and purchase, to the fifty works that Mr Turnbull bought in 1916. The first paintings bought by the library were three Heaphy watercolours of'Rangitoto Island, which cost £50 in 1922.
Yet how fortunate we are that young Mr Turnbull did not remain a New Zealand expatriate, joining the still-growing stream of individualists who seek to escape our insular parochialism. For Alexander Turnbull, even in his twenties, was blessed with a fortunate vision beyond his years; and beyond his time. Despite his English foibles he was truly concerned with this place. At a time when 'King Dick' Seddon dreamed of the Pacific as being a New Zealand sea, Turnbull, perhaps alone, foresaw the day still distant even now - when New Zealand could attain true nationhood: a South Pacific nation, yet deriving its heritage in large part from Western European culture.
Alexander's parents, Walter and Alexandrina, came to New Zealand in 1857. Walter was soon established as one of the merchant princes of Wellington. At the peak of its prosperity the family possessed a small shipping line of their own, tea plantations in Fiji (marketing their own 'Empire' brand here), a sheep station and a couple of farms. They scarcely needed a bequest from an uncle in 1886, when Walter shared a quarter of a million pounds with his two brothers.
(From left) Robert Turnbull, E.F. Hadfield
and Alexander Turnbull in the Billiard Room,
'Elibank', 1890's.
As a small boy Alexander lived at Elibank, reputedly 'the finest house in Wellington' when purchased in .'1869 for £1 ,500. Of two storeys and ten rooms with rather more than 'the usual offices' it stood on an historic three-quarters of an acre, to be enlarged by further purchases, on the corner of Wellington Terrace and Bowen Street. While the Turnbulls lived in London, from 1875 to 1892, Elibank was leased to the Government and for some years was the Premier's residence.
Alexander achieved no academic distinction in his four years at Dulwich College: but like a good New Zealander he attained the First Fifteen. Leaving school he made lengthy visits here in both 1885 and 1886. For a boy of seventeen it would have been a heady welcome to find his father's return greeted by ships in the harbour 'profusely decorated with flags in compliment to the return of a good citizen and a leading merchant.'
Back in London Alexander began work in the business: but this in no way curtailed his very active life in Society. And already, in 1887, aged nineteen he was setting the pattern for the development of a great library. When his parents left their two houses in London in 1892, coming home to Elibank with their furniture and their servants, among his concerns was the dispatch of his books by Bernard Quaritch, the great bookseller with whom he was already closely associated.
Alexander's mother died in 1896, Walter the following year. For various reasons his empire was to crumble slowly but inevitably about his son. It wasn't, however, that Alexander dissipated his fortune in collecting (although he spent freely building up what would have proved an extremely sound investment, the library today being worth a hundred times the firm's value at its height): his only personal extravagance was his favourite recreation, yachting.
Alexander Turnbull in 1891,
photography by Van der Weyde,
Regent Stret, London
But when the young partner entered the business he had no forebodings. In 1891 he was photographed in London and Eric McCormick aptly describes his appearance: 'sunny self-assurance combined with opulent good taste'. Bowen Street was a far cry from Regent Street. Unlike Robert, Alexander shrank from accompanying his parents to vice-regal receptions and social occasions of like nature. As he sensibly wrote to his uncle in London, the locals 'give themselves such airs and they expect us to do the same, but forget that we have lived in London for long years where we were "nobodies" so they cannot expect us to don that aristocratic mien that betoken "somebodies".'
He was by no means a recluse. Over the years, along with personal friends like Percy Buller and Grafton Bothamley, he was intimate with some of New Zealand's finest minds, such as Dr Hocken, Stephenson Percy Smith, Hon. William Downie Stewart, Professor Macmillan Brown, Hon. Robert McNab, Sir John Logan Campbell, Elsdon Best, Augustus Hamilton and Archdeacon Herbert Williams. These and others were made free of his growing collections, which also attracted a stream of overseas scholars of note. His housekeeper recollected that at small dinner parties of close friends he entertained frequently and lavishly until ill health curtailed such hospitality in the last few months of his life.
Alexander Turnbull had set out to collect everything he could that related to New Zealand in printed, manuscript or pictorial form. Dr McCormick notes: 'A student by temperament if not by profession, Turnbull was disinterestedly serving the needs of New Zealand scholarship. And at the age of twenty-five, whether consciously or not, he had committed energies and resources to establishing a national collection.'
La Nuova Zelanda: Antonio Zatta's fine copperplate engraving published in Venice, 1778, after Cook's chart of October 1769, March 1770 made on his First Voyage to the Pacific.
Already in 1893 Turnbull must have been experiencing the disquiet he later expressed in 1910 in a letter to S. Percy Smith, where, McCormick comments, 'Without hope or wish for reward, he asserted, such private collectors as Dr Hocken of New Zealand and Mr Mitchell of New South Wales had made considerable personal sacrifices to do the work that should have been done by their respective governments; only those who came after them would know and acknowledge the extent of the services rendered by these two gentlemen. . . .In New Zealand, he complained, there was no National library, no National Museum, and no National Art Gallery. . .' Today we must add the name of Turnbull to those of Hocken and Mitchell.
It was as early as 1893 that Turnbull began his comprehensive Milton collection. All the other elements of his collecting were already established to create a library of a dual nature. He has been criticized for too diverse a spread of interests: but a knowledge of the collections reveals how all aspects neatly dovetail into a logical development. The heart of the collections resides in the original bequest. Although one of the smallest, the Turnbull is ranked among the great research libraries of the world.
In 1913 Turnbull presented to the Dominion (now the National) Museum his fine collection of over 500 Maori and Pacific artefacts. In 1916 he built his new brick house, half residence, half library, on the last remnant of the Elibank gardens: but he had little time to enjoy his new home. On June 28, 1918, after a long and painful illness, Alexander Turnbull died in the newly-opened hospital next door.
Anthony Murray-Oliver, an art historian specialising in colonial New Zealand art and Pacific exploration, is the author of Augustus Earle in New Zealand and Captain Cook's Artists in the Pacific. A Churchill Fellow, 1976, and on the A.G.M.A.N.Z. and N.Z.H.P.T. Councils, he is currently Education Officer at the Alexander Turnbull Library.