New Light on Alfred Sharpe
ROGER BLACKLEY
The first tentative researches into the enigma of Alfred Sharpe were made by Anne Kirker and Eric Young in 1973, and published by the Auckland City Art Gallery as a catalogue and guide to the exhibition which toured New Zealand later that year. This catalogue listed forty-six landscapes in watercolour, the majority drawn from private collections. I can account for about thirty more; while literary references take care of a further sixty.
With several exceptions, the surviving paintings are all relatively large, highly finished studio productions. There are no sketches or studies which relate to these works, no pencil drawings, no photographs. This indicates either an abysmal survival rate, or an unlikely cover-up job on the part of an artist who often betrays a keen regard for posterity - or even the delectable notion of a mountain of material submerged in an Australian city whose art gallery scarcely knows Sharpe's name.
The 1973 catalogue presents the picture of a man whose origins are unknown and whose personal life remains as mysterious as his eventual fate. It is at best a shadowy portrait - in marked contrast to the tight focus and precise detail ox the artist's own paintings.
On the subject of Sharpe's silent world the world of the deaf mute - we have the artist's own words:
And then, within that deep, primaeval forest,
I stood all dumb and still
While of the grand and solemn beauty round me
My soul drank in its fill
I could not even to a word give voicing
E'en if I had the will.
For there are solemn temples, where the voicings
Of lips are seldom heard
And where, amid the mighty works of Nature,
The heart alone is stirred;
And though it quivereth with its thronging feelings
It utters not a word.
This is from one of fifty poems which Sharpe published in Auckland newspapers between 1878 and 1882. Beneath this disguise of a quasi-mystical communion with a personified Nature (one of Sharpe's favourite poetic fantasies) lies an affirmation of his close personal relationship with the New Zealand landscape - the trees and rocks, his 'friends':
There with friends I am surrounded;
There no solitude I feel;
And to me her mystic wonders
Nature ever doth reveal.
It was very definitely a first-name relationship. In long columns of iambs Sharpe enumerates trees and ferns by their Maori names: a catalogue of acquaintances formed during sketching tours in the bush.
ALFRED SHARPE
A View of Wenderholme, Auckland 1880
watercolour,
635 x 946 mm.
(collection of Fletcher Holdings Limited, Auckland)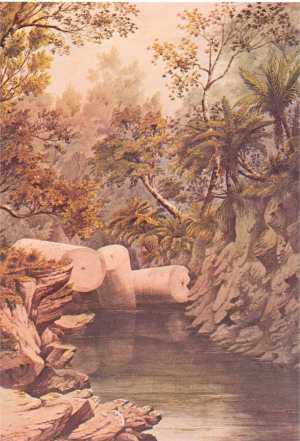 ALFRED SHARPE
A Jam in the Lava Cleft 1878
watercolour, 635 x 432 mm.
(collection of the Auckland City Art Gallery)
Also unknown to the compilers of the 1973 exhibition was a series of essays on painting, published over the same period as the poems.
Sharpe's Hints for Landscape Students in Watercolour consists of nine articles extended by a further three when he revised and republished the series in Australia in 1890. In the form of advice to students he describes both his outdoor sketching and his studio techniques. He provides advice on paper and brushes. He devotes an entire article to Colours, and how to ensure their permanence.
In the absence of any comparable material these writings make Sharpe Auckland's (perhaps New Zealand's) most prominent art theorist of the nineteenth century. Most importantly, they serve as an excellent glossary to the paintings themselves - not only an indication of the artist's intentions but a very precise guide to his technical procedures.
The remaining primary source for a study of Alfred Sharpe lies in the abundance of letters to the editor: which, with the poems and articles, I have exhumed from what might otherwise have been their final resting place in the New Zealand Herald and the Newcastle Morning Herald and Miners' Advocate.
The Auckland letters confine themselves to art matters: Sharpe refutes a particular criticism of an exhibited work, or counters an attack on his colour permanence article. An excellent example is the eloquent apology for his chosen medium, A Plea for Water Colours, reprinted as an appendix to the 1973 catalogue.
In Newcastle, Sharpe's contributions to the correspondence columns become more frequent (I have traced fifty-four between 1889 and 1902) and range over a wider field of concerns. His vigorous promotion of the visual arts covers a period in which there were several attempts to establish a gallery in Newcastle: but he also draws attention to the pollution of the beaches, or to his solution for the draining of waterlogged Sandgate cemetery. These are interesting letters - often spiced with autobiographical asides, short bursts of reminiscence which bear on an issue he discusses.
We learn that Sharpe is a native of Cheshire (a merchant's son, says his brother's birth record) where he attended night classes at the Birkenhead School of Art 'while I was learning practical carpentry as a foundation for my present profession as an architect'.
If we take his word for it, 1857 saw his arrival in 'the colonies' where he was 'for twelve years the owner and cultivator of a Northern farm'. Sharpe must have painted during this period, but the first painting we encounter is dated 1870. This is a large watercolour of the Waiwera hotel - a superb view from a height through an oval of bush (495 x 830 mm., private collection, Auckland). Until earlier works come to light, the first two decades of Sharpe's painting career - his 'early period' - must remain the subject of speculation.
Sharpe's arrival in Auckland coincided with the inauguration of the Society of Artists, and he used the Society's biennial shows of the 1870s to establish a public reputation. Uncertainty over critical response to his style probably accounts for the guise of amateurism implicit in his initial exhibiting of copies: in 1871 a view of an Oxford church gate, and one of Edinburgh Castle. The response from the press was entirely predictable: 'Sufficiently artistic to claim a position amongst amateur productions.' (New Zealand Herald) .
ALFRED SHARPE
Pohutukawa Tree 1876
watercolour 444 x 616 mm.
(collection of the Auckland City Art Gallery)
ALFRED SHARPE
Whatipu, West Coast, Auckland 1883
watercolour, 203 x 642 mm.
(private collection, Auckland)
Sharpe pushed through. Over the next sixteen years he painted and exhibited works which we now recognise as among the best of nineteenth century landscape productions in this part of the world. Adverse criticism was inevitable: '... painfully elaborate. .. in future eschew such photographic details as are seen in the foreground. . .' (New Zealand Herald, 1877). But Sharpe possessed conviction, a belief in his singularly lucid vision, and he defended himself with confidence. Despite the critical detraction (remarkably similar, we may note, to that received by George O'Brien), his work enjoyed popular support. Two days after the 1877 exhibition opened, four of his seven paintings had been sold. In 1879 Sharpe remarked with pleasure on the sale of his pictures: 'which shows that the public does not endorse the criticism'.
His reputation was undoubtedly augmented by the 'Hints' and other contributions to the press such as his review of James Tannock Mackelvie's first donations to Auckland City's picture collection (The Public Art Treasures of Auckland, 1882). He was not a regular contributor, however; and his only reference to a regular bread-winning art activity (sale of pictures aside) is a fond remembrance of 'a large class of advanced young lady pupils, meeting weekly at my private residence.'
For reasons unknown, Sharpe left Auckland in 1887 to join his younger brother, William Bethal Sharp (1850-1917), who had carved for himself a comfortable niche as lawyer and local politician in the coal-mining port of Newcastle, New South Wales. More fathomable, however, is Sharpe's decision to drop the classy final 'e' which he had appended to the family surname. From now on simply 'Alf Sharp, N.S.W.'
Even today Newcastle is an environmental disaster - an Auckland-sized Penrose which sprawls beside the beautiful ocean. In Sharpe's time conditions were grim, especially for the relatively large working class, strikes and suicides regular fare in the daily newspaper. After the sophistication of progressive Auckland, Sharpe was shocked by the poverty of Newcastle's middle-class culture: no art society, no gallery, no museum. The pompous title Schools of Arts disguised a chain of primitive reading-rooms; and his only exhibition facilities were shop windows and the fine-art department of the numerous agricultural shows, 'jumbled up amongst poultry, pigeons, pigs, and potatoes.'
ALFRED SHARPE
Taupiri Village and Plain, Looking Towards Pirongia 1876
watercolour, 512 x 702 mm.
(collection of the Auckland City Art Gallery)
ALFRED SHARPE
The Last Dying Remnant 1901
watercolour, 350 x 600 mm.
(private collection, Auckland)
What most profoundly disturbed Sharpe about his new home was neither the social conditions nor the primitive state of 'Art with a capital A': rather it was the treatment he saw accorded to his friends, his portrait subjects, trees. His campaign in their defence was suggested by some titles from his numerous letters: 'Woodman, Spare that Tree', 'Arboricultural Thugs', 'More Tree Destruction'.
Sharpe is careful never to denounce forestry (that necessary evil); yet he despises the 'wholesale, wanton, and senseless destruction of native trees', especially as he sees it occur in and near Newcastle itself. Ironically, the very forestry process which was systematically demolishing the indigenous forests of New South Wales (as in New Zealand) itself provided Sharpe with the means to penetrate deeply into 'virgin' landscape. Yet he does not deflect his point of view to exclude the bushmen with whom he travels, the steamer on which he will accompany logs back to port. A felled tree forms not only an effective repoussoir, but states unequivocally that here, as in settled areas, the landscape changes radically and swiftly - that the exclusive vision of a sylvan wonderland merely mocks truth.
On the verso of a 1901 landscape, Sharpe wrote: The last dying remnant of the grand ti tree forests that existed a few years ago on the flats between Adamstown and the Glebe and which should have been preserved and reserved as a fine park when the Government appropriated our 3000 acre reserve.
Here the cook sleek stand of kauri, yet to feel the bite of the two intruders' axes, is replaced by a civilised landscape - a farmstead visible through the decimated trees. (see illustration below)
Sharpe's agitation was not restricted merely to brush and pen. Many tree-lined streets in Newcastle, and the ancient pohutukawas both on public and private property, owe their existence to his efforts to repopulate with trees a city where 'the climate renders shade an absolute necessity'. He began importing pohutukawas the year he arrived. Three years later he published news of the impending arrival of several hundred of these 'giant myrtles of New Zealand', accompanied by puriris ('New Zealand Ironwoods'), destined mainly for public works. In the correspondence columns he regularly provided copious advice on their correct planting and maintenance and endless criticism of their maltreatment at the hands of gardener and vandal alike. Other contributions, such as a discussion of peach grafting procedures, reveal the breadth of Sharpe's horticultural knowledge.
As to Alfred Sharpe's fate. . . a complete question mark. No death record for him exists in Australia. Neither do any of the Alfred Sharpes who dropped like flies in Edwardian England seem to fit the bill. Ultimately it is a purely academic question, which bears no relevance to his paintings whatsoever. Just for the record though: his brother William B. Sharp rose from sometime mayor of Newcastle to hold a diplomatic post in Spain; and who is to say that a Sharpian panorama of downtown Madrid might not crop up one fine day?
After all, we must remember that these biographical enquiries interest us not for their own sake, but because of the paintings' existence - the artefacts of his career, his work. That works of art are themselves the most concrete, important, and undoubtedly the most enjoyable facts of an artist's career is frequently lost sight of in the quest for the 'overall picture'. The beginning of the real story often never arrives at all. That is to say: there is no better way to begin to know Alfred Sharpe than to enjoy his paintings. To grasp the catalogue note is never to grasp the painting even if we prefer the former.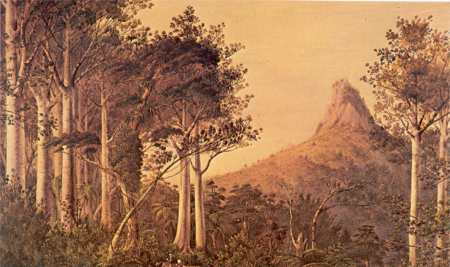 ALFRED SHARPE
Castle Rock, Coromandel
watercolour, 527 x 876 mm.
(private collection, Auckland)
In writing this essay I attempt to dispel, or at least to rearrange, some of the haze that obscures our approach to Alfred Sharpe's work. The myth of the mysterious, handicapped yet gifted naif is nothing more than a misconception. Hopefully, I outline some approaches to the paintings (my approaches of course - my picture of Sharpe). It would perhaps have been more exciting to get closer to the actual paintings, to the way they are painted. Sharpe's style (twice in recent times the victim of sale-room misattribution) is obviously an area of crucial importance: but it falls outside the scope of the present essay. I prefer to allow these few reproductions to begin to speak for themselves.