The Collection of Dr Neville Hogg
UNA PLATTS
Up in Dargaville in a red brick house on the side of a hill is what must be one of the country's outstanding private collections of paintings. It is almost wholly of New Zealand subjects; it is nearly all New Zealand work. Yet its main characteristic within these bounds is its extraordinary diversity.
Paintings line the walls. Major works are sometimes inconspicuous amidst the most minor unknowns. Seldom is a painting given pride of place. Still, they sit together amazingly comfortably, welded, given some unity perhaps, by the sole fact that Dr Hogg has chosen each of them not for the value given it by some (to him) shadowy art hierarchy, certainly not for its value in present monetary terms. Each has touched him personally in someway.
I had wondered when I first met Dr Hogg whether he knew what had first sparked off his interest in painting. It had come from the time, he said, when, as a boy boarding at Sacred Heart College in Auckland, he used to visit a family friend. And in one room of the house there hung a Goldie, a painting of a Maori.
Neville Hogg often used to look at it, think about it. Who was it? What kind of man was he? What was his history? He even perhaps wondered how it came about that Goldie had painted him. These are certainly questions which still fascinate him. Each painting in the house - and there are many - is not only for him a work of art, but a piece, however small, of the history of his country. Something that as well as (at the least) pleasing him visually, can set in motion long trains of thought. Something that makes him not only interested in what was happening to the person portrayed, to that piece of country when the landscape was painted, but in what is happening now. Everything has for him layers of interest.
Dr Neville Hogg at home in Dargaville
NICHOLAS CHEVALIER
A Lake
(possibly Manapouri) 1879
watercolour
The schoolboy had wished deeply that he had one of Goldie's Maoris in his own home in Dargaville. But he had no practical thoughts on the subject for some years.
When he had qualified as a doctor and finally come back to Dargaville to practise, he was for a time financially pressed by the expenses involved in setting up any kind of a practice. Then suddenly there came one of those lovely coincidences in life which do happen now and then. Just when he realised that at last he had some money not previously committed, not immediately needed for running expenses, he saw advertised two Goldies to be auctioned in Auckland.
For most people paintings are the icing on the cake, and you don't get icing until you've finished making the cake. The butter on the bread might perhaps be a better metaphor in the circumstances. But for Dr Hogg they were part of the cake itself, not the icing. The loaf of bread.
He had to get someone else to bid for him; and the bidder, carried away by early success, nearly put him in debt by trying to get the two. Dr Hogg did eventually acquire the second, and they both hang in the original black frames that Goldie chose for them.
J.C. HOYTE
Shortland, Thames: Military Encampment on the left
watercolour 280 x 480 mm.
H.M.L. ATCHERLEY
Maori Food Houses, Central North Island, 1877
watercolour
They hang in a small entrance hall almost totally devoted to paintings of Maoris. Now, however, they are apt to be overlooked amidst the Steeles, the Friströms, the Walter Wrights and the very early Nicholas. And certainly overshadowed by the two immense primitives, New Zealand Chief and New Zealander and Canoe.
<
ARTIST UNKNOWN
New Zealander and Canoe, c.1845
watercolour, 520 x 355 mm.
That it was a Maori portrait which first attracted the schoolboy is significant, for now Dr Hogg's favourites in the whole collection tend to be those with some tie-up to Maori subjects.
This interest carries through into his ordinary life, though of course it could be put the other way round. There is a large Maori population in the Dargaville district and the more Dr Hogg involves himself with Maori people the more he is drawn towards Maori characteristics which he wishes the Pakehas could share. He admires for instance their extended family system: circumstances led to Dr Hogg himself being part of such a way of life and he knows how it works. His paintings remind him of how Maoris were when Europeans first came to New Zealand and what has happened since. His feeling for those still caught between two cultures leads him to concern himself with present issues.
Paintings with Maori subjects do not, however, dominate the collection. most of the well-known nineteenth century painters are represented, though it takes a visitor some time to realise this. In fact at first, for the outsider, looking at the paintings can be a confusing experience. You need time to discover and to savour your discoveries. There are so many paintings. And the arrangement, with a logic of its own, is not planned to help you. Not at first. A favourite Kennett Watkins is high up on a bedroom wall. So is the little Atcherly of Maori food stores.
Almost all through the house you must, you could say, work for your living. Find yourself the paintings which are specially for you. Seek and find.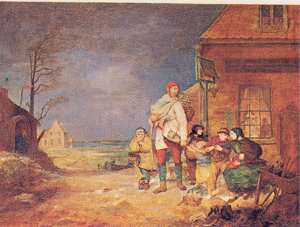 J.A. GILFALLAN
The Emigrants Departure from Scotland
oil, 573 x 760 mm.
J.A. GILFALLAN
Arrival in Australia
oil, 573 x 760 mm
The one room where things are made easier for you is what Dr Hogg's mother (and I) would call the drawing room - a quiet 'withdrawing' kind of room it could be at times. There, as you enter, you cannot help but look straight at the two glowing oils on the wall opposite: Gilfillan's companion pieces Emigrants' Departure from Scotland and Arrival in Australia. And close to them the artist's watercolour portrait of his son. Gilfillan of course came to New Zealand; the watercolour of his son would have been painted here; and the theme of the two oils ties up well with the story of our own country.
On the other side of the same room, facing the Gilfillans, is a large Nicholas Chevalier of a southern lake. A major work, a gallery piece. But this was bought when Dr Hogg's interests were not as definitely focussed as they are now on paintings which can in a sense be looked upon as historical documents: paintings which show something of a New Zealand now vanished.
He still enjoys the Chevalier just as he does the Hoyte of Mt Egmont. But his Hoyte of the early gold mining settlement of Thames appeals to his sense of history and has an added attraction. The little primitive watercolour, which a Thomas Gardiner made in 1827, of Maori canoes drawn up on the Kororareka beach has also right now a greater hold on his affections than the Chevalier. (Dr Hogg likes comparing it with a well-known Augustus Earle. If Thomas Gardiner was Captain Gardiner of the Marianne the two men were likely to have sat together as they painted the scene.)
J.A. GILFALLAN
Portait of the Artist's Son Holding a Trade Axe, 1844
240 x 195 mm.
JOHN KINDER
Te Rapa, Lake Taupo, 1862
watercolour 310 x 470 mm.
The Von Tempsky too is dear to him. He likes the self portrait the artist managed to include, the portraits of his fellow officers of the Forest Rangers. He points out the way that so many surprising and rather bizarre adjuncts to the carrying on of bush warfare are woven into the picture; and I, the visitor, in the act of looking carefully at every detail, am suddenly taken by the strange small beauties which first I had seen only as fascinating curiosities.
In the same room I had noticed an unusual small C.D. Barraud - a rather stylised view of the Northern Wairoa River. I had been taken over, you might say, by all the paintings. It was only later that I looked out of the window past a kauri, pasta rimu, over the proteas which seem to love this bit of Dargaville soil, and realised that the same curve of the Wairoa River, which Barraud painted was there below me.
THOMAS GARDINER
Kororareka Beach, Bay of Islands, New Zealand
watercolour