Louis Hay
Napier and the Chicago School
PETER SHAW
It is becoming increasingly apparent that the architectural significance of the city of Napier is finally being recognised outside the profession. In 1982 the first book-length study, Heather Ives's The Art Deco Architecture of Napier, was published by the Ministry of Works and Development.(1) Since then articles in Air New Zealand's Skyway(2) magazine and in the Historic Places in New Zealand magazine(3) have kept the subject alive. All have been general surveys, well illustrated, but involving little consideration of the individual architects whose work contributed so much to the central city's appearance in the rebuilding after the disastrous 1931 earthquake.
J.A. LOUIS HAY c 1935 (photograph by Leighton studios, Napier)
While it is true that many talented architects were employed in the city at that time, the work of J.A. Louis Hay stands well above that of his contemporaries in quality, range and quantity.
James Augustus Louis Hay was born in Akaroa, Banks Peninsula in 1881. His parents, James Hay, a surveyor, and Frances Hay (nee Greig) moved first to Lincoln outside Christchurch: but by 1895 Louis Hay was a pupil of Napier Boys' High School. He was to spend the rest of his life in the city.
In about 1896 Hay joined the firm of Walter P. Finch, later Finch and Westerholm, as an articled pupil, and in 1904 spent a period of time working in the Lands and Survey Department, Invercargill. His only known journey overseas was one to Sydney in 1908, but this was cut short because his father, with whom he had travelled, became ill and both were forced to return home to Napier.
Between this date and that of his death in 1948 very little is known of Louis Hay's life except that he married in 1919 and was the father of two children and a great many buildings. Persistent rumours of a degree from Brisbane and a period of study with Frank Lloyd Wright have proved false, though not entirely unexpected given the skill with which Hay assimilated the great American architect's work into the Napier environment.
J.A. LOUIS HAYHannah House, Napier 1914 (Front Elevation) pen and watercolour on paper
All who knew him agree that Louis Hay was an artist first and a practical man second. A perfectionist, he was impatient of shoddy workmanship, frequently insisting that builders tear down slipshod work and do it again to his satisfaction. However Hay was not an architect who would persist obstinately in his ideas and spoil his chances of continuing with a job. His daughter, Margaret, comments that he, like so many in his profession. continually regretted the lack of both money and a sense of visual adventurousness in his clients.
Louis Hay was a sociable man, a noted oarsman and for many years a flutist with Napier's Frivolity Minstrels. New Zealand's oldest performing group. His clean-cut, modern appearance accords well with the man who way described to the writer as having been frequently seen `driving around the city in an immense 1928 sportscar called a Minerva, his panama hat protruding above the windscreen. . .'(4)
Hay's office was fairly strictly run. The Whangarei architect Charles Come remembers that as a young man joining the firm he had to take something that resembled an oath of allegiance not to disclose any of the firm's business. But Louis Hay's considerate treatment of his employees engendered great loyalty Miss Thelma Williamson, his drafts-woman from 1923 to 1941, remembers his willingness to praise good work and his exhortations to `go for a walk along the Parade' if he suspected concentration on the work in hand had over-tired her.(5)
Unfortunately the bulk of Hay's papers disappeared when they were sent by his widow in 1974 to Basil Ward in England. Any thorough inquiry into the architect's methods of work has had to proceed as a piece of detective work and the results remain in places sketchy because of the lack of documentary evidence.
J.A. LOUIS HAY, Plan for the proposed Municipal Town Hall,Napier Redrawn from an original photograph by Adrian Robinson
Louis Hay's first known works in Napier were the many houses he designed in the period before and after World War I. In these he quite clearly took as his models those houses of English and American architects that have their origin in William Morris's Arts and Crafts movement.
Originally conceived as a response to the increasing mechanisation of English life, the Arts and Crafts movement fathered a style of bungalow construction which was quickly taken up in the USA.
The linking figure between English Arts and Crafts and the Chicago School of architects was the architect and writer C.R. Ashbee. He had established contacts between members of the two schools in 1886, the year in which the young Frank Lloyd Wright had designed the magazine The House Beautiful.
Writing in 1911 of Wright, Ashbee said, `In England, those of us who are sometimes called the Arts and Craftsmen, Lethaby, Voysey, Lutvens, Ricardo, Wilson, Holden, Blow, Townsend, Baillie Scott—we feel that between us and him there is a kinship. We may differ vitally in manner of our expression, in our planning, in our touch, in the way we clothe our work, in our feeling for proportion, but although our problems differ essentially, we are altogether at one in our principles.'(6)
Louis Hay was in Sydney in 1908. Donald Leslie Johnson has written that by the turn of the century the number of books about the bungalow coming into Australia was considerable, and they increased. The work of Voysey and Baillie Scott received particular attention; C.R. Ashbee's A Book of Cottages and Little Houses (London 1906) and Gordon Allen's The Cheap Cottage, which by 1919 had run into its sixth edition, were readily available. Johnson writes: `By the late nineteenth century [the bungalow] was considered an acceptable form for permanent housing. Dissemination of the style into Australia was inevitable.'(7)
Although most were destroyed in the earthquake, photographs of houses designed by Louis Hay at this time indicate a clear influence of Arts and Crafts ideas. All share a general horizontality of line, a preference for casement windows and verandahs either partially closed or of the pergola type, exposed roof construction both exterior and interior, and a low eaves-line. This latter feature derives more from the American Prairie house, which preferred to flatten the more distinctively English high gable such as is commonly seen in the houses of Lutvens, Baillie Scott and Voysey. Above all, the `truth to materials' doctrine expounded by Morris is rigidly adhered to.
J.A. LOUIS HAY Hannah House, Napier 1914 (North Elevation) pen and watercolour on paper
As Hay's work progressed, his houses tended to be influenced more by American models than by English ones; roof lines decreased in height, rafter ends became more prominent, long horizontal lines were maintained, especially in the very large houses he designed for wealthy Hawkes Bay landowners such as the Hetley residence at Taradale. Many of these too, were destroyed in the earthquake.
Two houses side by side in Fitzroy Road, Napier are fine examples of Hay's early work. Two young sisters, Mrs Lila Hannah and Miss Doris Dolbel, commissioned Hay in 1914 and 1918 respectively to design houses for them; they were to be connected across the back of both sections by a tennis court.
The Hannah house clearly exhibits the characteristic horizontal bias, though the main feature of the structure is a false arch-chimney form over the roof which was designed to bind the two roof planes together. Many of Frank Lloyd Wright's Prairie houses have a central anchoring chimney form which also performs the function of connecting the building to the ground with a stone structure. Rough cast masses contrast with the dark wood window frames and the stone verandah and entrance.
The wide eaves overhang with exposed beams is characteristic, as are the stained wooden beams which contrast sharply with white wall surfaces inside. As in Frank Lloyd Wright's Oak Park House (1895) Hay has used a dark horizontal band at door level to lower the ceiling height to a human scale. This is a frequently observed feature of his work.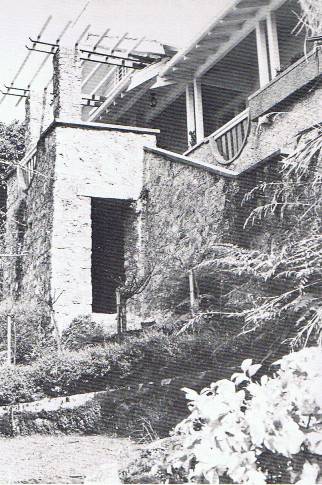 J.A. LOUIS HAY Mornington, Sealy Road, Napier 1921
The house has the characteristic large brick fireplace, though not the inglenook which was such a popular inheritance from the Arts and Crafts home, and one which Hay used frequently, most notably in the Vigor-Brown house at 28a George Street. Napier. The Hannah fireplace has on either side of it two most unusual triangular, wooden, boxed light fittings which Hay, in his usual fashion, designed especially for the house as a kind of signature.
One extraordinary feature (also derived from Wright's Prairie houses) is a low-pressure hot water floor-heating system. Pipes were laid under the floor. but apparently Hay did not realise the need for extra insulation in the roof, so the system was inefficient and therefore uneconomical.
Next door, the house for Miss Doris Dolbel (1918) boasts a magnificent pergola-type stone verandah, and inside. red, white and blue geometric lead-lighting, which Hay designed in emulation of Wright's work. Light switches operate forward into the adjoining rooms, and the sitting-room floor was sprung for dancing. One of Louis Hay's most elaborate lead-light lamps hangs over the dining-room table.
Hay's interest in the work of Frank Lloyd Wright was lifelong. But he was also clearly influenced by the work of the other great Chicago architects H.H. Richardson (1838-1886) and Louis Sullivan (1856-1924).
In her book, Heather Ives has described the magnificent National Tobacco Company (1935) as `more in keeping with the Art Nouveau style'(8), and therefore does not discuss it in her volume about Napier Art Deco. In fact it appears that Louis Hay's models in this case were far from being the great Scottish or Austrian architects.
The association of the Chicagoans Richardson and Sullivan with them was minimal, and it was from these two that Hay derived both his arch-within-cube form as well as its ornamental features.
Terms such as Art Nouveau and Art Deco applied to Hay's work can at best have only `tag' value for tourists with an architectural interest: they have little relevance to the appearance of the Tobacco Company.
The National Tobacco Company (1935) There are large numbers of buildings by Louis Sullivan besides the 1890 Getty Tomb which make use of a cube form with a semi-circular entrance. These include the Chicago Stock Exchange 1893-4, the National Farmers' Bank, Owatoma, Minnesota; while the most spectacular of all is the `Golden Door' of the Transportation Building at the World's Columbian Exposition, Chicago 1893. In these, rich surface patterning underlines the massive compactness of Sullivan's buildings.
Wright worked with Sullivan at the start of his career, until their relationship ended in acrimony when Sullivan discovered that Wright had been doing private commissions apparently in the firm's time.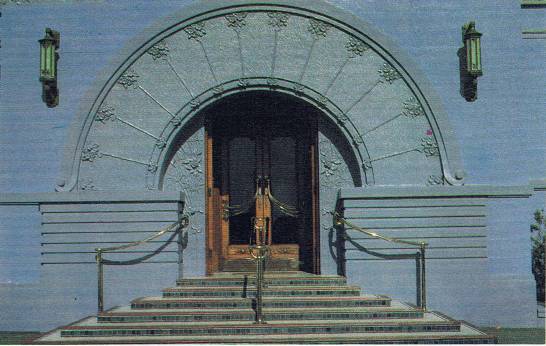 J.A. LOUIS HAY The National Tobacco Company Building, Napier 1934
Sullivan was an extraordinary man whose philosophy was a blend of German transcendentalism, Whitman and Nietzsche. His designs are based on a geometric rigour, which he characterised as masculine, coupled with an organically abandoned ornamentation which he called feminine. He considered that a designer should liberate the aesthetic energy lying within the confines of lines and shapes by allowing it to flower.
His buildings are distinguished by extremely elaborate decorative motifs, which he derived from his observations of plant morphology and cell growth. The combination of the geometric and the ornamental, the masculine and feminine elements, to Sullivan resulted in a synthesis which he called perfection. He, like Wright, was convinced that aesthetic surroundings shape human behaviour and he spoke of the `heroism of acting like nature'(9)—a characteristically Nietzschean utterance.
In The National Tobacco Company building, Louis Hay's employment of a distinctly Sullivanesque scheme accorded closely with the wishes of his client Mr Gerhard Husheer that the building be simple in form yet elaborately decorated. Hay had already built a house for Husheer and knew his client's tastes well, having had designs for lead-light windows based on floral motifs repeatedly returned to him with the request that they be made `more fancy'.
The arch of the National Tobacco Company (now Rothmans) is sans vous-soirs, but the effect of the more usual incised divisions in the stone is given by the elongated rose stems which radiate outwards to full flower at the top.
On either side of the highly decorated and beautifully carved wooden doors the roses are combined into an. unlikely but pleasing arrangement with raupo. The two piers of the arch, on the other hand, display the favourite Art Deco undulating wave motif, as well as vine leaves and bunches of grapes, (Perhaps Hay or Mr Husheer were familiar with Ernest Dowson's thoughts about 'the days of wine and roses'.)
The gleaming brass-work of the curving bannisters, the rich carved doors, the ornate lamps and the sunrise effect of the building on its set-back location, surely cannot fail to appear just as welcoming and adventurous now as they must have done in 1935.
Although the building has changed hands, its present owners are fully cognisant of its architectural value and are preserving the grand marble entrance hall with its rose-decorated glass cupola as well as the fine woodwork.
On reflection it does not seem unusual for Hay to have been so closely influenced by the Chicago architects given the especially widespread transference of architectural styles in the last two decades of the nineteenth century and the first of the twentieth.
Architects travelled extensively to visit the many international expositions held in the years before the first World War. Those who, like Louis Hay, could not see the structures at first hand could, however, study them from the large folios of reproductions, some of which Hay purchased in Australia in 1908.
His original design for the now hopelessly vandalised entrance to the Napier Art Gallery and Museum (1937) shows that he had carefully studied the photographs he owned of buildings at the First International Exposition of Modern Decorative Art held in Turin in 1902.
There, the entry hall of the Hamburg Pavilion had been designed by Peter Behrens.(10) In the centre of the room was a sunken pool at either end of which knelt two winged figures of cement. These also bore a strong resemblance to the mournful, cubistically sculpted, concrete figures designed by Wright for his Midway Gardens (1913) in Chicago. Although Hay's own concrete sculpted figure design was eventually scrapped for a much simpler abstract one incorporating the year of construction, no doubt for financial reasons, his original shows clear evidence of familiarity with both Behrens's and Wright's figures.
The main source of Hay's information about the work of Frank Lloyd Wright came from the two huge Wasmuth portfolios printed in Berlin in 1910 and 1911.(11) These were an unending inspiration to him, as can be demonstrated from a consideration of his buildings and designs, especially in the period after the 1931 earthquake.
The Albion Hotel (1933) Hay's indebtedness to Wright is perhaps nowhere more clearly evident than in his extravagant April 1933 proposal for the Albion Hotel, Napier. It is difficult to see how any company could have found the money necessary to finance such a palatial structure in the period immediately following the earthquake and at a time when the country as a whole was in the grip of an economic depression.
 J.A. LOUIS HAY Perspective Drawing for the proposed Albion Hotel, Napier 1933 pen and watercolour on paper, 360 x 650 mm.
Although less consistently horizontal in emphasis than Wright's Unity Church, Oak Park, Illinois, it is obvious that Hay had that structure in mind in drawing the Albion Hotel. It has a strong upthrust as the result of the painted articulation of long, sharp, vertical accents which, as in many of Wright's structures, are broken up by a number of horizontal linear features, including balconies on two floors and sculpted concrete patterns such as were used by Wright in the Midway Gardens. In this case, also, the building is capped with a slight gable roof from which extends the wide cave that was to be such a notable feature of Hay's elegant Women's Rest Building in Clive Square.
The one remaining record of the hotel indicates that Hay, like Wright, was a master of the water-coloured perspective drawing. Light and shade are beautifully managed in a sketch which captures that interplay of abstract geometric forms which so interested both architects.
The A.M.P. Building (1935) The building Hay designed for the Australian Mutual Provident Society in 1935 is certainly his grandest commercial one.
Built by W.M. Angus Limited, it is a steel-framed two-storey structure designed to satisfy the latest laws in earthquake-resisting construction. Walls and partitions are generally in concrete and the whole structure is covered in cement plaster. After some years it was found that sea spray had caused cracking, so the building was replastered and then sympathetically painted, thus giving it a rather smoother appearance than Hay himself intended.
J.A. LOUIS HAY The A.M.P. Building, Napier 1935
Here, Louis Hay indulged all his architectural enthusiasms without in any way creating a structure that is an assemblage of unassimilated influences. From Frank Lloyd Wright's 1903 Larkin Soap Company Building in Buffalo come the hanging light fittings, though they, alas, no longer grace the main public space. They still remain however in the extraordinary geometrically arched alcove with its Sullivanesque capitals on Shakespeare Road. This too has been largely closed up to, create greater storage space, and consequently Hay's fine view through to the distantly-lit stairwell has disappeared.
Also Sullivan-derived is the arched main entrance on Shakespeare Road, where the Tobacco Company grape motifs reappear in more stylised form, in perfect balance with those highly elaborate foliated motifs behind whose 'cabbagey forms' Nicholas Pevsner `dimly recognises Gothic Revival foliage.'(12) Like Sullivan's, Hay's ornamentation articulates forms more clearly and is far from being merely carelessly applied decoration for its own sake.
The other door, originally that of the Queensland Insurance Company, is even more spectacular in conception. In contrast with the semi-circular one beside it, it is clearly derived from the strongly vertical step-like construction of the Mayan architecture that was such a pronounced source of Art Deco design. Here too the Sullivanesque tendrils are so placed as to further clarify the geometrical structure of the whole door.
The building originally appeared to have a more vertical emphasis than it does today, as the rectilineal ornamental designs in moulded concrete on cornices above the windows and almost continuously around the parapet have now been either plastered smooth or painted in such a way as to cause them to blend in. Like Wright, Louis Hay followed the practice of discreet ornamentation. Both relegated it to small areas on large expanses of plain surface as had Peter Behrens, Josef Hoffmann in Brussels and Charles Rennie Mackintosh in Glasgow.
It is sad too that renovations in the nineteen-sixties obscured the elongated vertical floral plaster mouldings on the interior walls and removed the exterior clock.
J.A. LOUIS HAY Interior, unknown Napier house, c. 1918
Space does not permit any consideration of the many other fine buildings Hay designed. Apart from a bach at Taupo in 1922 for his client J.H. Edmundson, for whom he later designed a very large Prairie-style house in Lighthouse Road, Louis Hay seems only to have worked in Napier.
Now that his papers are known to have been either destroyed or lost it is imperative that his remaining buildings be respected by their private owners wherever possible and that the public buildings remain free from the ugly signs which at present seriously impede the proper recognition of Napier's unique architecture.
Louis Hay was constantly advised to travel and develop his considerable talents further. He steadfastly refused, maintaining that he was perfectly happy in Napier. Certainly his creativity never faltered. On his tombstone are the very same words as appear on that of the great English Arts and Crafts architect Baillie Scott: Nature he loved and next to Nature, Art.(13)
1. Heather Ives, The Art Deco Architecture of Napier, Napier, 1982, Ministry of Works and Development. 2. Peter Shaw, `Pania's Town', Skyway no. 58, December 1983, p. 11. 3. Robert McGregor, 'Art Deco in Hawke's Bay', Historic Places in New Zealand no. 5, June 1984. 4. Charles Corne in conversation with the writer, July 1984. 5. Thelma Williamson in conversation with the writer, September 1983. 6. C.R. Ashbee, 'Frank Lloyd Wright, A Study and an Appreciation' in Frank Lloyd Wright: The Early Work, New York, 1968, p. 7. This is a reprint in translation of Frank Lloyd Wright: Ausgeführte Bauten (1911). 7. Douglas Leslie Johnson, Australian Architecture 1901-1951: Sources of Modernism, Sydney 1980, p. 45. 8. Heather Ives, ibid. 9. Narciso G. Menocal, Architecture as Nature: The Transcendalist Idea of Louis Sullivan, Madison 1981. 10. Alan Windsor, Peter Behrens: Architect and Designer 1868-1940, London 1981, The Architectural Press, p. 50. 11. Ausgeführte Bauten und Entwürfe von Frank Lloyd Wright, Berlin (Wasmuth) 1910, and Frank Lloyd Wright: Ausgeführte Bauten (with an introduction by C.R. Ashbee), Berlin (Wasmuth) 1911. 12. Nicholas Pevsner, Pioneers of Modern Design from William Morris to Walter Gropius, London 1960, Penguin, p. 97. 13. James D. Kornwolf, M.H. Baillie Scott and the Arts and Crafts Movement, Baltimore 1972, The John Hopkins Press, p. 485.
Throughout this article the writer has followed the practice of referring to buildings by the architect's original designations rather than by the names of their present owners.
The writer wishes to express his gratitude to Terry Hitchcock, Marshall Cooke and Adrian Robinson for their advice and drawing skills. Also to Wendy Garvey of the University of Auckland School of Architecture Library where Louis Hay's remaining papers and photographs are now housed.