A Gisborne Printmakers Group
GORDON H. BROWN
The Gisborne Printmakers Group Exhibition 1984 was selected by Kate Coolahan with the idea that it might also be displayed in other galleries around New Zealand. The graphics represented therefore attain a technical competence to justify this aim. In other respects the selection is less even, but within the context of its origins the exhibition retains a level of interest that serves well as an example to smaller communities with an ambition to achieve worthwhile results within the visual arts.
PENNY ORMEROD Trumper Flower 1982 etching, 505 x 502 mm.
As a group the activities of these printmakers centre around the Lysnar House Workshop situated adjacent to the Gisborne Museum and Arts Centre. Their initiative is urged on by Penny Ormerod, a teacher whose method is mental stimulation in printmaking pursuits: not the imposition of her own ideas and techniques.
Because much of the work of these printmakers can be viewed from a 'learning' situation the resulting exhibition avoids the appearance of being a display of 'student' work. On the other hand, most of the exhibitors have yet to develop that consistency of skill and visual outlook associated with a truly professional approach. There are, for example, works such as Jean Johnston's Mandala and Phyllis Underdown's Naked Road that suggest a greater interest in trying out possibilities derived from a particular technique rather than what the finished print conveys. Yet both artists have prints included which show a more balanced interest.
PENNY J. BARKER Rejoice 1983 etching, 219 x 440 mm
A similar unevenness is also evident in the handling of imagery, whether realistic, formalized or abstract, and again, as found within the work of individual artists. For all its boldness of design Maria Eriksen's Seeds indulges in naive symbolism - an embryonic child within a seed, for example - that is not helped by an almost 'play-way' type of formalized pattern making. Yet this same artist has the strongest purely abstract work in the exhibition, Father of Light, which succeeds in spite of an indulgent title.
It is not surprising that among the eight prints from Penny Ormerod (the only well-known name exhibiting) are to be found some of the most mature and satisfying prints. Five have as their subject flowers, of which Trumpet Flower II, with its bold close-up image and strong red against a dark-greenish background, is the most vital and one of the most pleasing prints in the exhibition. The flower imagery, however, differs in treatment from print to print. A similar diversity exists in her two landscapes. There is the misty, extended openess of Tide In with its suggestive calligraphic wave-lines, held by an over-all tone of modulated greys. In contrast, Crete is an etching with aquatint, where the printing has been restricted to black (against the general trend of the exhibition). In some respects a stylistically conservative work, it possesses richness and variety of image - shape, and suggestive texture (somewhat reminiscent of her earlier work), and carries the sense of an actual place recorded.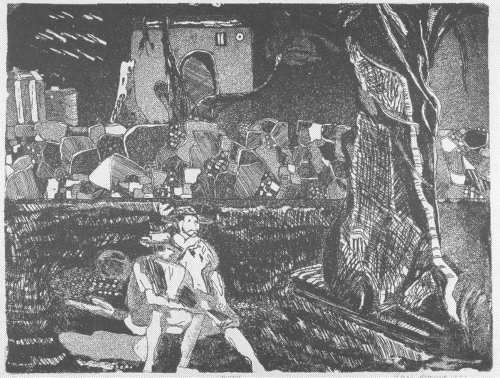 PENNY ORMEROD Crete 1983 etching, 293 x 380 mm.
It is to her credit as an instructor that, when the exhibition is first encountered, her prints do not over-dominate to the detriment of the other exhibitors. Only on closer acquaintance is the skill of her best work seen to dominate. Doreen Costello's approach is bold even if her images possess an 'accidental' quality that does not quite succeed. Jean Johnston's collagraphs of native bush have a soft yet dense sense of massed bush imagery that goes some way to bridge the reality of observed bush to that of a felt pictorial image. Ann Craig shows good pictorial design in a graphic sense even if her technical potential as a printmaker has yet to be realized. Norman Maclean occupies a border area of success. He is best seen in Approaching Storm, a collage compiled from cut-out shapes of grey-toned aquatint pasted over an embossed image of sky and cloud, partly inked, partly blind-printed, where sky and land are linked with a zig-zag thread of silvered tape. Madeleine Aldwell's images are simple, if, as in Conversation, slightly primitive. Her line of hills Waipaoa Tops has good suggestive qualities of texture but the embossed disruptive blind-printing along the crest of the hills should have been avoided.
Among the most promising is Phyllis Underdown, especially in her multi-layered, all blue Coastal aquatint. Equally promising is her reclining nude Afterwards, but her tendency to employ a facile line often displays a lack of formal appreciation of the object portrayed and marks a habit that is her gravest weakness.
PHYLLIS UNDERDOWN Coastal 1982 etching, 337 x 267 mm.
The one printmaker whose work stands out (other than Penny Ormerod) is Penny J. Barker. Her work covers a range of subjects: but there is unity of attitude behind it and an exceptional feeling for the qualities of texture, even in her almost over-simplistic relief print Camouflage. The most interesting are the three 'etchings'. One, Sea-Limits, is circular: a sombre, moon-lit beach and gentle lapping waves, printed as if an open page with Dante Gabriel Rossetti's poem The Sea-Limits supplied in letterpress: a good match of words, mood and imagery. The other two 'etchings' are triangular and of these Rejoice stands alongside four or five of Penny Ormerod's prints as the best in the exhibition. The rhythmic images in Rejoice are suggestive of grasses, but part of the stimulation of this print derives from its close liaison of technique and image, a combination which produces a very subtle effect as very little ink is applied to the plate. Basically, the images are produced by means of a broad - lined, relatively deep - etched design in the bottom of which a roulette has been used to supply (inked) tone - lines. The printed result is a work of unusual quality.