Exhibitions Christchurch
EVAN WEBB
Bing Dawe Quentin MacFarlane
When Bing Dawe was at art school he carved a life-size jack trout from wood. He also carved a river which cleverly flowed and twisted over boulders placed on the floor. All this work was finished and tended with a care usually reserved for living things. But at that stage his work was about living things - about the outdoors life in the country that Dawe properly cherished.
Recently, the content of Dawe's work has become more cynical. In 1981 he exhibited a work entitled Large Soaring Bird Ensnared in the Robert McDougall Ail Gallery and in 1983 the Wellington City Gallery showed Study: Bird Removing Foreign Object From Wing: in both these works the subjects, unlike the trout, are depicted as skeletal forms - forms associated with death and degeneration. The insinuation that the birds were ensnared, or harmed because of mans interference in their environment is obvious.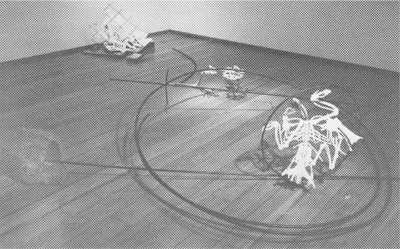 BING DAWE The Cock-Fight 1984 wood, steel and concrete, 3000 x 3000 x 50 mm.
Dawe's latest works have taken this cynical view of man to its final conclusion. Using the sport of cock-fighting as an analogy for human conflict, violence and war, Dawe creates a tableau in which man is portrayed as nothing more than a crazed, fighting rooster, about to tear at its opponent with extended spurs. This link was first established in a work called Man Killing a Cock (Canterbury Society of Arts, 1983) in which the skeletal arm and hand of a man merged with the carved skeleton of a bird, suggesting that the bird and its fighting were only an extension of a worse human condition.
The Cock-Fight exhibited in August this year at the Brooke/Gifford Gallery is a scenario of global conflict. It symbolises the conflict between East and West; of ideologies, of super powers. Two wooden, skeletal fighting cocks stand facing one another within a large iron hoop. One is free and ready to spring, the other is just being released from human grip. Although the cock structures are three dimensional, parts of them are represented as flat, unfolded or flayed sections carefully fretted from plywood. These parts have tabs with corresponding slots implying a dehumanising and analytical quality associated with post-mortems. Consequently, this work exists as an event past. This is further confirmed by a fossil-like relief on a cast concrete slab supporting the iron hoop. Again, the human element is represented as a flat wooden relief suggesting a shadow, a scorch mark or a stain. In this work Dawe has resigned himself to the inevitable. Instead of being portentous, he takes an aloof stance to analyse where we went wrong.
Formally, this work is complex and probably reads better as several separate pieces. This problem arises because of the intricate detail afforded the various elements, especially the fighting birds which appear as finished works in themselves. Nonetheless the marriage between wood, concrete and steel is achieved well, particularly where the use of reinforcing mesh strengthens the graphic quality of the flat, fretted pieces.
A series of thirteen woodblock prints accompanying the exhibition again reflect the flat, graphic qualities found in the installed work. With assistance from local printmaker Denise Copeland, these images were printed onto a seemingly raw, unsophisticated paper and presented unmounted and unframed. This imparted an immediacy to the images as if they were stamped directly from the flat wooden pieces in the installation and provided an appropriate complement to the show.
An excellent exhibition of recent painting by Quentin MacFarlane at the Robert McDougall Art Gallery showed a move away from the slick, flat application of colour, towards a looser and more gestural use of acrylic. The reference to landscape was still very evident as were the familiar blues and greens of MacFarlane's painting but in some works the strict horizontal composition - the measured bands of colour have given way to more intuitive arrangements.
For those not familiar with this form of painterly abstraction the exhibition began with two rather realistic landscapes. Although these works were the weakest in the show, they provided a link and a reference between the elements of land, sea and sky which MacFarlane assimilates into the more abstract works. This didactic approach was again evident by the inclusion of an earlier work completed in 1983.
QUENTIN MacFARLANENo. 11 1984 acrylic on board, 990 x 860 mm.
Compared with a more recent painting such as No. 11, over-controlled surface of the earlier work has been exchanged for a freer and more luscious use of acrylic. In the mid-ground of the newer work a raw, translucent pink is over-painted with a thick grey-blue revealing in places the under-painting through a texture of dribbles, scrubbings and daubs. Such scumbling techniques coupled with the heavy, impasted use of acrylic produced a far more activated and interesting surface when compared with the earlier work. They also bear witness to MacFarlane's extensive range of painterly skills.
While some parts of the canvas remain raw or thinly stained, others are treated to a fully laden brush or roller. Scrapers are also used to scour the surface and add to the repertoire of marks. On occasions the brush-strokes appear too casual and too easy. However, together with the other devices employed, these paintings retain an immediacy which communicates As much about the act of painting as it does about the landscape.
Occasionally MacFarlane's colours border on being easy and nice. The hazy, mediterranean hues, especially the sky and aqua blues, have a chalky, seductive quality that is prevented from becoming merely decorative by its contrast with harsher, cooler greens and purples. In the work No 13 areas of bright yellow orange and purple are placed side by side without the expected garish result. This work demonstrates that, although MacFarlane's use of colour can be sensual, he nonetheless has a sophisticated understanding of that use and is able to modulate the colours accordingly.