Book review
Working Men by Glenn Busch Published by the National Art Gallery, Wellington, 1984
Reviewed by SHERIDAN KEITH
Sometimes, while I've been working, I used to go into a dream, you know, a dream of my own, and this is what I have dreamt; that one day I would talk to somebody about what I've given the job, and what the job has given to me you know, the satisfaction you get inside yourself, you want to talk about it - and now, I have the chance to talk about it, just like in my dream. I don't know if you believe in faith - but that's what I think's happened. (Kevin Ellis, metal polisher)
The camera and the tape recorder have enabled twentieth century social historians to document the ordinary person, as well as those thought of as 'famous', with a veracity that seems unshakable. This record of New Zealand working men in the nineteen-eighties combines the simple natural spoken commentary of a Studs Turkel tape recording, with the poignant and stark photography of a Dorothea Lange. Both aspects offer sensitive and revealing insights into the lives of these men.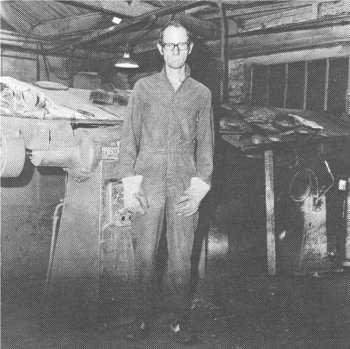 GLENN BUSCH Kevin Ellis Metal Polisher 1982 black-and-white photograph
There are no women shown, which I find a pity as one of the features of the 'eighties has been the emergence of women into the work force, in all areas. The other limitation has been to restrict those featured to manual workers - and in this focus there seems implied the idea that manual workers are somehow more honest-to-goodness, or perhaps more disadvantaged than those in other areas of work. It seems a pity also that for comparison there are no car salesmen, retailers, lawyers, accountants or MP's. It would have been interesting to see if the common themes that emerge in Busch's group were consistent throughout a wider range of wage earners. None of this should detract from the quality of what is given. The portraits are sincere, if somewhat bleak; images without artifice. You could say the subjects give a straightforward impression of themselves. The backgrounds are those naturally occurring in the work places of the subjects. Some are very beautiful in themselves - as in the Clive Mundy portrait, and in the image of Malcolm Greaves. Elsewhere the work environment can seem ominous, as with Norman Pattison, and in the portrait of Kevin Ellis.
In the dialogue common themes emerge. The sanctity of work, of working; the comradeship of workmates; the advantages of having a good boss; the importance of the family unit, and linked with this the desire to own one's own home, and wanting to give children the best possible start. Underlining everything is the real horror of the possibility of unemployment.
GLENN BUSCH Stuart Hammar Apprentice Carpenter 1982 black-and-white photograph
Seen on their own the images strive to ennoble and universalise. Joe Sandford, labourer, is any labourer. Stuart Hammar is any apprentice carpenter, and Norman Pattison any coal miner. But taken with the text we are directed strongly to the particular - to individual men of determination and endeavour. This book makes a fascinating representation of the real.