Lost and Found
The Architecture of W. B. Armson
J.N. MANE
Colonial New Zealand attracted to its shores dozens of men who described themselves as architects. Many of these had little or no claim to the title but a few were architects of considerable ability. Of the latter, William Barnett Armson was surely one of the more accomplished and one of the most prolific. Yet, ironically, he remains one of the least known. Many of his buildings have been demolished and his substantial contribution to colonial architecture in New Zealand is largely forgotten.
At the time of his death in Christchurch one hundred years ago, however, The Press was in no doubt as to his importance: 'He may fairly be said to have occupied the first position as an architect in this colony.' Certainly no architect did more to transform the frontier town of Christchurch, with its temporary wooden buildings, into a commercial centre graced by handsome edifices constructed of permanent materials. And buildings were also erected to his designs throughout Canterbury, on the West Coast, in Dunedin, and elsewhere in New Zealand. His masterpiece, The Bank of New Zealand in Dunedin, is also his monument—for he died while construction was in progress. It is one of the finest buildings of its type and period in the Southern Hemisphere.
W. B. Armson, Fisher Building, corner of Hereford and High Streets, Christchurch, 1880.
Armson was born in London in 1834, the son of Francis William Armson (who also may have been an architect) and Jane Barnett Armson. The family emigrated to New Zealand in 1852 but moved on to Victoria in Australia within two years, presumably attracted by better employment prospects following the gold strike of 1851. Boom town conditions prevailed in Melbourne, and the commercial heart of the capital rapidly acquired an architectural opulence unrivalled by any other British colonial city. It was during this period that the young Armson served his articles with the noted Melbourne architectural and civil engineering firm of Purchas and Swyer. Drawings in his hand for lavishly ornamented banks dating from his Mel-bourne period survive, and they are closely related in style to the magnificent commercial buildings which were rising along Collins Street at that time.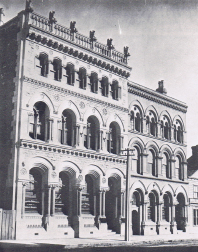 W. B. Armson New Zealand Loan and Mercantile Agency Company (left), 1881, and J. Lewis (Victoria Insurance Company) offices, Hereford Street, Christchurch, 1877, (Both demolished)
Between 1862 and 1864 Armson worked as an architectural draughtsman in the office of one of his former employers in Melbourne, C.R. Swyer, who was then Provincial Engineer for Otago. But apart from a few drawings nothing of Armson's work in Dunedin appears to have survived. Then, in partnership with J. Thornley, he supervised the construction of three bays of the nave and the north aisle of St. Luke's Church, Oamaru, to the design of Rumsey and Jackson in 1865, and the following year he set up in practice in Hokitika. Again, practically nothing of his work in Hokitika remains, although two of his bank buildings in Greymouth have recently been identified, the former Union Bank of Australia (1868) and the Bank of New South Wales (1869). However, his most important building in Hokitika, the Town Hall, with its elaborate facade and weather-boarded side. walls, has long since been demolished.
W. B. Armson, Bank of Australasia, Melbourne, front elevation (probably unexecuted), c. 1860-61, pen and wash on paper 700 x 745 mm.
The richest and most fertile period of Armson's architectural career unspanned the years he practised in Christchurch. Of the 20 or so architects who were active in the city between 1870, the year he arrived, and 1883, the year he died, his only rival in terms of ability was Benjamin Woolfield Mountfort. But they were not in competition with each other for Mountfort was fully occupied with the construction of the Cathedral between 1873 and 1881, as well as the design of numerous churches and various public buildings such as the Museum and the University College. It was Mountfort who gave the Canterbury Association's original vision of an English provincial cathedral and university town something of its architectural expression and established the Gothic Revival character of the city's public buildings.
Armson brought an altogether different quality to the architecture of Christchurch, a cosmopolitan flavour. For his inspiration derived not from provincial England but from the financial capitals of the British Empire—Melbourne, and, ultimately, London, and especially the Italian Renaissance style clubs in Pall Mall and the Venetian Gothic office buildings in the City.
Commercial architecture had been slow to develop in Christchurch. The earliest businesses were housed in temporary wooden buildings of very simple design, and it was not until the early eighteen-sixties—more than ten years after the arrival of the first four ships in December 1850—that commercial buildings of more ambitious design and constructed of permanent materials began to appear, though these were much maligned by critics such as John Hall who complained in 1862 of the `Melboumification' of Christchurch. In 1863, Hawkes and Strouts called tenders for a Bank of Australasia building ('an excruciating English version of Italian', according to the Lyttleton Times) in Cashel Street. The Union Bank of Australia of 1864 and the Bank of New Zealand of 1866, both designed in classical styles by the famous Melbourne architect Leonard Terry, were built in Hereford Street. For the New Zealand Trust and Loan Company Mountfort produced a design in Venetian, or Ruskinian, Gothic in 1866, while the following year the Bank of New South Wales building by the Dunedin architects Mason and Clayton, was completed, and, in 1869, offices for the New Zealand Insurance Company designed by C.E. Fooks. All these buildings were in Hereford Street.
W. B. Armson.
Borough School, Lyttleton, 1873.
(Demolished)
In July 1872, The Press remarked: `Hereford Street appears destined, of all the streets in Christchurch, to become the Lombard Street, the abode of the large mercantile establishments of the city.' Lombard Street, which lies right in the financial heart of the City of London, takes its name from the Lombard bankers of Northern Italy who were of such great importance to European commerce in the middle ages, and who established banking in the street that bears their name in London.
W. B. .Armson.
Town Hall,
Hokitika, 1869.
(Demolished)
The Press report continued: ' . . . in addition to the three large banks, the New Zealand Insurance Company's buildings, and a host of merchants' stores, there are now in the course of erection three large brick buildings, of a more than ordinary substantial character, viz., those of Messrs. C. Clark, Jones Brothers and L.E. Nathan.' Designed in 1871, the Chas. Clark and L.E. Nathan buildings were Armson's first major works in Christchurch, and the first of 14 important contracts which he carried out in Hereford Street alone.
The Chas. Clark building was a brick structure with a 'sham' front of compo, complete with detailing and ornament. This facade presented a two-storeyed elevation of three bays, with emphasis on the central bay which was framed by pilasters rising through both storeys—a Doric order on the ground floor, and a Corinthian order on the first floor. The central bay was capped by a triangular pediment which broke into the parapet. There were shell tympana to the first floor windows. The centre and ends arrangement of the composition recalls the British Palladian tradition which Armson evidently admired for most of his designs are harmoniously balanced according to its precepts.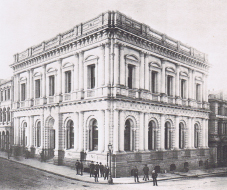 W. B. Armson,
Bank of New Zealand,
Princes Street,
Dunedin 1883
For the TJ. Maling building in Hereford Street, designed in 1873, Armson employed Venetian Gothic, following the precedent established by Mountfort in the New Zealand Trust and Loan Company building—striped courses, striped voussoirs and an Italianate cornice. The J. Lewis (Victorian Insurance Company) and the Harman and Stevens buildings, both of 1877, and the Fisher Building of 1880—all in Hereford Street—continue the Italian Gothic mode. Armson's most spectacular Venetian Gothic building in Hereford Street, for the New Zealand Loan and Mercantile Agency Company, was constructed in 1881. With the completion of the Nation-al Bank, a Venetian Renaissance palazzo style building, in 1883, Armson had worked for every trading bank in the `Lombard Street' of Christchurch.
None of his buildings in Hereford Street can be considered a masterpiece but their cumulative effect was remarkable, and it is difficult to think of a single street in any other colonial city which had such a concentration of high quality buildings designed by one man. Unfortunately, only one of Armson's works in the street is still standing—the Fisher Building. The rest have been demolished: the National Bank last December and the Chas. Clark building this year.
On a happier note, however, excellent examples of his commercial architecture have been rediscovered in Christchurch: W. Strange and Company (now Butterfield's) in High Street (1880); Anderson's Building (Bell's Arcade) in Cashel Street (1881); the Shamrock (Excelsior) Hotel in Manchester Street (1881); Butterworth Brothers Building (Harald's) in Lichfield Street (1881); and the New Zealand Loan and Mercantile Agency Store in Moorhouse Avenue (1881). Among his public buildings the following survive: the former Public Library of 1875, handsomely restored, refurbished and reopened this year; the former Christchurch Boys' High School of 1879, now part of the Arts Centre; and the present Girls' High School of 1880 in Cranmer Square. St. Mary's, Timaru, begun in 1880, is his one outstanding church.
While Armson's architectural achieve ments cover a wide range of building types, his designs for trading banks throughout New Zealand form a particularly impressive group. His contracts—for the Union Bank of Australia, the Bank of Australasia, the Colonial Bank, the Bank of New Zealand, and the Bank of New South Wales—date from 1866 to his death in 1883, and the buildings range from relatively simple timber structures such as the Bank of New Zealand, Rakaia, of 1881 to the elaborate masonry construction of the Bank of New Zealand in Dunedin (both still standing). All are, to some degree, classical in style. Regrett-ably, too few of his bank buildings remain.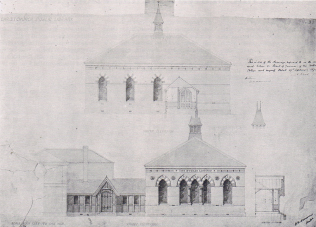 W.B. Armson, Public Library (now Library Chambers), Cambridge Terrace, Christchurch, front and south elevations, 1875. pen and wash on paper, 610 x 955 mm.
Armson may come to be recognised as one of those hidden figures—and they are legion—in the history of British archi ecture: a Victorian architect who pursued a successful career in the colonies. An uncompromising professional, he made surprisingly few concessions to his colonial situation; the disadvantages of working in the colonies in terms of the greater cost of labour and materials, for example, are not apparent in many of his buildings. Moreover, by reading architectural journals he kept himself well-informed on recent developments in British architecture. As a result many of his buildings reflected contemporary ideas about architecture and would have slotted quite happily into the commercial centres of Leeds, Liverpool, Manchester, or any other Victorian city in Britain, where they might well have survived as protected buildings by virtue of the quality of their design.
The Robert McDougall Art Gallery has mounted an exhibition of Armson's drawings and early photographs of his buildings, opening on 6 December, 1983 and titled W.B.Armson: A Colonial Architect Rediscovered
All the photographs illustrating this essay are from the collection of Collins, Hunt and Loveridge, Architects, Christchurch, with the exception of that of the Town Hall, Hokitika, which is from the collection of the West Coast Historical Museum.