Cedric Morris at Benton End
A Footnote to Frances Hodgkins
BERNARD BROWN
Sir Cedric Morris Bt. died in February 1982, aged ninety-three. He will be known to F. H. aficionados for his portrait of her, purchased in 1954 by the Auckland City Gallery. Some may be aware of the friendship between subject and portraitist, which endured over two decades.(1)
Cedric Morris left London for the Essex-Suffolk border in 1934, settling first at Pound Farm, Dedham; then, a few miles away, at Benton End, Hadleigh, Suffolk.(2) He and his companion Lett Haines's friendship with Frances Hodgkins was nurtured in the City's studios and galleries. They admired and encouraged her work. A successful and versatile painter,(3) Morris chose the country life to pursue his passion for iris horticulture. Benton End, a rambling 'Suffolk Pink' (and flaking) farmhouse at the edge of the village, was set in three or four acres of orchard. Much of the land became overgrown with gorse and blackberry; a large walled garden laid sole claim to his ministrations. iris lovers from many countries made the pilgrimage. Once a year it was opened to Hadleigh-ites. Some of them would have been pained to learn that the admission fees went to Labour Party funds.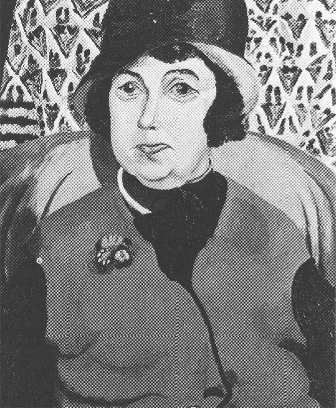 CEDRIC MORRIS
Portrait of Frances Hodgkins 1928
oil on canvas
(Collection of The
Auckland City Art Gallery)
As a five or six-year-old I was dispatched to Cedric Morris 'to learn drawing'. Payment was offered but not accepted. My father had been out of work a lot of his adult life (which started at twelve). Cedric, a former pioneer of working-class boys clubs in South Wales, liked him and the cut of his politics.(4)
Saturdays at Benton End were not without excitement. As intolerant of cruelty to animals as to canvases, Cedric Morris could be a bristly feuder. A campaign was going on against Sainsbury's (The Grocers) gamekeeper, who pot-shotted Cedric's cats. He lectured me on the certainty of earthly retribution for the likes of the game-keeper, and Sir Alfred Munnings ('the stuffed-horse man'). I believe Munnings died a natural death many years later at Dedham Vale; Cedric saw Sainsbury's man kill my dog and bury the evidence. His anger matched mine. We cursed the assassin for several Saturdays till the wretched man tripped over his twelve-bore and did for himself. 'Country boys spared no regret for the passing, however tragic, of game-keepers. Cedric went very quiet on the subject.
I had the run of the house. It amazed me. Bathrooms (our tub hung on the back fence) and indoor lavatories abounded. There were even upstairs ones. Words cut out from newspapers and cinema posters, then put together in sentences, decorated the walls. Their messages eluded me, but doubtless they were very funny and in keeping with the generally fey atmosphere of the place. There were big heavy-framed paintings upon most walls and many more stacked along the main hallway and in the studio. Two galleries at the front of the house were covered in them. There was a huge nude of a lady from Raydon. I had often seen her biking to Hadleigh and it was years before I could pluck up the courage to enter the shop where she served.
CEDRIC MORRIS
Djerba No. 2 1926
oil on canvas
(Collection of The
Auckland City Art Gallery)
The smell of oils and fresh-primed canvases was everywhere, arching a boy's nostrils. It seemed to cling to the weekend 'London' artist guests and to the male and female models they bought with them. Until a year into the War these were occasions of enormous gaiety, back-slapping, jibes which I didn't understand, sudden silences, then gales of laughter. (The pattern I now sometimes connect to jokes subversive of establishment persons and values.) All this took place at eating and drinking times in the brick-floored kitchen. Lett Haines (the locals swore he was 'Heinz') was the presiding genius. A big totally bald pink man, he sported a slashing (sabre duel?) scar which ran from crown to forehead. In spite of his effervescent humour, and all his kindnesses to me, that vivid wound fixed me with terror. Rustic rumour had it that he had been 'on the wrong side' as a cavalry commander (a very precocious one?) in the Great War. Word from a marginally less unreliable source had him a Dada painter. If he was, then like Cedric he had abandoned it for another art. His was haut cuisine. He did all the cooking with verve and exquisite attention to detail. Lett Haines was the first man I had seen in an apron and the only one before I left Suffolk.
I think I met Frances Hodgkins at Benton End. (I may be mistaken, for it was over forty years ago and now no more, or less, clear than the memory of a memory.) Cedric Morris, a long time later, thought she had made a visit in 1939 or early 1940. She was, if she it was, the oldest person I had seen there. I was asked to go to the river to dig some cIay for her. She was to be introduced, by a thin woman named Kitty, to a potter's wheel. Later that day, while drawing, she said something very witty to one of the models. (She was drawing in the studio, but not 'from life'.) Apart from those incidents and this person's old age and the large consideration she was accorded, I can't recall anything 'particular' about her.
That Saturday afternoon was either a few months before the outbreak of war or shortly after. A year later, when bombing raids were regularly mounted on London from the Hook of Holland, Hadleigh's air-raid siren was very busy. My drawing lessons were curtailed. Evacuees, chiefly from llford, were billeted at most of our homes, but not,I think, at Benton End. Local officialdom probably regarded Cedric Morris and Lett and their dwindling number of guests as too bohemian by half for the custodianship of little Londoners. (A grand time would have been had by all. But my opinion was not solicited!)
By then moral paranoia had set in. Channel, the butcher, who, circa 1880, had been christened 'Kari', defensively splattered his window with his own virulent anti-German doggerel. Shop keepers refused to serve a Hanoverian woman who had married a Hadleigh soldier in 1919 and had settled in the village. Lett Haines Meinz') was an obvious target. On appearance alone he was the archetypal Prussian.(5) (Early 1940s hysteria perpetuated a Wilhelm-Frederick model of 'the Hun'. Suffolk had not yet set the Goebbels-type nasty in its sights.) Benton End, it was said, sheltered Jerry sympathisers, if not a real-life spy. There was talk of an arsenal of swords and guns 'up there'. More talk of the need for a march on the place. Cedric's and Lett's relative laxness over black-out precautions didn't help. 'They're signalling the Jerry planes' was the predictable cry from the red-necks. In time, much of the panic was spiked by my father and by Girling, Cedric's handy-man, who had been commissioned in the First War. All this breast-plate beating seemed to pass by the Benton End residents with nary a twitch of apprehension. (Though, be it noted, it was Cedric who first drew my attention to the butcher incident and, in effect, directed me to go and look and draw my own moral.)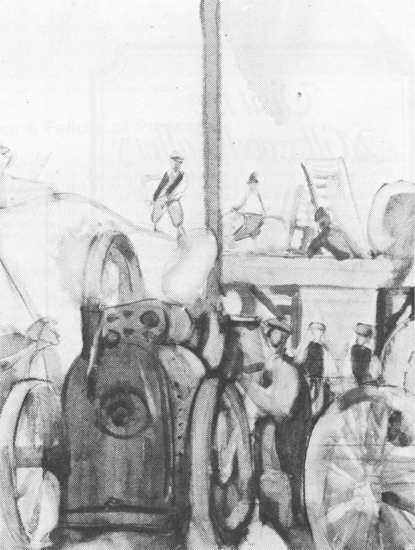 FRANCES HODGKINS
The Threshing Machine 1919
watercolour, 419 x 362 mm.
(Collection of
The Auckland City Art Gallery)
There was to be one resurgence of rumour-mongering about 'the artists'. In long hindsight it was amusing. At the time it was anything but that. One summer evening in 1942 a damaged Heinkel limped low over Hadleigh on its return to Holland. It dumped a stick of incendiaries in passing. One of the bombs struck the old Mill House, a mile Benton End. That was the last of the House. Straightway a village malkin recollected that 'one of they arty-crafty types from Morris's place' had painted a picture of the Mill a fortnight before 'the raid'. In next to no time, everybody had tumbled to what had been going on. The artists were carefully oil-painting all the strategic targets in West Suffolk (of which, in fact, mercifully, at the time there was none). Then, somehow, they were mailing the completed works to 'Old Goering' at Luftwaffe H.Q. Presumably, Old Goering got the canvases framed and had his argus-eyed Heinkel pilots prop them up in their cockpits, then set them to scouring the Brett and Stour valleys in search of the picturesque prey! Morris and Haines lived through that nonense too. A few painters continued to find their way to Benton End, including one or two in His Majesty's uniforms. And, thankfully, the blackout arrangements improved.
Through the war and after it, Cedric tended his irises and Lett his (economy menu) cuisine. Occasionally I went to the house to chat and do odd-jobs. Frances Hodgkins died in 1947 but noone thought to mention that to me. There was no reason to. The two men were joined in residence by Cedric's nephew, Nigel: lean, tanned and quick-eyed like his uncle. The three of them regularly walked the mile or so to 'The Marquis Cornwallis'(6) at Layham to sup at the public bar. In winter they repaired to the Portugal coast leaving the walled garden to Cirling, then to his son, to maintain. Nigel fell ill and died soon after. Lett died of old age in 1976. Aided by two lady housekeepers (the one outdoing the other in overprotection of their host) Sir Cedric Morris remained active and very alert at Benton End till this year, outrunning the disparaged Munnings by some lengths (7) as well as all their contemporaries. The two galleries, choc a block with paintings of five or six decades, stood locked against dealers. One doubts if the bathroom grafitti survived the housekeepers. Notwithstanding the latters' repulse of my attempt to visit Cedric at Christmas 1979, I telephoned to tell him that his Hodgkins portrait had been on recent exhibition at Auckland and that New Zealand (through Eric McCormick's fine books) was beginning to give F. H. the recognition that was her due. 'She would have been tickled at that' he said and rang off.
After my return to Auckland, he telephoned my father to drive him into Hadleigh 'To Vote against the Tories' in the local council election. If Cedric Morris did little else to influence Frances Hodgkins, it is not unlikely that some time in the 1920s he insisted she start subscribing to the New Statesman. (8)
1. E. H. McCormick, in The Expatriate, at p. 221 indicates that it lasted for rather more than twenty years.
2. S. C. Brown, my father, gives a date of 'no later than 1937' for Morris's move to Benton End from Decham (communication dated 25.5.1982). Waters, Dictionary of British Artists Working 1900-1950, gives a slightly later date. My father's date would be the more accurate one being based on local Labour Party membership records: see footnote 6 infra.
3. Working in oils and water-colour, he concentrated on landscape, bird and still-life and flower paintings. Between 1922 and 1952 he exhibited in Rome, Venice, New York, Paris, Chicago, Brussels and frequently in London. He drew and painted many illustrations for books dealing with plants and birds. I recollect his telling me he had executed murals for the liner Queen Mary.
4. When he approved of labour's parliamentary candidate, Morris was not averse to lending a hand at General Elections. He was very active in the Hadleigh area at the 1946 Election when its first, and only, Labour M.P. was returned.
5. Haines was as 'English' as Churchill. Morris, born in Clamorganshire, had enlisted as a private soldier in 1914 (on 'the right side') transferring in 1915 to Cecil Aldin's 'Remounts'.
6. It was in the fore-yard of the 'Marquis' that in late 1937 Haines and Morris attended a Labour Party meeting addressed by Professor Catlin (Shirley Williams' father). They joined the Hadleigh Labour Party that evening and remained financial members until their deaths in 1976 and 1982 (communication from S. C. Brown, 25.5.1982).
7. Sir Alfred died in 1959 aged 82. His stiff-limbed equine progeny live on.
8. Her devotion to that journal is recorded by Dr McCormick, op. cit.. p. 235.