The 4th Biennale of Sydney
New Zealanders in Australia:
Billy Apple Ron Brownson Christine Hellyar Peter Peryer
Richard Killeen Philip Trusttum Boyd Webb
ROGER BLACKLEY
The official catalogue of the 1982 Biennale of Sydney is a beautifully designed, glossy affair called, somewhat cryptically, 'Vision in Disbelief': something for everyone's art bookshelf. The first half covers the 'Static Works', alphabetically arranged by artists. 'Temporal Works' takes up the rest, broken down into Performance, Film and Video, and Sound. There are, roughly speaking, about a hundred artists in each section. Seven 'New Zealand' artists show up in the Static section, and one much later on under Sound. (This was an audio work sent from New York by expatriate Annea Lockwood.)
To begin to evaluate New Zealand's contribution - to isolate some strengths and weaknesses of the works themselves - it's necessary to examine the physical context of the Biennale itself. It was a huge event, only made possible by deploying a network of spaces across the inner city: a practical exercise in 'pluralism', we were assured. And 'decentralised' it certainly was: which often made it difficult to catch the temporal, unique event (film-screening, performance, symposium etc.) whose time and venue might be susceptible to variation.
But plural? As far as the static works were concerned, there seemed often to be an homogenising exhibition policy at play: the semblance of an international competition for mix-and-match interior art gallery decor. This eclecticism was announced grandly in the State Gallery of New South Wales, which gave over much of its ground floor and basement space to the Biennale. Meanwhile, the margins maintained a solid hanging from the permanent collection; and the upstairs exhibition space next to the food parlour was devoted to the Harbour-Bridge-on-teatowel-to-high-art-daub show. Given the contemporaneous jamboree, the gallery's mounting such a show is natural. After all, it's the kind of parochial thematic / landmark crowdpuller that you (at least occasionally) find in art galleries anywhere.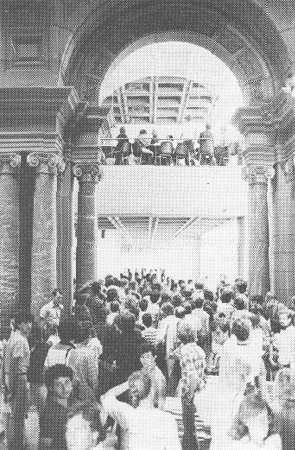 My point is merely that there are no inevitable ways of showing art. Curators' tastes, corporate auto-censorship, artists' demands, and a thousand other contingencies of backstage juggling are responsible for the how of what we see. But considering the State Gallery's position as prime installation (where most Sydneysiders headed on weekends to 'see' the Biennale), it's a pity more of the gallery wasn't available.
The small basement gallery en route to the ethnic artefact display, where some of the smaller, less jazzy photographic offerings ended up, was all too easy to miss. Yet since there was this tendency to siphon off photographs, at least the ones that weren't big or stunning enough to compete with the paintings, it's a pity they couldn't have formed a more coherent, noticeable group.
Anyway, down in this basement you were confronted by the brightly-lit spectacle of Ron Brownson's Poupou - a work that unequivocally announced its New Zealand provenance. This was a foursided 'totem' formed by 16 framed and mounted colour photographs, set on a block of Hinuera sandstone. Brownson has surveyed the known forms of Maori greenstone heitiki, which he photographs at point-blank range on strongly-coloured light-boxes. Infra-red light bleeds through the translucent carvings, revealing their internal mineral qualities, and suspending the heitiki and hei matau in uniform fields of colour. The interest here is in the intrinsic personality of each artefact (there is usually only one, or part of one, per frame), and in providing a new context within which each might be re-viewed, for itself and for its new relationships. And this viewing was an active process: to see Poupou you had to walk around it, seeing no more than two sides at any one time, and reading the images sequentially (usually downwards).
In New Zealand we associate these artefacts with the museum - institutions that house them. What does it mean to represent, as a photo-installation in an Australian gallery, these greenstone objects from early Aotearoa? The impact of this work is susceptible to infinite variation: what it would mean to someone completely unaware of classical Maori carving styles (as no New Zealander can be) is anyone's guess. But it would definitely mean something else again to a member of the 50,000-odd Maori community that, whether it likes it or not, Sydney now possesses.
Peter Peryer's five small black and white images were hanging on two separate walls near Poupou. A pair of identical prints (the basket and feather, reproduced Listener 3/4/82) were very small, playing-card size. Strangely, one was labelled Untitled 1980, the other Untitled 1982. You looked, and wondered (was this a 'concept' piece, a typographical error-). The other three - called Grid Series - were slightly larger, and formed a severely abstract triptych. The grids, which move nicely, can be construed as both receding and advancing. Or failing. And at the same time you know what these grids are: shadows on a textured surface.
These are immaculate photographs, and a small scale is something Peryer has been using successfully (a very small, very powerful image of Ngaruawahia cemetery appeared in RKS Art early this year). But they are scarcely pieces pitched to the intensity demanded in this context. The art promotion business is much like any trades fair, where market impact is what you go for. American Eve Sonneman, for instance, is not only making some of the best colour photographs around, but also encasing pairs of them in the most exquisite walnut mouldings. Colour photography, we may note, has finally arrived as a fully blown classic bourgeois art form.
On the ground floor were two colour photographs by London-based Boyd Webb, whose strategy on scale is the reverse of Peryer's. Just over a metre in height, the Cibachrome prints unmistakeably announce their status as museum pieces. And here lies a problem, for Webb's three other photographs at the Australian Centre for Photography suffered technical problems (of focus, of image definition) that seemed exacerbated by the choice of scale. Moreover, this series of one, two and three birds (a surrealistic re-play of Don Binney's favourite composition) looked weak in isolation from the two related but more complex works chosen to hang in the main gallery.
Guillemots and Guano continue Webb's exploration of an ambiguous, highly contrived space. In Guillemots three large pieces of rudely torn heavy paper stand mysteriously at attention, in an angled row. Their surfaces are dribbled, like imperfectly dampened urinals, or fragments of a New York-school painting, and pools of water stain the wooden floor. Here a male figure lies huddled, jacket splattered with paint/birdshit, his arms protecting his head and a hat full of eggs. This work depends on the operation of wit, and the pursuit of metaphors that are like the water on the floor - always on the point of evaporation. While the ironic painterly props probably contributed to the choice of gallery, it's a pity these two prints couldn't have enjoyed a closer dialogue with Webb's other three, and with other closely related works by Alegis Hunter (like Webb an expatriate New Zealander, but entered here as 'British') and American William Wegman, at the Australian Centre for Photography.
Still in the main gallery, the thirty three richly painted aluminium components of Richard Killeen's Island Mentality spread out over a dazzlingly white wall, facing the 'Intruding Staircase'. Killeen was very fortunate in this location - one that wouldn't have suited many more conventional, less dispersed paintings, but which offered him two distinct desirables: high visibility, and an autonomous area to articulate. It was the painting you passed by more than any other, perforce, and always enjoyed looking at. Killeen's work received enthusiastic comment in a review of major paintings by a weekend columnist in the Australian (It is what you see on kindergarten windows refined by a sensitive adult'). It was reproduced in this paper, unfortunately upside down.
Billy Apple's work - as usual - was difficult to place: but then not many Biennale-goers would have encountered much of a problem. Apart from the 'Intruding Staircase' poster (which has since been requested as a souvenir by the architectural practice involved), his main piece was one of the least accessible, literally, in the entire Biennale. Side Issue, a wave of Sydney Harbour Bridge-motif wallpaper with 'The Given as an Art-Political Statement' posters at either end, was stationed up on one side of a light well (on the level of, but invisible from the Harbour Bridge exhibition). It was obviously designed to be obliquely glimpsed from the basement court below. Yet this was where the Lajamanu from Central Australia had created an earth drawing, and so very few people got an opportunity to look up. Those few on the ground floor who were seen gazing upwards, unnaturally backing on to an open railing, were probably New Zealanders who knew the piece was up there. And they were perhaps better qualified than most others to appreciate it.
PETER PERYER
Still Life 1982
Down in the main basement, not far from the aboriginal work, Philip Trusttum had pinned two paintings on to a wall. These were something new in terms of what we've known from Trusttum: for they had first been painted, then sliced up, and now reassembled as something new. Just how arbitrarily you couldn't be certain (noting the wilful inclusion of a storeroom keyhole within one of the sliced fragments). Trusttum had another work out at the University's Power Gallery of Contemporary Art that looked much more tightly organised (and you could read numbers on it that related to assemblage). Slice is a spiral of undulating grids, whose whorl grows from and is held in check by denser rectangular shapes on the perimeter. This artist has since exhibited similar interesting work at New Vision Gallery, showing us that, indeed, this represents a turning point in his work.
Considering the New Zealand painting over-all, Trusttum's work seemed too close in interest to Killeen's. And certainly you could take issue with the inclusion of two abstractionists, thus bypassing any New Zealand contribution to the regionalist figurative tradition that informed a great deal of the 'new' painting from other countries. (Recent work by Jeffrey Harris or Tony Fomison, for example, wouldn't have been out of place in Sydney.)
Christine Hellyar's intimate sculptures, or 'cupboards', were among several treasures in the Roslyn Oxley Gallery, a backstreet Paddington gallery that seemed destined to be one of the sleepier Biennale venues. Until, that is, the Vice Squad busted the gallery, dragging away a sexually explicit painting - at which point the place was beseiged. So what could all of these visitors have seen in the cupboards?
Cloak Cupboard contains vertebral shapes fashioned from fired clay, smooth stones, birds' nests, and clay dishes,.containing seashells, eggshells, bones. Dagger Cupboard has a shelf of primeval-looking daggers/axes/hammers; then a strange assortment of skull-like shapes, some of them smooth fired clay, some furry, seemingly growing fungus; and lowest down a shelf of bizarre musical instruments. Meat Cupboard contains hanging objects, composites of woven fibres, feathers, sewn leaves.
The cupboards themselves are those dusty, varnished wood, glass-fronted affairs that make you remember a certain school display case, or a favourite corner in a provincial museum. Peering in, you enter the dream reality habitually invoked by Joseph Cornell in those open containers filled with both the found and the confected. And in Hellyar's cupboards there's an astounding confusion between those that seem artificially worked and those that seem natural objects. Crouching down to look into the Dagger Cupboard you begin to reconstruct, from these impossible tools of art and war, a plausible culture that lent them shape.
PETER WELLS
My ideas about the Biennale are still pretty unsorted out. In one way my mind resembles my suitcase: still unpacked, sitting in my bedroom. Why don't I want to unpack it- I guess I still like the romance of travel, of distance, of difference. I can't really separate the Biennale from Sydney: from the smell of frangipani on the hot air the minute I arrived: from the endless succession of cappuccino which spanned out like a miniature army throughout.
BOYD WEBB
Guillemots
(second version) 1981
cibachrome photograph
(Peter Webb Galleries
Anyway, maybe to separate the Biennale from Sydney is wrong: foremost the Biennale struck me as an assertion of cultural power. Australia is a nationalistic country. One of the strongest impressions I have of my stay is how being a New Zealander automatically confers a low-status image on you. It's understandable. I realised that Sydney plays the role of a city of exile much as London did for East Europeans during Hitler's war. It's crammed with talented New Zealanders who can't hack Pig Island anymore. (This isn't taking into account economic refugees). Such defensiveness about nationality has to be taken into account.
Wystan Curnow, who did the selecting of the New Zealand contribution, based his proclamation of identity on this very sensitivity: he wanted to be very careful about the image he was projecting of New Zealand art. He wanted (I may be wrong here) something cool, international, seamless. I don't want to talk about the New Zealand contribution particularly because I felt this selection lacked the width and energy of our own brand of regionalism. I wrote in my notebook at the time: 'Biennale = art jamboree, miniature Olympics of aesthetics: which country has it most together, and then which individual. New Zild has its own Olympic team, none of whom have the theatricality, the showbiz confidence to actually blast themselves into coterie consciousness.' I feel maybe Curnow misjudged the movement of contemporary art, failing to identify how it has moved on, critically speaking, from internationalism to regionalism, neo-expressionism. (As Berger says in one of his novels, half the battle for success for a painter lies in the invention of a label.)
If I were honest I'd say that I felt so unaccustomed to having to deal with such a wide range of art-work, from people whose past work I don't really know, that I felt confused. Two things didn't help. One was that the organisation of the Biennale left a lot to be desired. Its programming tended to bunch events together so you suddenly found, after a morning with nothing on and galleries not opening till 11am, four or five events on simultaneously: which one to choose?
Also, the events were spread throughout Sydney and the organisers didn't seem to take into account the fact that a Biennale is an international event and likely to have a lot of people unfamiliar with local territory. A map never entered their consciousness. In one way it highlighted just how much one takes for granted in one's own local territory. I mean not only knowing where things are but also who people are. Being in Sydney was a bit like a rude shock wherein you realise all your points of reference have gone.
Of course this is healthy. I've often thought New Zealand's national motto should be changed to 'Familiarity Breeds Contempt'. A really good thing for me in attending the Biennale was just this testing of assumptions: not merely about the art-scene, but also about the production and promulgation of art. For Biennales are marketplaces wherein reputations are forged or forgotten. One shouldn't forget this: underneath the surface of the Biennale, and not very far below, was a substratum of desperate seriousness, of juggling competitiveness, of individuals taking part in a joust where more than ego was at stake.
RICHARD KILLEEN
Island Mentality 1981
alkyd on aluminium, 33 units,
3000 x 5000 (installed)
(Peter McLeavey Gallery)
If one wants actually to take the Biennale apart one could see quite a handful of contradictions. For a start it's every three years, not two years. It's not only an art event, it's an assertion of Australian cultural muscle: saying to the world that Australia is capable of being, for a month or so, a focus for world art. No longer is it provincial (and herein lies the shouldering off of the culture cringe on to New Zealand backs: they see us as everything they once were, Anglo Saxon, dowdy, backdated - at the same time a certain element of insecurity exists based on the knowledge that good work persistently comes out from New Zealand). So the art event is inextricably tied up with nationalism, and the economic assertiveness which underlies this, uranium et alia.
At the same time the Biennale is no more than the product of filtering processes. Each country's selectors decide who, out of thousands and thousands of artists, is 'representative'. Representative of what? A national self-image, as in New Zealand's case? Of a certain movement in art, like neo-expressionism, in which case neo-expressionist painters are chosen while painters of another ilk are left unexpressed? Men? Women?
Similarly unspoken is the fact that the Biennale is really all about European art. I mean here highly individualistic person-art arriving out of a European/American tradition. It doesn't take in the Third World for a second.
This in itself is a pretty interesting statement about the Australian self-image. It denies completely Australia as a subcontinent off Asia. It denies the Pacific. The aborigines were given a kind of glass-box honorific position in the basement of the gallery: you observed them from the height of a floor: the inescapable feeling was of being in a zoo looking down at animals. It was so token as to be abhorrent.
While the Biennale was on, the British were sending their gunboats out to, as a cab-driver told me, 'nuke those second-rate Spanish bastards'. The conjunction of events gave the Biennale a certain air of unreality. Nobody so much as acknowledged it in their artworks. I guess this calls for a spontaneity which is difficult in something so highly artificial as a Biennale-for something so removed, generally, from the actual production of art. I guess it underlines, too, how art tends to run parallel to politics rather than converging with it. A lot of this art carried with it implicit or explicit criticisms of consumerist capitalism: but no one actually took a further step of relating art to life at this particular crisis point. Instead, people did performances they had worked out a long time before, often set-pieces of ingenious artifice, to be produced on the lit pedestal of high culture.
I don't want this to seem a gripe. I loved the opportunity of wandering through this Easter Show of art. It's difficult, though, seeing only one artwork from each person - you have little idea of the route which brought her/him there. Maybe you're meant to know? The Biennale had a sort of specialised exclusivity to it, cutting off the ordinary public from access to what artists were trying to do or say.
Speaking personally, I gained quite a bit just seeing what other people were doing. My first impression (until I saw Juan Davila's Stupid As A Painter) was that nothing really left me ripped. Indeed the return to regionalism and expressionism gave me, as a person reasonably familiar with the works of Maddox, Clairmont, Harris etc, a feeling of déja vu. Nothing new. Davila's painting was the exception for me. This was not only because it was a mural of quite staggering visual power, well executed and moving, but because it utilised taboo imagery in a way I'm interested to do in my own work.
I'd like to talk about the banning of this work because it seems to me an interesting illustration of the way political processes did converge on art in this international event.
To start with Davila himself; he is a Chilean-Australian painter working in Melbourne. Stupid As A Painter was produced specifically for the Gallery of New South Wales, and for the Biennale. It has a monumental museum-gallery scale (213 x 772cm); it is carried out in acrylic and collage on a photographic mural. Reading across the end of the mural are these words: Date:1981. Author.. Juan Davila. [erased] Title: The Kiss of Spider Woman. Concept: [erased] Our Angst [replaced with]: shit art. Place: Melbourne, Australia. The thought-bubbles beneath this read: My desire has no gender. Stupid as a painter! Liberation of desire homologous to social liberation. Further to the right one reads in huge letters of graffiti-like spraypaint: The end.
And the end it is for Davila's painting. This monumental work is literally his last painting. The process which led him to the decision to change to other media can be seen in his article 'Spider Woman in Australia', Art and Text, Summer 1981. I cannot reproduce his densely packed proclamation of independence against 'the dry marriage of painting and object of contemplation' here. it relates to his hostility towards painting as a valued object and a desire to use the 'new mechanisms of artistic production and communication'. He favours a variant of the comic strip as the most directly accessible visual code. Indeed in Art and Text we see Davila offering his own body up as part of a narrative photographic sequence which could be seen, perhaps, as a baroque version of a comic strip. This is an expression of his belief that art should be concerned with the practices that validate the body's significance, its gestures and actions, its biography and semantics. The body is the first vital affirmation of an historical and geographical possession ... the artist can use his own body as a sign of a passionate fight with the historical modes of productions of art and culture. I propose my own life and body as support of art. I inscribe the alienation of my identity in my flesh as a live edition of semantic signs. I defy the sign regulation, verbal and visual, as a form of ideological liberation. My social and historical insertion in Australia are assumed as a transgression. Spider woman is born.
In the not so ironically entitled Stupid As A Painter, Davila has already used his life and body 'in support of art'. Not his physical or photographed body: he has chosen instead to paint that homosexually mythic body of 'Tom of Finland': he who is impossibly super-endowed, supra-curvaceous in a way which signals the very urgency of the dream, or the desire that lies behind the dream. Stupid as a Painter is a comic strip about the angst of Davila's sexual identity. He tells us so by naming these impossibly sexual creatures with family names (Davila). The mural is about him yet not about him: it is about 'a passionate fight with the historical modes of production of art and culture'.
The Biennale Committee decided that the best place for this work was a newly opened gallery in a suburban backstreet in Paddington. Screens were placed around it. To me, this initial lack of courage weakened the Biennale's whole standpoint.
PHILIP TRUSTTUM
Slice
paper
(collection of the artist
It took nine days for a leader of the Festival of light to hear of Davila's work and present himself to the suburban gallery, ready to be shocked. The process by which he found himself there we will probably never know (though undoubtedly it would be an interesting one). Anyway this guardian of moral probity made his complaint and the police took Stupid as a Painter away. A senior policeman 'who would not be named' said, I think it is absolute filth. I would not want my mother exposed to something like that, or anyone else for that matter'.
For the first time the Biennale burst into public consciousness. The Falklands became the second news item of the day and on television we saw brief glimpses of a horrified elderly woman, eyes glued to the canvas. Finally, Neville Wran, the Labour premier of New South Wales, announced that the painting would be re. turned to the gallery.
The police, who in Sydney amount to a kind of unruly third estate, did not appreciate this abrogation of their power. (Just as they cannot have appreciated the removal from their possession of an artwork which many policemen found aesthetically educative, according to the unusually high numbers presenting themselves to view the mural in private.) People began queuing outside the gallery. Inside, the gallery-owner, new to the world of art-politics, deliberated. The police returned the painting but the only sign of its presence was a sign outside the gallery saying it was NOT hung. The story went the police had dropped the painting returning it to the gallery. Its frame needed mending.
By the time I left Sydney it was still not back on show. (Later it re-emerged within the safe precincts of New South Wales University, an area the police feel chary of entering.) What seemed sad to me was that this powerful, even magnificent, work was denied its rightful appreciation. Its very success - the accessibility of the public to its subversive code - meant it became an endangered art-work. On the other hand, maybe one has to see this very aspect of succès de scandale as Davila's triumph. Has he not written that he wishes to take advantage of new communications. Alone he pioneered mass media news: alone he made the Biennaie something more than an art elite's bunfight.
For me it was a stunner.
It made it into My Biennale.
DENYS WATKINS
You'd better look good,
you'd better look right,
'cause the art mob's out tonight.
Terry Allen, Texan country singer, multi-media regionalist, opened the performance section of the Fourth Biennale of Sydney with some poignant vignettes, surreal in nature, referring to his youth in Lubbock Texas, to prairie dogs, insurance buildings, art trucks on fire: strung together in narrative style as the ghosts of Buddy and Woody looked on.
The supposition is, then, that galas of this kind show directions, innovations and contemporary attitudes in the visual arts in their many expanded forms.
The contemporary artist's 'palette' constitutes video, sound, film documentation, performance - utilizing the medium to best serve the particular intention. Exhibitions and forums of this nature have previously been weighted towards conceptual and non-static works. Here, however, as we now seem to be in a period of stylistic ricochet, painting once again is the largest contributor.
JOHN LETHBRIDGE
Surrender 1981-82
photographic installation
with video
Questionable categories like 'new image', 'neo expressionism' 'trans-avantgarde' (as well as just plain bad) seem to me to be just an opportunity for the large entourage of critics, curators, art historians to hook a phrase on an attitude that currently prevails in contemporary Image-making. These terms give the art bureaucracy a platform in their unending efforts to dissect and propose (1) the way, things are going; (2) have gone; (3) are possibly heading (with all due respects to Calvin Tompkins - ahead of the game). Winners are developed and presented to the world accompanied by the explanation; and most of the world responds with: gee I suppose so if they say so. . .
It's not for me to give a complete run-down of the present attitudes (one can assess the varying approaches in contemporary art periodicals). In relation to the Biennale, Elwyn Lynn's preface in the catalogue, and the Director William Wright's statement, were a cohesive introduction to the works presented.
In terms of the painting and photography, idiosyncratic personalised mythology was strongly evident; symbolism as opposed to formal abstraction (which wasn't in evidence at all) was the order of the day.
The Philip Guston painting, Pit 1976 is a key work in the exhibition. One recognises the artist's influence on recent developments in painting as one of the most important accomplishments in American painting in the past decade. Anyone interested in Guston can't fail to be moved by the man's integrity and courage; the sensual slurp of his paint; the private and arcane imagery that turns harmless household appurtenances into inventions of humanoid garbage spread across nightmarish urban deserts.
It's not my intention to group works under headings of medium or style. However, European countries seemed to be much in evidence - with the Germans and Italians having a nationalistic prominence. Salome, a young German ex-performance artist, had a huge red, green and gold gestural painting with floating linear figures painted 'in situ', containing an up-front, gay energy, slapped on to a stapled-up piece of canvas that one would associate more with Barbados than Berlin.
The Italian line-up included Enzo Cucchi's huge monochrome freehanging canvas. This had a bite to it that gave me reason to believe that Giotto and Perugian wall-painting has more in common with these works than the blanket term 'neo-expressionism'. Mimmo Paladino's ritualistic paintings in tertiary silver and gold colourings retained a more academic sensibility in their structure. They were encaustic on stretched canvas; whereas his comrades favoured unstretched canvas, with folded and appliquéd pieces giving form to trees, rats, or whatever your interpretation led you to.
The American artists Robert Kushner and Miriam Schapiro presented the decorative image. Schapiro's floral fan, Black Bolero, emanated an inner light from its intense, masterly-crafted, arcshaped canvas - a nod to formal precision that uplifted the womens' world of craft to other realms. Robert Kushner's work on the opposite wall complemented Schapiro's piece by floating across the wall in loose sensual colours, each coming in and out of the other. It was a positive experience in a rather dubious direction; though in context it did take the weight out of the drama: a welcome relief, a visual massage.
John Ahearn's honest, no-frills, painted plaster life-casts of New York Bronx inhabitants retained a strong, nobullshit presence as some of the toughest works in the show.
PHILIP GUSTON
Pit 1976
(collection of the
Australian National Gallery,
Canberra
Photography held together as the strongest uniform collection, with powerful social and political intent obvious in most works. Large format colour photography competed with paintings in scale and succeeded in most images in imagery and content.
Particularly notable works were: William Wegman's colour prints of his dog as subject matter in various incongruous situations; Kathleen Seltzer's subtle, enigmatic and theatrical black-and-white compositions; Roger Cutforth's beautiful clarity of colour in Three Horizons, Big Bend, Texas; Eve Sonneman's travelogue cibachrome prints in different locations in the Western World; John Baidessari's tough Blasted Allegories; Mac Adams's Hitchcock scenarios - whodunnits with artistic reproductions.
Following in the footsteps of the Westkunst exhibition in Cologne and The New Spirit of Painting at The Royal Academy in London, this Biennale had nothing to shock, but a lot of energy - created as much as anything by the artists who performed, and were there projecting his or her myth and atmosphere: which at times was as prominent as the works themselves.
This was the modern world - romantic, autobiographical, cynical: forget detachment, do it how you feel, draw on all experiences - childhood or spiritual. If this sounds indulgent, it sounds healthy to me - perfectly suited to Sydney's crass cosmopolitan atmosphere. At least you can get a cup of coffee at any time; the beer's good, the wine even better: the ethnic restaurants, F.M. radio etcetera give it an energy worth trying with or without an art, convention.
There's an Edward Hopper retrospective following to put things into perspective (the final criterion being whether the work does it to you or doesn't).
I got a few surprises.
See you all again in Paris and Venice.