Robert Jesson
BRUCE BRIDLING
Up until a few months ago, apart from a circle of close friends, Robert lesson's sculpture was virtually unknown here. A more than frequent visitor, however, taking a special interest in his work, was Auckland gallery owner/director Ray Castle. The upshot was a highly successful exhibition entitled Wall Sculpture, held last November at The Closet Gallery.
All the work was abstract, made and assembled in painted wood and presented with some authority. The larger works (some stretching over 2m in length) were essentially a 'frame' irregularly oblong in shape and enclosing an inner space. They bulged and twisted, undulating in and out from the wall on which they hung, often akin to delicately folded paper (on some, the corners even turned up and folded on themselves).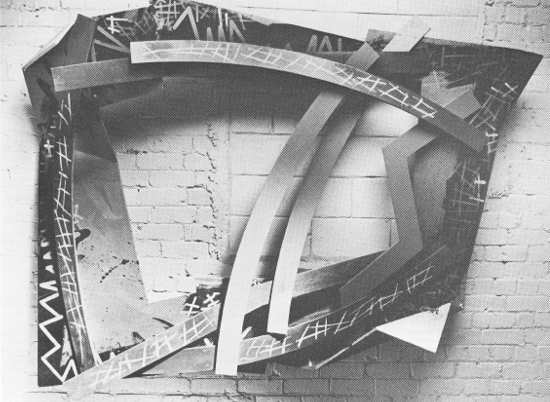 ROBERT JESSON
Melt Down 1981
plywood & lacquer,
2220 x 1800 mm.
Over the surface of these 'frames' were strips of curved wood which seemed to almost float above the frame, thus enhancing the feeling of weightlessness, and further developing a tentative relationship between wall, frame and strips. In one, Refuge (for Nicola), they started from behind the frame and then slowly revealed themselves to the viewer. Each 'frame' was painted in its own distinct patterns and colour relationships - all sharing large saturations of primal red.
At the other end of the scale were the smaller, more informal pieces, constructed from lengths of dowelling, picture frame mouldings and other bits and pieces, wrapped over and around wooden coat-hangers. Although at first they appeared to be haphazard and casually tied together with string and wire, one quickly realised how very tight this seemingly informal arrangement really was, each element depending on the others to create an impression of vigorous elegance.
On a recent visit to Jesson's studio (an almost impossible to find rambling loft a stone's throw from Ponsonby Road), I had the opportunity of catching up and talking with him about his work since the exhibition. There is a feeling of quiet tranquility about the studio: which somehow seems to hold in check the high energy, hyper-acid colour and savage angles and thrusts in Jesson's work.
Viewed at various stages of completion, some of his new work has, for the time being, moved away from the wall and become free standing. But still retained is a lot of the vigorous elegance which characterised the wall pieces seen at Closet Gallery. The more recent work has a hard, sharper three-dimensional quality. The angles are more complex, energetic and precariously balanced. They seem to reach out and thrust themselves up toward the ceiling.
In a different direction again was other work suspended from the ceiling-pieces that seemed to float there, hovering like folded, aero-static monoliths. Their various coats of brightly coloured paint seemed to coagulate the different styles and directions of his work. These pieces especially emphasise Robert lesson's conviction that there is a successful interior format for large scale sculptural ideas: in that sculpture is not necessarily bound to the floor.
Art should be lived with intimately - next to you, very close to you, and if that means mapping your life around it, then that's fine! I try to pursue ideas through to some sort of definite conclusion. Continuous ideas seem to follow each other, often their relationship to one another seems remote, out of control, unconnected until much later; then suddenly you see it very clearly. I always find that an exhilarating surprise when the idea becomes so clear-sort of pops out of your head---and you wonder why you hadn't seen it before! Whenever l start a new piece of work, I never really know how the final thing will end up. I have this vague notion - no, its more than that: the idea is there burning bright and clear, but without any real concrete shape to it. I just start to push the two toward each other, the shape toward the idea, trying to create a sense of harmony between the two. As long as I don't try to force it or let my bloody ego get in the way too much, the whole thing starts to work and pretty soon it tells me, dictates to me, how it should go - whether to continue or sometimes to start over again. I really hate that, having to start again. All that time and effort for nothing! But it is not the physical thing that gets you down. It's the mental knocking around you have to take. I find this emotional type thing of making art very draining, sometimes near exhausting! And some of the major influences on his work . . . ?
ROBERT JESSON
Refuge (for Nicola) 1981
plywood & lacquer,
2120 x 1700 mm.
I was lucky enough to go to two very good art schools in England - Norwich School of Art and St. Martins in London. Both were at the time (early 'seventies) heavily influenced by the work of Tony Caro, and to a lesser extent the late David Smith. Actually, Tony Caro was head of the sculpture department at St. Martins, not that we saw that much of him. But you sure as hell felt his presence and influence! It would have been difficult not to. This sort of very cool, controlled British abstract thing, great hunks of steel plate and girder, etc. So you were soaking all this up like a sponge - at the same time reacting against it, trying to find something of your own. It doesn't take too long to discover that abstract sculpture doesn't begin and end with David Smith or Tony Caro! The work of the American sculptress Eva Hess, and British sculptors David Nash and Philip King really helped and influenced me a tremendous amount, as did the Rumanian Brancusi. But when I finished at Art School and all that and came back to New Zealand (that would have been in 1977), it took a long time, more than I thought it ever would, to get over all those varying influences and get back to pursuing my own ideas and directions.
Jesson's work has been included in an exhibition, opening at the Govett Brewster Gallery in New Plymouth on the 20th March and he is having a one man show at Peter Mcleavey's Gallery in Wellington which opens on the 23rd March.