Auckland City Art Gallery
Newsletter Number 4 January / March 1982
A quarterly publication containing news, views and reviews of activities at the Auckland City Art Gallery
Exhibitions
During September and early October the director, Rodney Wilson, travelled to the United States, Britain, the Netherlands, Germany and Switzerland.
Although primarily concerned with the organisation of the transport of paintings for next year's major international exhibition, Still Life in the Age of Rembrandt (a collection drawn from seventeen different collections in six countries), he was also involved in planning two important exhibitions for 1983. Tentatively scheduled for April of that year is a two hundred-work Paul Klee show; whilst at the end of the year an exhibition devoted to an examination of Monet's series will take place. Advance planning for future Canaletto and recent American painting shows was also undertaken.
Artichoke
This open-storage viewing of the Gallery's paintings is proving very popular with visitors to Auckland as well as residents. Many people have said how much they appreciate the opportunity of viewing paintings they admired years ago and which they have not had a chance to see for some time.
MURRAY HEDWIG
Garage
(full of pillows) 1977
black & white photograph
Artichoke is not an exhibition as such. It is a means of alternative storage while the painting and sculpture storage sections of the Gallery are being reconstructed. Hanging paintings on the Gallery's walls is the safest method of storage in the circumstances and enables a great number of paintings, many of which are not regularly exhibited, to be simultaneously presented to the public. Thus, Artichoke gives a fair idea of the range of this Gallery's holdings. But, by the same token, it also points out the limitations of a collection which can only expand as far and as fast as limited acquisitions funds allow. To help remedy this situation, we are soliciting donations towards a 'picture purchase'.
If Artichoke makes a particular point, it is surely this: the collection is diverse enough to accommodate all levels of interest. Landscape, portraiture, genre, religious art, still life, as well as figurative, expressionist and abstract art in its various forms are represented to a greater or lesser extent. Some areas obviously require development. We appeal to you, the public, to help us do so.
The paintings and sculptures displayed in Artichoke do not comprise the whole of the Gallery's collection. A great number of prints, drawings and photographs which are housed elsewhere in the building have not been affected by the reconstruction of the East Wing of the Gallery and are consequently not included in this presentation. In addition, some works requiring conservation treatment and others such as hangings, which can be more conveniently stored rolled up, are also not exhibited. Artichoke does, however, represent the bulk of this Gallery's painting and sculpture collection.
As a matter of interest the total number of paintings on exhibition is 742. A list of titles is available as a catalogue, priced at $3.00 plus postage (N.Z. 50 cents, overseas $1.25).
Every day during the Artichoke exhibition an eight-minute audio-visual presentation is available at the push of a button in the basement theatre-workshop.
Festival Free-For-All
Because the Art Gallery's open storage exhibition Artichoke precludes a special Festival exhibition or other activities inside the building, its contribution to the Auckland Festival in March will take place outside.
JOHN FIELDS
Brian Boru Hotel, Thames,
during renovation 1974
black & white photograph
A large hoarding, approximately 12 metres (40 feet) long will be attached to the scoria retaining wall between Albert Park and tl sculpture garden.
Would-be decorators will be provided with acrylic paint, but they must bring their own brushes. It is hoped that the hoarding will attract a range of forms of expression. The Gallery photographer will record the daily changes that take place. At the time of writing sponsors are being sought who will supply the plywood and paint for the project.
'Spot The Detail' Competition
We thought it would be fun to take advantage of Artichoke to organise a competition for schoolchildren called Spot the Detail. Accordingly twelve details were selected from the paintings which are clearly visible to children: i.e. hung fairly low down on the walls.
Forms were available at the foyer desk inviting children to search for the details and name the paintings.
Subsequently the winners were drawn from the correct entries received. Two prizes were awarded; one for the under 12s and one for the over 12s. The prizes - a painting kit valued at $30.00 for each group - was kindly donated by Spooners Pictures Ltd, Auckland. We are very grateful to Spooners for their interest.
Museology Workshops
In October a workshop called Preventive Conservation was held in the Conservation Laboratory. It was organised by the Art Galleries and Museums Association of New Zealand and the Art Gallery.
Twelve young members of art gallery an museum staffs from various parts of the country attended for one week and undertook a concentrated course in the methods of preventing the ravages of time, atmosphere, climate, handling, etc. that paintings, drawing and prints are subject to.
It is expected that another course will be held in April.
The Photography Collection
The Gallery photography collection was begun in 1975 under the curatorship of Anne Kirker in collaboration with the honorary photography consultants, John Turner and Tom Hutchins. The aim was to represent significant developments in contemporary New Zealand photography by means of judiciously selected works displaying considerable artistic merit.
CLIVE STONE
Pat Fowler, Campbell's Bay 1973
black & white photograph
The collection now numbers more than 250 photographs, the majority of which are contemporary. In recent years, with the development of archival colour printing, colour photographs have been included in the collection.
The photographers whose work is best represented are Laurence Aberhart, Gary Baigent, Peter Black, Gary Blackman, Fiona Clark, Richard Collins, John Fields, Bruce Foster, Marti Friedlander, Murray Hedwig, Robin Morrison, Max Oettli, Peter Peryer, Clive Stone, John Turner and Ans Westra. Most of the other photographers are represented by at least two or three works.
In recent years an effort has been made to represent photographers by a series or group of photographs rather than isolated examples. The acquisitions of Ans Westra's Maori I portfolio, Laurence Aberhart's View portfolio and Bruce Foster's Seaview series are cases in point.
The collection is supplemented by a selection of historical New Zealand prints (and reprints) by such pioneer photographers as G. L. Adkin, the Burton brothers, James McDonald and the Tyree brothers.
In keeping with its policy of exhibiting recent work by significant contemporary New Zealand photographers, the Gallery recently organised two shows - now touring New Zealand galleries - of photographs by Robin Morrison (From the Road) and Clive Stone (Hibiscus Coast Project). (See Art New Zealand 21)
Photographs, when not exhibited, can be inspected by appointment.
Staff
Marie Kirby joined the staff in September, 1981, as senior shorthand-typist, replacing Pamela Birkin who resigned in order to take up social work. Previously Marie was the Auckland Gallery Associate's part-time secretary.
In November Graham Snowden was appointed as exhibitions technician.
Conservation Laboratory
The Laboratory is currently divided into two areas: one section for paintings and the other section for works of art on paper.
When the Gallery re-building is completed, these areas will be augmented by an examination area which will handle all documentation, including x-rays. The space will also house a spray booth, and a small dark-room and storage racks.
The paintings laboratory is presently equipped to undertake major and minor treatments of works of art. These include surface cleaning, varnish removal, consolidation of flaking paint, lining, compensation of losses and re-framing to conservation standards.
A major part of many treatments is the lining of a painting. This involves the adhesion of a new canvas backing to the original canvas, which may have been torn or may be too brittle and degraded to safely hold the paint layers.
Traditionally, this operation has been carried out with hand irons and later with a vacuum hot table. However, with some contemporary paintings, it has been observed that certain colours and effects, such as areas of bare canvas, cannot be lined in the traditional manner. To this end the cold-lining table has been developed. It is hoped that such a table will be built in the Gallery's Conservation Department to complement its aging vacuum hot table and thus expand its repertoire of lining treatments.
During the present building renovations, which will amalgamate the old public library buildingwith the Art Gallery, the Conservation staff have been consulting with the engineers and architects regarding air conditioning requirements, lighting and storage systems.
During the period that Artichoke is on display the Conservator of Paintings will carry out a complete survey of the collection. This will include individual condition reports and photographic documentation. This information will aid in the detection of any future deterioration or damage and will enable curators and conservators to better establish priorities for treatment. In addition the Gallery's technicians will put backings on all paintings, and padding along the rabbet edges of the frames to prevent abrasion around the margins of the paintings.
When it is completed the documentation section of the laboratory will permit a relatively complete analysis of most art works for both art historical and conservation purposes. At present it includes infra-red, ultra-violet and microscopic inspection of art works, as well as some limited physical and chemical analysis of materials. In the near future this will be expanded to include an x-ray facility.
The staff members of the Conservation Department at the present time are: Ed Kulka senior conservator, responsible for the paintings laboratory; Mervyn Hutchinson, conservator responsible for the paper laboratory Christopher Seagar, conservation technician and lan Bergiquist, exhibitions conservator whose responsibilities include: climate control (measurement of relative humidity) and lighting levels; condition reports for evey work arriving or leaving the Gallery; and responsibility for the safety of the permanent collection whether on exhibition or in storage
During October the department conducted a three-day course as part of the Art Galleries & Museums Association of New Zealand's Workshops. It was called Preventive Conservation. Twelve students, all of whom are members of public art galleries or museums staffs, took part. The aim of the course was to alert the students to the symptoms of possible deterioration in works of art so that prompt action could be taken, and suggest what form this should take.
Times Past
'Art Gallery Plan, New Concept
Plans approved this week by the:Auckland City Council finance committee provide for the art gallery and central library premises in Kitchener Street to be redesigned and combined to form a new art gallery.
The Work, which is to proceed in two stages, is expected to cost more than £400,000.
The first stage - redesigning the existing gallery and provision of an open air sculpture garden in Kitchener St - is expected to cost £260,000 and will be financed by the Edmiston Trust Under an agreemen:t with the trust board, the Council will be responsible for the second stage - redevelopment of the library at a cost of more than £140,000 ... In the first stage, part of the gallery - including the Wertheim Room, the newspaper store and the photographic studio - will be demolished to make way for a new four-floor building providing 11,000 sq feet of exhibition space.
The new block will have a garden entrance replacing the steep flight of stairs from Kitchener Street which will lead to a new lobby - sculpture court at ground level.'
The New Zealand Herald, 4 March 1967
A leader in the New Zealand Herald, dated 4 March 1967 read in part: 'In consenting to the use of the munificent Edmiston bequest for the redevelopment of the City Art Gallery, the trustees have virtually underwritten the future for Auckland as a major centre of fine art in the South Pacific. The gallery, which has little cause to regret municipal management, had always been fortunate in its patronage.'
Urgent Need Of Space At Gallery
Art gallery space needs had become critical the director of the gallery Mr P A Tomory reported to the Auckland City Council.
By giving priority to a new central library the existing library would become available to the art gallery, he said, and this would solve an urgent problem.
Mr Tomory said the gallery when it was opened in 1888 was the largest in New Zealand and Australia and had the finest collection of old masters in the area. But no extensions had been made for 45 years and Melbourne and Sydney now had very much larger galleries than Auckland . .
Many of the paintings could not be permanently displayed and even a partial showing of some divisions of the collection could be made only sporadically. Many visitors to the gallery had to go away disappointed because something in the collection they particularly wanted to see was not able to be displayed.'
The New Zealand Herald, 7 October 1961
Outreach
Women by Women
As a result of the exhibition entitled Women in the Arts, held at Outreach, the Auckland City Council Cultural Centre in June 1980, a group - the Association of Women Artists - was formed. The group continues to receive considerable support both from practising artists, and those involved in art commentary and documentation.
The group is currently organising a multi media exhibition to be held in February to coincide with the South Pacific Women's Conference. Entitled Women by Women, the exhibition will open at Outreach on February 8th for three weeks. It will include an afternoon of performance arts related to the theme, and an evening of films made by women.
A large cross section of women artists will be invited to submit work, from which the exhibition will be selected by Cheryl Sotheran, lecturer in Art History, Auckland University, and Alexa Johnstone, Curator of New Zealand Art, Auckland Art Gallery
Acquisitions
Among the items acquired for the collections in recent months we illustrate three: a Salvator Rosa etching and two New Zealand works, by Don Peebles and George Baloghy.
DON PEEBLES (born 1922) Untitled
Peebles's works commonly blur the sharp traditional distinctions between media. His early constructions and reliefs (early 1970s) are commonly embellished by drawn and painted elements. In some instances the unusual proportions of the works (one painting, on a thin strip of canvas, hangs like a tail from the wall), makes classification problematic. His more recent canvas and paper reliefs similarly side-step easy categorisation.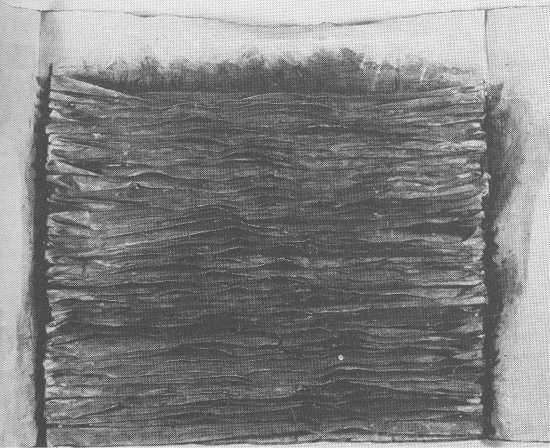 DON PEEBLES
Untitled
paper relief:
watercolour and charcoal,
570 x 740 mm.
The canvas-reliefs, represented in this collection by the recently acquired example, Large Canvas: Brown, consist of numerous canvas strips, or vanes, sewn to a canvas backing which hangs, unstretched, on the wall. Almost monochromatic, these canvas-reliefs feature one dominant colour enriched by tonal variations resulting from the rather freely controlled staining process. In contrast to the inflexible geometric wooden reliefs of earlier years, the limp canvas-reliefs compose themselves differently each time they are unfolded and hung. Moreover, the viewer is invited by the artist to manipulate the vanes and thus alter the composition in an ongoing way.
The paper reliefs on account of the rigidity of the paper from which they are constructed are less flexible and durable than the related canvas reliefs. But they do possess enhanced qualities of relief since the vanes stand proud of the paper base creating deep shadows and rich textural contrasts. The recently acquired paper relief (Untitled) is a superb example of its type and its subtle green colouring evocative of patinated copper - further enhances its ambiguous qualities and status as one of the more unusual works on paper in the collection.
SALVATOR ROSA (1615-1673) Jason Charming the Dragon
Rosa's fame is based almost as much on his legendary aggressiveness and exhibitionism as on his paintings and prints. Eschewing the ambition of Roman painters - ideal beauty - the Neopolitan Rosa pursued instead the bizarre, the morbid, and the dramatic.
SALVATOR ROSA
Jason charming the dragon c. 1663-4
etching with drypoint, 338 x 216mm
In his last years he devised an ingenious ploy for stimulating custom; he inscribed under his etchings the word 'pinxit' (after the painting) when in fact no painting existed. His idea was that people on inquiring about the painting, and finding it did not exist, would then commission one. His ploy may well have borne fruit. The etching Jason Charming the Dragon was executed several years before his painting of the same subject which derives from Ovid's Metamorphoses. Rosa depicts Jason pacifying the dragon, which guards the Golden Fleece, with herbs given him by Medea.
In its sense of violent movement, the spontaneity of its execution, the variety of its line and the complexity of composition, this etching is the most successful of Rosa's large prints and the most thoroughly baroque of them all.
The acquisition of Jason Charming the Dragon is an important addition to the Gallery's small but not insignificant holding of Rosa's work - two oils and two etchings.
GEORGE BALOCHY Taranaki
This painting is a testimony to the notice that artists take of each other's work, and to the influence of New Zealand art history on artists working today. George Baloghy is quoting here from two memorable paintings of Taranaki (Mt Egmont), by Charles Heaphy and Christopher Perkins. (Perkins's work is in the Auckland City Art Gallery collection.) He combines features from their works with elements of his own invention. The buildings, watertank and mid-ground tree are Perkins; the tree ferns, manuka and mountain are Heaphy; and the cars and road are pure Baloghy. The amalgamation works and the result is a strong new painting, which is also witty and slightly tongue-in-cheek.
GEORGE BALOCHY
Taranaki 1981
oil on canvas, 615 x 915 mm
Heaphy's and Perkins's works have both acquired an icon-like quality in New Zealand art history - they have often been reproduced and written about; they are important parts of our artistic heritage. How can another painter ever produce an image of the mountain which will be equally memorable- Baloghy's answer is to rest his work on his predecessors' laurels. They both painted from the mountain - he painted from their paintings, or reproductions of their paintings in New Zealand's best known art-history book; several removes from the original subject.
Baloghy called the exhibition in which this work was shown Ripping Off the artist or the Art Object as Readymade, and his quotes are obvious and unconcealed: yet the painting is no mere copy. Baloghy's painting style is distinctive, and much of his work amusing, with a refreshing, satirical edge.
Gifts
Since the Auckland City Art Gallery opened in 1888 with a magnificent gift of paintings and drawings from Sir George Grey, it has been fortunate in being the recipient of notable gifts to add lustre to the collections.
Starting with this number we intend to feature some of the works in the Newsletter.
DIRK DIRCKSZ VAN SANTVOORT Portrait of a Woman 1637
Presented by Mr P.A.N. Nathan, 1963.
DIRK DIRCKSZ VAN SANTVOORT
Portrait of a Woman 1637
oil, 1213 x 895mm.
Presented by Mr P. A. N. Nathan,
in memory of his mother,
Mrs G. J. Nathan, 1963
'The naive charm of Santvoort's figures, whose faces appear to be made of highly polished ivory instead of flesh, sets them apart from the average conscientious portraits of the time.' (Dutch Art & Architecture 1600-1800, Penguin Books 1966).
FRANCES HODGKINS The Threshing Machine
Presented by Sir Ernest Davis, 1937.
'The history of her New Zealand reputation, abundantly documented, shows a capacity to appreciate her work up to the point where she began to express herself outside rather narrowly conceived limits of taste and "correctness". Once she passed that point the response was one of bewilderment, at first awed and reverent but later becoming cold and sometimes hostile. Influenced, if not induced, by overseas opinion, a change in attitude was evident in the artist's lifetime, but only with her posthumous fame has Frances Hodgkins been widely acclaimed in New Zealand. And her acclamation, even today, is far from being unanimous.'
(E. H. McCormick, Works of Frances Hodgkins in New Zealand, Auckland City Art Gallery, 1954)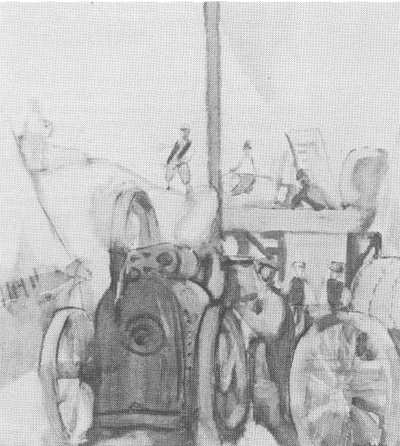 FRANCES HODGKINS
The Threshing Machine
watercolour, 420 x 362mm.
Presented by Sir Ernest Davis
in memory of his father,
Mr Moss Davis (1847-1933)
Associates News and Views
Your Committee has commissioned a large painting from well-known artist, Tony Fomison. The Gallery already has a number of his works but they are all small and a larger one will be most acceptable. It is hoped that Tony will have a suitable painting completed soon for presentation next year.
Some time ago Frank Rogers approached the Auckland Medical Research Foundation for a grant to enable him to collate the papers of Rex Fairburn and John Weeks so they could be held in a library. The Foundation contributed for the Fairburn papers (they are now in the University library) but felt Weeks was a little out of their field. Fortunately Gallery Associates' President, Gerald Wakely, is involved with the Medical Foundation and promptly suggested that the Associates could finance the Weeks papers. The Committee agreed, Frank Rogers completed the task and the John Weeks papers are now all safely housed in the Gallery Library.
It is not often that we are involved with a world premiere, but this was the case with the performance by the From Scratch orchestra of a work for three pianos by Philip Dadson. Three pianists led by the composer gave a much enjoyed performance during the Artichoke Spectacular party. The Committee sees it as part of its function to encourage artists in other fields whenever possible and would appreciate suggestions from Associates for future occasions.
Gifting Works Of Art
The Friends of the National Art Gallery in Wellington, in association with several other organisations, are presenting to the Government the view that New Zealand should follow the example of many other countries and encourage people to donate works of art and artefacts to public collections with tax concessions. This is a simple and painless way of giving pleasure to people and significantly supporting our galleries, museums and libraries. Your committee has wholeheartedly endorsed these moves and has written to the Minister. Australia has recently introduced such a scheme and it has been suggested that this could serve as a model for this country. The Minister's reply was along predictable lines but the idea is a good one and the dialogue continues.
Committee
At our Annual General Meeting held in the Gallery on Tuesday, 15 September 1981, the following officers were elected unanimously:-
Patron                       Mr G. Fisher
Vice-Patrons             Mr C. Collinson
Mr R. H. Lindo Ferguson
Mr D. MacGregor
Honorary Solicitor    Mr M. Draffin
Honorary Auditor    Mr W. Somerville
President                   Mr G. Wakely
Honorary Secretary Mrs J. Lowe
Minute Secretary     Mrs A. Cooper
Honorary Treasurer Mrs E. Henderson
Social Convener        Mrs E. Fumpston
Committee:                Mrs Y. Chunn
Mr P. Hanly
Mrs A. Ibbertson
Mrs N. Jordan
Mrs G. McCuire
Mr B. Rowe
Exhibition From Overseas
The Director's first overseas trip for the Gallery has been a most successful one and he was able to organise a very comprehensive exhibition of Dutch still life painting. The paintings will be drawn from several galleries in Europe and the United States and the exhibition is scheduled to open in Auckland on 31 May 1982.
Galleries and private collectors in Holland, Britain, the United States, Switzerland and New Zealand are all contributing works. Accompanying the paintings will be a number of couriers who will provide the cream on the show, as they will all be internationally acclaimed experts in this area of painting and it seems they will be available for lectures. Your Committee hopes to be able to arrange a lecture series in the Gallery during the first week in June. This will be a unique opportunity to hear leading scholars discuss exceptional works of art in our own Gallery among the very paintings they are talking about.
At this stage the planning is tentative but the Committee anticipates a course of six public lectures with concession rates and prebooking for Associates. All going well, details and enrolment forms will be sent out early in the New Year.