Anne Noble
Landscapes & Portraits
MEGAN JENKINSON
Photography is a medium that is reliant on external reality for its raw material: but when it is not used primarily as a recording medium, it can become an extension of reality, or even transcend it. Anne Noble's photographs are complements of her subjects, revealing other facets of them (and, simultaneously, of herself).
I aim at giving visually all the things you don't normally see', she says '- that which they carry beyond their real physical reality ... to imbue them with what I feel.'
ANNE NOBLE
Window/Altar 1978
blue-toned
black and white photograph
In her earlier work she made use of a Diana camera with a plastic lens. This altered the visual nature of the subject and imparted an ambience of mystery. Today, through the abstraction of light and shade, she achieves the same results with more standard equipment. Hers are complex images that make oblique statements; or raise questions through ambiguity. She teaches us not to take everything at face value. Beyond the drama of contrast lies the sensitivity of private emotions.
Certain monumental concrete structures and some smaller architectural environments are quite transformed by her personal treatment. Anne Noble works like a clever constructionist, using light and movement as raw materials with which to reconstruct the abodes of her dreams. For example, a dim cell-like room has its far wall punctured by a window through which strong light obliterates all details of the outside view. More powerful is the echo of light failing in a nebulous patch on to the floor: so bright that it seems to sear the surface with its heat. In another photograph, the rock wall of some sub-level environment glows, becoming a vertical bed of coal whose fire is lit from an undisclosed source.
ANNE NOBLE
Diana as a Fencer 1980
black and white photograph
These photographs fail to fulfil photography's long-accepted role of stabilising a subject's appearance in an instant of reality. They have the enigmatic transitoriness of dream images. Appearances and the sense of time are distorted by camera movement. Light comes to life, contributing to the spirit of transformation: and instead of giving definition to form, diffuses it with white heat.
Light serves a more symbolic function in Offerings. This series deals with sacrifice and ritual - reflecting the influence of Noble's Roman Catholic upbringing. She wishes to immortalise 'the things that people leave in a commemoration: the gifts that people give to a place or thing'. Illuminated by a special application of light that emphasises their sacredness, objects become icons. Noble's Lilies radiate from within. A bunch of cut roses becomes amaranthine, like those on tombstones - and just as brittle.
In Time-pieces - a series of four prints-groups of small objects are altered by the photographer's emphasis to become personal artifacts. In one of these, delicately hand-coloured shells salvaged from the beach are juxtaposed with a piece of glass or mirror. These are double-exposed with a separate view of a wave, creating ambiguity while the values of balance, scale and gravity are upset. The shells ride the crest of the wave, undermining the strength we know that it possesses. It is a poetic image: complex in feeling, visually appealing, unsettling because nothing is resolved. The wave keeps rolling, reverberating with suggestions of past, present and future: but the shells remain natures morte imbued with significance beyond their existence as shells, presented within a frame that bestows on them the function of a private sanctuary.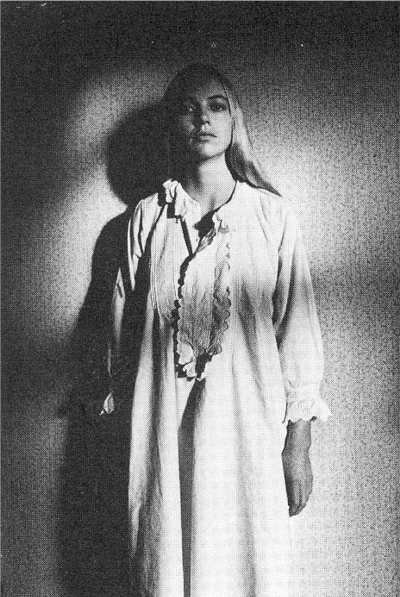 ANNE NOBLE
Linda in her White Nightdress 1980
black and white photograph
Noble's more recent portraits have as their subjects solitary women directed and clothed by her and inspired to move beyond their own identity. She creates an air of tension in which one observes simultaneously a vulnerability in women and the way they assert themselves and establish their independence.
In Linda in her White Nightdress the subject has a strange beauty - a beauty that could be enchanting, although not in this portrayal. In her white dress she stands with her back to the wall: vulnerable, yet defiant. Her right hand is hidden in shadow. Her body is uncompromisingly rigid and her wide-eyed stare shows she is not about to submit. Another portrait, Diana as a Fencer, shows a girl standing in a combative pose. Joan of Arc, a heroine, she is confident of her prowess. At the same time she is subdued, perhaps with a kind of fatalism.
The Wanganui River, birthplace, and home over most of Anne Noble's life, is a theme more recently dealt with. Feelings of nostalgia aside, Anne is drawn to this place because 'it beholds great power'.
She speaks of loneliness and solitude in landscapes unoccupied by human life. Evidence of lives once lived remains only in the words inscribed on stone monuments over the graves. Life does resound in one image of ducks flying over the river. Nothing could halt that flight except a gun with a telescopic sight attached-and her viewfinder is hardly that!
ANNE NOBLE
Wanganui River 1980
black and white
photograph
Landscape detail is obscured: veiled in mist or lost in dark, sombre tones. Hills appear as slumbering masses. Atmosphere and water are the active elements, the life-blood. They are aspects that inspire many moods as the changes they themselves go through. Clouds that are oppressive in some instances part to allow rays of light from a setting sun to shine through. Sluggishly moving in vast expanses the river is nonchalant, then intense as in Roilling, when 'bubbles rise up from the deep, the very deep.
Noble sees the expression of a landscapes emotional aspects in a photograph as a challenge that requires a different approach from the mind-initiated images more typical of her oeuvre. In the landscape group she becomes the observer of an environment that exists regardless of the photographer. Noble's photographs are material expressions of emotion and intimacy that seem to evolve from within-like the growth of a shell, spiralling towards the light that is captured on a simple piece of film.