Auckland City Art Gallery
Newsletter Number 2 August/September 1981
A quarterly publication containing news, views and reviews of activities at the Auckland City Art Gallery
Exhibitions
Boyd Webb August 6 to September 27
This, the first major exhibition on home soil of the New Zealand expatriate artist Boyd Webb, is a provocative and unusual show. Through the medium of colour photography Webb confronts his viewer with enigmatic images which suggest certain specific rational meanings but, in fact, elude rational interpretation by having no single meaning. They offer different messages to different sensibilities. Nicholas Serota wrote of Boyd Webb's photographs that they, 'look like episodes from contemporary moral tales. But the tales have no obvious point, the plot no apparent structure'.
A recent work
by Boyd Webb
from his
exhibition at the
Anthony d'Offay
Gallery, London,
1981
This exhibition, sponsored by the Queen Elizabeth II Arts Council, will tour to other New Zealand centres.
Bing Dawe, Neil Dawson, Stephen Clarke August 6 to September 27
Three Christchurch sculptors will show work at the Gallery as part of our resuscitated Project Programme during the same period as the Boyd Webb exhibition. They are Bing Dawe, Stephen Clarke, and Neil Dawson. The latter was one of two sculptors who represented New Zealand at the 11th International Sculpture Conference by exhibiting at the New Zealand Embassy in Washington in June of last year.
Dawson will present a large scale installation specifically designed for the Gallery space and constructed on site. Like his recent show at the Denis Cohn Gallery, and Echo (illustrated), which was suspended above the Christchurch Arts Centre, the Auckland City Art Gallery work will continue his investigations into perception, drawing and site and spectator relationships.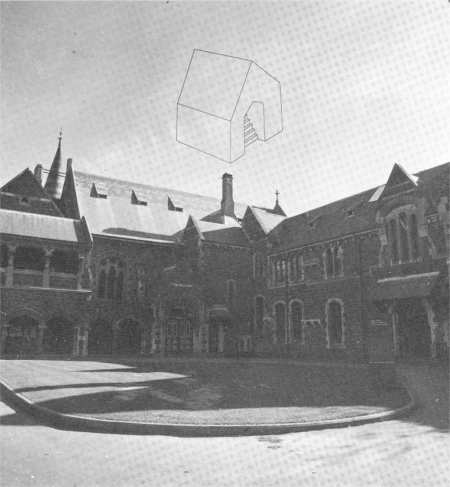 Echo by Neil Dawson.
Suspended above
North Quadrangle
of the Christchurch Arts
Centre
Dawe and Clarke, by contrast, will present sculpture less firmly rooted in a particular structure than Dawson's. Both are gifted craftsmen who delight in the forming, shaping and joining of skeletal forms. Balance and tension are central concerns in these poised and deliberate works.
European Sculpture Gallery Foyer through July, August and September
Currently several pieces of sculpture have been withdrawn and replaced by others, including works by Henry Moore, Epstein and Degas.
Tapestry: Henry Moore & West Dean Exhibition closes August 2
This exhibition consists of eight tapestries of life-size figures, together with Henry Moore's watercolour drawings from which they were woven and a photographic display by Rosemary Ellis showing their production.
Preparation of the
warp at West Dean Tapestry Studio
The tapestries were commissioned by the artist's daughter, Mary Moore, and woven at the Tapestry Weaving Studio at West Dean House, near Chichester, in southern England.
The owner of West Dean (an impressive flint mansion built by lames Wyatt in 1804) Mr Edward James, established an educational trust to create a college at West Dean. The aim of the Trust is the preservation and restoration of traditional arts and crafts.
The Tapestry Studio employs six weavers who work under the direction of Eva-Louise Svensson. Five weavers were responsible for the Henry Moore tapestries, which took three and a half years to complete.
The mother-child relationship is the predominant theme of the works. The original drawings are small and were not drawn specifically to be made into tapestries, so the transformation is one of scale and interpretation. Each weaver exercised her own choice: what colours, what dyes, what combination of threads, what thickness, what texture, what technique.
Henry Moore himself insisted on this interpretative role. 'if it were just going to be a colour reproduction I wouldn't be interested,' he said. 'It is because it is a translation from one medium into another and has to be different that you get the surprise'.
The exhibition has been organised by the Auckland City Art Gallery and it will tour the main centres in New Zealand as follows:
National Art Gallery, Wellington, August 14 to October 4,
Dunedin Public Art Gallery, October 16 to November 29,
Robert McDougall Art Gallery, Christchurch, December 11 to January 24.
The exhibition was opened in Auckland on June 18 by Mr R. J. Stratton, the British High Commissioner.
An illustrated catalogue is available.
West Dean Tapestry Studio
HENRY MOORE, O.M., C.H.
Henry Moore was born in 1898, the son of a coalminer, and educated in Yorkshire. During the first world war he served in the Army in France and was gassed at Cambria. During the Second World War he was an official war artist.
Henry Moore returned from military service to become a schoolteacher in 1919, but a few months later was awarded an ex-serviceman's educational grant, which he used to become a student at the Leeds School of Art, where in 1921 he won a scholarship to the Royal College of Art in London. His next scholarship was a travelling one, which allowed him to spend six months in 1925 in France and Italy, where he became particularly impressed and influenced by the frescoes of Masaccio.
He held his first one-man exhibition in London in 1928. Since then he has had numerous exhibitions in capitals and major cities all over the world. At the Venice Biennale in 1948 he was awarded the international first prize for sculpture. In 1953 he was awarded the international sculpture prize at the Sao Paulo Biennale. In 1974 the Moore sculpture museum was opened in Toronto.
There are examples of his sculpture in all the major museums of Europe and America. He has taken prizes at famous international exhibitions, and has received numerous foreign awards. He is associated with academies of art in several countries, and has received honorary degrees from many universities. Henry Moore is married (his wife is Russian by birth), and has one daughter, Mary. He has lived in Hertfordshire since 1942.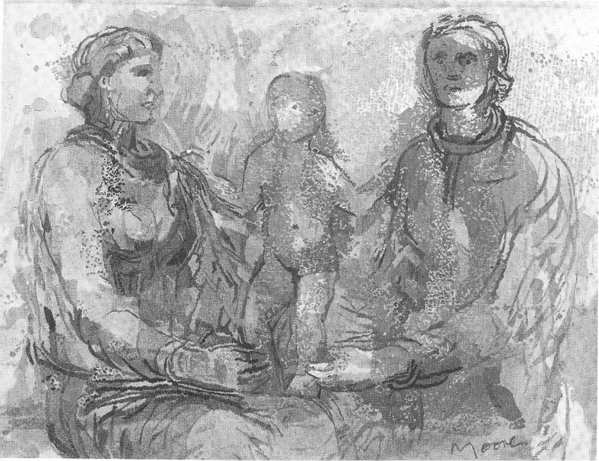 HENRY MOORE
and WEST DEAN
Two Women and
a Child (Tapestry II)
Tapestry in wool,
2100 mm x 3240 mm.
Woven by Eva-Louise
Svensson and
Dilys Stinson.
Clive Stone Hibiscus Coast Project Closes August 2
Begun in 1973, Clive Stone's project is a photographic documentation of a cross-section of the Orewa community. The fifty black and white photographs exhibited are a selection from more than 100 finished portraits made between 1973 and 1980. He was assisted in his project by a Queen Elizabeth 11 Arts Council Grant in 1976.
Times Past. . . Future Art Gallery Princes Street Site
The provision of a worthy art gallery for Auckland was the subject of several reports submitted to the City Council last night when the council approved of a property in Princes Street as a suitable site for such a building, but deferred further consideration of the proposal. A report from the Mackelvie Trustees stated that, owing to alack of accommodation in the existing gallery a large portion of their valuable collection could not be shown.
There was also a report on properties in Princes Street owned by the council, and the Library Committee recommended that four sections at the corner of Alfred and Princes Street be extended to the corner of O'Rorke Street be approved as a site for an art gallery. This was adopted, and it was decided that the question of the acquisition of the lessee's interest, estimated at £21,117 ($42,000.00) be deferred. The Library Committee was asked to prepare a complete report on the requirements of its three departments, the library, the Old Colonists' Museum and the Art Gallery.
(New Zealand Herald, Friday February 28, 1941)
Note: O'Rorke Street no longer exists, more recent University buildings cover the area.
STOP PRESS
Since publication of the previous issue of Newsletter the Auckland City Council has resolved to speed-up the Art Gallery building programme. Consequently the four year project has now been compressed into two with completion of all stages scheduled for June 1983. Stage I will open, as planned, in March/ April 1982.
Grace Joel 1865-1924: Paintings & Drawings July 30 to September 4
Grace Joel was born in Dunedin. She was a pupil of G. P. Nerli before studying with MeGubbin in Melbourne. Later she studied in Paris at the Académie Julien, and subsequently settled in Chelsea, London, dividing her time between France and England.
In 1895 she was a founder member of the Easel Club in Dunedin, along with Miss J. Wimperis and Messrs Nerli, O'Keeffe and Havvcridge.
GRACE JOEL
Girl with scarf
(1896?)
Oil on canvas,
675 mm x 500 mm
(Lent by Mr & Mrs
Hartley Joel, Auckland)
Grace Joel resigned from the Council of the Otago Art Society in March 1899 and travelled to London. She was represented by a work in the Royal Academy exhibition of 1908 entitled Autumn.
In 1922 she exhibited with the Royal Scottish Academy, and in 1923 she received 'honourable mention' for a picture called Sympathy in an exhibition at the Salon des Artistes Francais.
Miss Joel was financially independent and appeared to have taken little interest in selling her paintings. Her last visit to New Zealand took place in 1906.
The exhibition contains thirty-two works from public and private collections. It was organised by the Dunedin Public Art Gallery. An illustrated catalogue is available priced at $3.00 a copy.
Modern French Prints July 30 to September 11
One of the finest of the Gallery's collections is that of late nineteenth and early twentieth century French prints. In recent years a special effort has been made to broaden this collection, which already included fine works by major artists such as Delacroix, Corot, Degas, Gauguin, Vuillard and Renoir.
Recent acquisitions include some excellent prints by a number of less well-known artists, such as lbels Gavarni, Cheret, Dulac, Lunois, Helleu, and Robbe. Because they largely confined themselves to graphic media, these artists were inevitably over-shadowed by artists such as Millet, Manet, Cézanne, Tissot, Signac and Fantin-Latour. The latter group also made prints - a selection of which is included in this exhibition - but achieved their artistic reputations mainly on the strength of their paintings.
FELICIEN ROPS
(1833-1890),
Belgian/French,
La femme au trapeze Etching,
145mm x 123mm
Some of the artists represented - for example Rops, Whistler and Zorn - were not French by birth, but gravitated to Paris at some stage in their careers and were profoundly influenced by the dynamic cultural ambience of that great city.
Most of the prints fall between the dates 1862, when the Société des Aquafortistes was founded, and 1910 around which time German Expressionism took the spotlight from French print-making.
Robin Morrison from the Road Closes August 2
Robin Morrison's photographs of the South Island record not snowy peaks, but a wealth of architectural whimsy. They were made in Central and Coastal Otago, the West Coast, Nelson and Canterbury and the selection was culled from thousands of images taken between 1975 and 1979. Robin Morrison was assisted in his project by a Queen Elizabeth II Arts Council Grant in 1976.
Outreach
Outreach is the Auckland City Council's city cultural centre for the visual and performing arts. It is an extension of the Auckland City Art Gallery and is funded by the Auckland City Council with additional assistance coming from government funding, private and business sponsorship and by donations. It is located in the refurbished former Ponsonby Police Station at 1 Ponsonby Road, Auckland.
Anyone, professional or novice, who is interested in taking up a hobby, art, craft or cultural activity, whether by joining an organised class or simply using the facilities on a casual basis, can hire the Centre. Groups may also use Outreach for conferences, lectures or informal 'get-togethers'.
Gifts
The Gallery was recently fortunate enough to be presented with four works by Colin McCahon.
COLIN McCAHON
How is the Hammer Broken
(Dulux on board) 1218 mm x 905 mm
Three works were presented by the artist:
Easter Morning (oil on jute canvas) 695mm x 923mm
How is the Hammer Broken (Dulux on board) 1218mm x 905mm
North Otago Landscape, 4 (acrylic on board) 1203mm x 1203mm
The fourth work was presented by Mrs L. Auburn and is entitled Angels and Bed (acrylic on Steinbach paper) 730mm x 1107mm
COLIN McCAHON
Angels and Bed
(acrylic on
Steinbach paper)
730 mm x 1107 mm
We thank Mr McCahon and Mrs Auburn for their generosity.
Commencing with the D'Oggiono, these three paintings will be featured in the Gallery successively during the period from July to September. look for them on the First Floor near the entrance to the Coffee Shop.
MARCO d' OGGIONO
(1475-1519) Italian, Madonna and Child
Tempera on panel, 655mm x 530mm
(Purchased with the aid of a grant
from the National Art Collections Fund
and the Mackelvie Trust, 1966)
HENRI FUSELI, RA (1741-1825),
The serpent tempting Eve
(Satan's first address to Eve) 
Oil on panel,
302 mm x 233 mm
(Presented by Sir George Grey, 1887/8)
WILLIAM HODGES RA,
British/active
New Zealand 1773,
A View of Dusky Bay,
New Zealand 1773
Oil on panel,
(circular) 647 mm
(Purchased 1961)
Recent Acquisitions
William Blake Engraved Illustrations to 'The Book of Job'
Perhaps the single most important addition to the prints and drawings collection in recent years is a complete proof set of William Blake's Engraved Illustrations to the Book of Job published by John Linnell in 1826, a year before Blake died.
The unique position Blake's engraved job holds is explained in the words of Arthur M. Hind: 'in the beauty and harmony of its design and in the purity of its cutting, as free from convention as it is unimpeachable in method, it is one of the most remarkable works in the later history of line engraving.'
WILLIAM BLAKE (1757-1827)
Plate 11 from Job 1825
Engraving, 190 mm x 150 mm
Blake identified closely with the spiritual fortunes and misfortunes of Job, the greatest of all men of the East, whose faith was tested in the extreme. But Blake re-interpreted the Old Testament story to give a less arbitrary reason for Job's sufferings. Blake was opposed to the notion of an omnipotent God who punishes sins and holds sway over man's destiny. In the engraved illustrations Job's sufferings must be seen as emotional and spiritual confusion resulting from his erroneous conception of God and concentration on the observance rather than the spirit of religion.
The complete drama is highly symbolic and should not be interpreted literally, but seen as enacted in Job's soul. Blake wrote of the elaborate symbolism of those engraved illustrations 'I entreat, then, that the spectator will attend to the hands and feet, the lineaments of the countenances; they are all descriptive of character and not a line is drawn without intention, and that most discriminate and particular.'
EDWARD CALVERT  The Brook
Edward Calvert was profoundly influenced by William Blake, who he met in 1824 while the latter was working on his Engraved Illustrations to the Book of Job, and in particular by his wood engravings of Virgil's Eclogues.
Calvert is an unusual figure in that he only made eleven prints in all, seven of which are wood engravings. But they are all charged with an intense spiritual and poetic quality which is well expressed by the words Calvert himself used to describe Blake's Virgil wood engravings: 'They are done as if by a child.... yet there is a spirit in them, humble enough and of force enough to move simple souls to tears.'
EDWARD CALVERT,
(1799-1883) The Brook
Wood engraving,
50 mm x 87.5 mm
Calvert was a sailor until the age of twenty-five; yet his subjects are pastoral: arcadian and peopled with idealized neo-classical figures. He based his wood engravings on the pastoral surroundings of Shoreham - where Samuel Palmer lived and where Calvert visited him -with its rounded hills and thatched cottages. His prints date from 1827 to 1831 and, in the absence of evidence of previous experience in the medium, indicate an immediate maturity.
After completing his finest print, The Chamber Idyll 1831, his 'swan song', he never touched an engraving tool again, but spent the remaining fifty years of his life painting arcadian and pagan subjects with little inspiration.
AUGUSTE RODIN Victor Hugo, Front View 1885
Rodin's reputation is based primarily on his sculpture, but he was also a brilliant graphic artist who produced, besides numerous drawings and watercolours, a total of fourteen prints-thirteen drypoints, most of which have several states, and one lithograph. The drypoints which he worked at mainly between 1881 and 1886 are dominated by powerful portraits of Victor Hugo, Henri Becque and Antonin Proust. All are based on bronze busts.
Rodin first met Victor Hugo in 1883, two years before the writer's death at eighty-two. According to Edmond de Goncourt, Rodin 'went on for a long time about his bust of Hugo, who did not pose but who let him come to him as often as he wished. He made a stack of sketches of the great poet - I think sixty -from the right, the left, and above, almost all foreshortened, in attitudes of reading or meditation, sketches from which he was obliged to make the bust.'
AUGUSTE RODIN (1840-1917)
Victor Hugo, front view 1885
Drypoint, 220 mm x 155 mm
It appears Rodin looked up to the bust set on a table. In both the present drypoint and the three-quarters view of Hugo, the viewpoint is from below. The former drypoint was worked byRodin through nine different states, the latter through eight. All convey a remarkable sense of the majesty of the man. In Rodin's own words 'Hugo had the air of a Hercules; belonged to a great race. Something of a tiger or an old lion. He had an immense animal nature. His eyes were splendidly beautiful and the most striking thing about him.'
President's Annual Report: abstracts
The Associates' fortunes traditionally reflect those of the Gallery. With increased activity, starting with the Len Lye exhibition through the Thyssen-Bornernisza& Icon, Inspired Art to the appointment of Dr Rodney Wilson as Director, there has been a steady increase in membership - from 489 in August last year to 792 this May. it is good to see interest in the Gallery and its support arm reviving with the new sense of purpose which Rodney Wilson has brought to the Gallery.
The Committee have discussed with the Director how best the Associates can help the Gallery. He has suggested that the Associates' best contribution would be towards publications, such as this newsletter. The Committee has therefore doubled its contribution to Gallery publications & should consider further contributions in future. There is still a place for picture purchase but the scope is less with the general increase in prices.
The Committee is glad for the Associates to be co-hosts with the Gallery at exhibition openings - a subtle change, maybe, but a form of recognition which has eluded us for many years.
In the Associates' revised programme printed above there is, regrettably, no 'hot pot', which was such a success last year. Building alterations restrict the areas where food may be served & therefore the type of food that can be offered. Hopefully, we shall have this problem under control this time next year when we should have our own club room.
Reproductions of six of the works by New Zealand artists which the Associates have presented to the Gallery were published as a calendar. Whilst this did not receive the support we would have wished it is, nevertheless ' a good quality publication, reminding viewers of works which are of necessity only displayed occasionally but which were valuable additions to the Gallery's collection.
The Committee is a hard-working one and I wish to thank them for their support, cheerfulness & willingness to take on tasks when their days are more than full already. To avoid ranking, where there is none, I thank them in alphabetical order: Yvonne Chunn, particularly for her promotion of the calendars; Anne Cooper, a willing all-rounder; Liz Fumpston, half of the hard-working social committee & half of the purchasing advisory team with Pat Hanly; Pat Hanly, artist-in-residence & valuable contact person with artists and art adviser; Teddy Henderson, conscientious & energetic Treasurer; Ann Ibbertson, able arranger of our programme, an often daunting task; Nancy Jordan, our representative on the Board of Management; Marie Kirby, our Secretary, coping admirably with an increasing work load; Joceylyn Lowe, Social Convener& organiser of food & drink for all occasions & resource person par excellence; Brian Rowe, newcomer to the committee but a contributor with sage advice and practical work. John Poland resigned from the committee in March& Robin Wood, after four years, much as membership recorder, resigned in May 1981; their contributions to the common weal were appreciated.
I also wish to thank Councillor Cath Tizard for her genial support of the Associates, the Board of Management for its support and Dr Rodney Wilson & all the Gallery staff for making us feel part of the team that is putting a great Gallery back in its rightful place.
GERALD WAKELY