Last Days at the Cement Works
Photographs by Hannah Watkinson
DAVID COOK
HANNAH WATKINSON Holcim Cement Plant in rain 2016 Photograph
What is the cultural imagination associated with extractive industries? The corporate picture is one of heroic technologies, abundant resources, happy shareholders, and jobs aplenty. The environmental activist vision is coded in warnings, scars, shame, and lament, often with shades of Tolkien's Mordor. Hannah Watkinson's vision follows a third route, shared by a growing community of photographers who take a long look at the Aotearoa landscape; Tim Veling, Natalie Robertson and Mark Adams to name a few. Their immersive practice is all about being present for the long game, listening to the breathing of the whenua, visualising a layered history that speaks of the past, present and future. Informed by histories of tangata whenua and colonisation, they work like detectives, following clues, getting lost in swamps and finding their way out again. Their aim is not to create dramatic propaganda, but to offer a quiet forum where we can wrestle with things that matter.
From 2015 to 2021 Ōtautahi Christchurch photographer Watkinson explored the Buller region, creating an exhibition and book named The Near Future (self-published 2021). This tightly edited series, seen through a portentous lens, pays attention to eroding coastlines, climate change and the fragile economics of extractive industries on the West Coast. Coal, gold and limestone mining have been central to the shaping and breaking of communities on the Coast. Within The Near Future are a couple of photographs from the Holcim Cement Plant at Cape Foulwind (named by Cook after his ship was mercilessly blown off course). Here we see an expanded series from Watkinson's encounter with these cement works, realised around its closure in 2016 when the multinational owners shifted to importing rather than manufacturing cement in New Zealand.
Made from the very material being mined and produced, the factory is a dusty monument to the land itself. Watkinson's image of the factory caught in the rain-laden 'foul wind' invites us to contemplate industry's relationship with nature; the factory that consumes nearby minerals appears to be in the process of being consumed by nature itself. The entrance to the staff kitchen also points to consumption; on the wall an aerial site photograph celebrates the turning of the land into machine. The limestone quarry is shown from on high, and serves to remind staff what they are there for. Other images show a bush-clad range, telling us that mineral extraction usually happens in the most serene spaces, far from the main highway and urban centres. At the centre of the cement works is an unavoidable sign—'RISK: IS IT WORTH IT?' Asking tough questions, rather than giving didactic answers, is what informs Hannah Watkinson as she visually explores the West Coast of Te Waipounamu.
HANNAH WATKINSON Max Anderson, Holcim Cement Plant, Cape Foulwind 2016 Photograph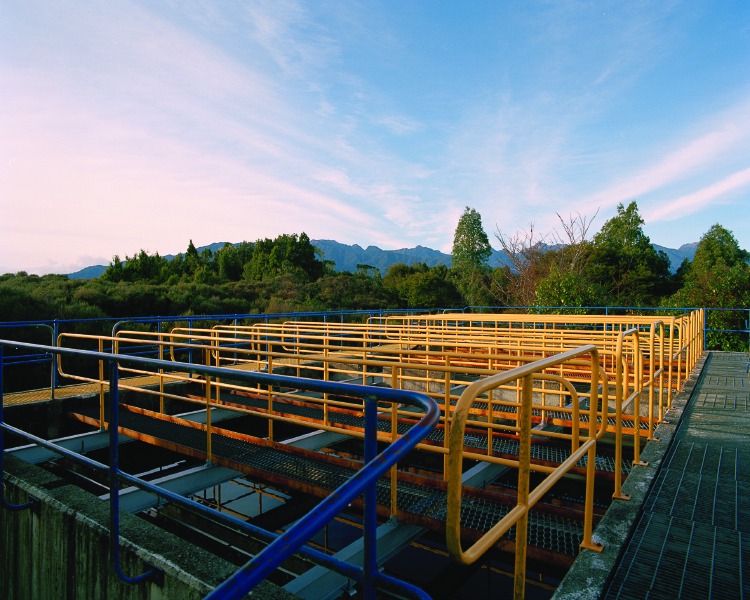 HANNAH WATKINSON Okari water treatment facility, Holcim Cement Plant, Cape Foulwind 2016 Photograph
HANNAH WATKINSON Risk—is it worth it?, Holcim Cement Plant, Cape Foulwind 2016 Photograph
HANNAH WATKINSON Break room and site map, Holcim Cement Plant, Cape Foulwind 2016 Photograph