The Early Years in London
ANNE KIRKER
Between 1926 and 1944 Len Lye lived in London. This was the time when he made his debut as a professional artist, becoming linked with the most forward-looking talents in Britain. In a free-wheeling and gregarious manner he soon became a member of the London Film Society, joined forces with the Seven and Five group in 1928, and became increasingly involved with Surrealist activities. From 1935, the British Government Post Office harnessed most of his energies in a series of brilliantly innovative films. The following investigation attempts to examine these interests, particularly as they developed during the first ten years he spent in that part of the world.
Working his passage as a stoker from Sydney to London on the White Star liner Euripedes, Lye set himself up on arrival in a small, room in Chelsea. It was approaching winter and among his first impressions were the fog and Windsor soup. Hard put to find a job and keen to establish contacts in the art world, he quickly introduced himself to members of the progressive Seven and Five Society.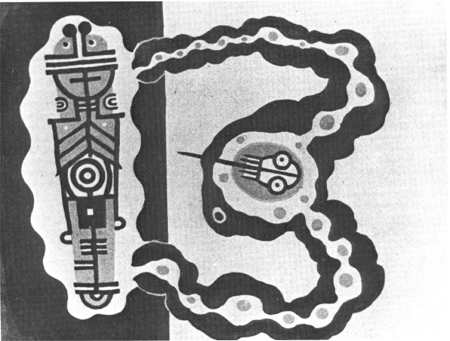 Frame from Len Lye's
Tusalava 1928
black and white film
(The Len Lye Foundation)
Essentially an exhibiting body, the Society was reputed to consist initially of seven painters and five sculptors. This was never actually the case and from the start, the rules allowed for regular change of membership. There were fifty-six members in all over the sixteen years it was actively in force.
Operating since 1919, the Seven and Five had evolved as a low-keyed alternative to the London Group, a Bloomsbury stronghold under the sway of Roger Fry. In February 1926, the Society received its first-critical appraisal of any consequence. In his article for Artwork(1) Maurice Fort claimed that it 'may be justly described as the most youthful, both in aims and personnel, of the art societies in England, . . . ' and the members' work 'is of the most diverse tendencies, for the group is somewhat fortuitously assembled and has no particular formulas to press, no set of prejudices to advertise. . . The sole common bond of the members would seem to be their unanimous rejection of photographic naturalism as a basis for picture-making and sculpture'.
Ben Nicholson's crusading spirit had much to do with the growth of the Society and from the moment the painter joined the Seven and Five in 1924 he became its most active force. In his single-minded pursuit of modernism, Nicholson established stricter rules of membership which required re-election of individuals by a two-thirds majority vote every three years. As a consequence, this measure forced out the timid and made way for the more experimental artists. In this way, the sculptor Elizabeth Muntz was encouraged to join early in 1926, and shortly afterwards she was followed by Christopher Wood and Cedric Morris. Similarly, the potter William Staite Murray became a member in 1927. Then, also through Nicholson, Lye entered the group, together with David Jones, in January 1928.
Lye's contact with this circle in London began with his sculpture: a wooden tiki, a terracotta piece, a marble carving and a number of photographs, brought with him from Australia. Frank Dobson was among the first to see these items and, no doubt responding to Lye's enterprising manner and penniless state, recommended him to his former student, Betty Muntz. 'I had a crazy idea that surely there was a good shed somewhere which I could keep warm for somebody during the winter. They could get their tools by just leaning over my recumbent body to pick up their shovel and go and dig the garden and I would get up and help them. They would find me a very useful kind of animal to have around the place. I was sure there was such a place, so Dobson said, yes, you might find such a place if you see Betty Muntz because she knows all the people with gardens'.(2)
Subsequent to their meeting, Lye recalled, Muntz sent him off to the painter and sculptor Eric Kennington, and within a short while he had established himself on a river barge, The Ark, next door to Kennington's studio at Hammersmith. Aside from the caretaker duties this entailed, he also got himself a position as scene-shifter and flyman for the Lyric Theatre nearby.
Press photograph from
The Sun, Auckland, 19 May 1928
Lye's association with Kennington led to his friendship with the writer Robert Graves and to his contact with Nicholson. He had begun making batiks by this time and embarked on the 8,000 or so drawings for his film Tusalava. All the same, Lye's first contribution to the Seven and Five's annual show, when he appeared as a guest exhibitor early in 1927, was a stone carving, probably the piece in marble, already referred to. (This is a 'two-in-one' figure done in Sydney in 1924, based on the famous Brancusi sculpture, The Kiss, 1908.)
The following year he was successfully elected to the group and had no less than six items accepted by the Hanging Committee. Even in this liberal context, his constructions and exotic fabrics were markedly individual.
Soon after the exhibition opened at the Beaux Arts Gallery in February 1928, New Zealand received a full description of them through The Evening Post (Wellington) which reported: 'Mr Lye uses tin and cardboard and wire. . . Number 61, for instance, is entitled "Construction". It is made of cardboard and looks not unlike a railway signal-post with a medley of extra protuberances at the bottom of the post. "Flies Back to the Branch" is another cardboard construction . .. There is a neck ornament (Iimited to five copies) made of stone, and not unlike a Maori tiki, but the features are those of a Chinese god. "Eve" is offered for ten guineas. Here most people will be lost in contemplating the "study". It is suggested that it is a woman in an architectural form. It is a length of tin 3ft high, with a pyramidal top. A few inches down is a circle cut out of the tin. Lower down still are seven pieces of brass wire bent outward and soldered to the tin's surface. Beneath the wire there are two circles cut and eight black stripes. Lower down still are other circles. . . Finally, there is a black stand. That is the ultra-modern Eve. . . Mr Lye has also painted some fabrics, one a shawl and the other a wall decoration. The designs are somewhat arresting. They are not unlike the pictures presented by psychic adepts of astral bodies in violent perturbation'.
A photograph published by The Sun, labelling Lye the 'Futurist New Zealander, clinches these observations, particularly in respect to the free-standing structures. These are the fruits of various concerns which Lye had been developing over a number of years.
At the age of fifteen, while a student of Linley Richardson at the Wellington Technical College, he had resolved that his chief project would be to find a way of composing motion. At seventeen Lye was making rudimentary constructions with pulley wheels and he had commenced a life-long habit of doodling, and sketching marks that he came across which evoked movement, stress or energy. Searching for new ways of expression, he frequented libraries, seizing on magazines which reported the avant garde movements abroad - especially in London, Paris and Russia. At the Same time, he made a detailed study of primitive cultures, spending hours copying illustrations of African and Aboriginal iconography. Eventually Lye set his sights on film-making, and moved to Australia in 1921 because New Zealand had no cinematic equipment. He made scenario drawings for animated advertising shorts at a Sydney studio and got the chance to play around with pieces of film. Then from 1923 to 1924 he Iived chiefly in Western Samoa.
HENRI GAUDIER-BRZESKA
Toy 1914
cut brass
'I was after motion and I didn't quite know what kind of imagery to carry my motion, whether it should be dots or dashes or stripes or shapes or whatever the form should be. I got a lot of kick out of the vitality of the Ocean Island art, . . . '(3) Above all, Lye's idea of a 'motion composition' was endorsed by tribal dance which had prompted him to study Freud's Totem and Taboo in the first place, even before he left New Zealand.
During his two years in Samoa, Lye had little access to library facilities but he was friendly with a local missionary who received Time magazine, which sported an up-to-date art section. In likelihood, the same person obtained copies of The Little Review, a periodical which also enjoyed wide readership, and showed them to Lye. The issue for winter 1926 was specially devoted to Theatre, and illustrating an account of contemporary Russian developments was a model of a scheme by the Constructivist, Lyubov Popova, for the Meyerhold Theatre's production of The Magnanimous Cuckold.
Familiar with such reports Lye apparently tried to hitch a ride to Russia - 'I wanted to get hell bent to where they were using those type of decors in theatre, because that is the kind of thing I wanted to produce. . .'(4) Popova's stage design bears comparison with the small abstract constructions Lye assembled later in London and exhibited with the Seven and Five.
The Vorticist imagery of the sculptor Henri Gaudier-Brzeska, whom he revered, is also relevant in this respect. Lye knew Ezra Pound's early monograph on the sculptor and like his contemporary Henry Moore, he considered it a storehouse for the modern movement: ' . . . it was such primary stuff for it included Cubism, Expressionism, everything that was going on, even predating Surrealism, and this one young fellow was setting the pace in that way'.(5) According to Pound, Epstein, Brancusi, Archipenko and Modigliani were the artists who best exemplified the modern effort in sculpture; Wyndham Lewis, that in painting. Pound used them to point out the merits of the machine aesthetic on one hand and that of oriental expression on the other.
As for Brzeska, his Toy, a schematised figure in cut brass, was described as an experiment in geometric abstraction; and here Lye's constructions, more particularly Eve, may be drawn into the arena. It was called 'the mechanised woman' by one newspaper in London, which also mentioned Flies back to the branch.(6) In fact this work was titled from a Japanese hokku, or one-image poem, quoted in Pound's book - 'The fallen blossom flies back to its branch: A butterfly'.(7)
Lye's other exhibits in the Seven and Five show of 1928, with the exception of the tiki, were designs on fabric and comprised a shawl and the batik painting known as Polynesian Connection. Whereas his sculpture had responded to influences already established some time before, he touched on the very latest concerns of the period in his two-dimensional imagery. This was largely surrealistic - derived from doodles, which for Lye conjured up 'Old Brain' imagery.(8) The random notations, drawn on whatever there was to hand,. encouraged biomorphic rather than geometric shapes.
Miro was especially inspirational, not only for his range of motifs, drawn partly from primitive iconography, but also for his handling of paint. Of all the painters attached to the French Surrealist movement, Miro was the least programmatic and literary in his approach. He followed a more instinctive path, and for Lye, he was the only person to have a real "Old Brain" attitude of divining imagery'.8 Although familiar with Miro's work through reproductions, there were collectors in London, possibly known to Lye, who had examples - H.S. Ede for instance, an important patron of Nicholson and the younger artists.(9)
LEN LYE
Laura Shawl 1928
batik
Polynesian Connection is one of several early batiks that Lye re-interpreted on a larger scale, applying acrylic direct on unstretched canvas, at the end of his life. The original design was on linen, cut to lava-lava size, three by five feet. It originated from the small 'two-in-one' carving of 1924 and derived also from Ocean Island two-dimensional design. Lye matched a dominant arch form with zigzag lines to the central theme of sexual bonding. He used deep indigo and a rich oxide red to achieve the basic black and red effects favoured by Maori craftsmen.
Lye's batiks on linen and silk appear to have been made over a limited period in Hammersmith while he was connected with Kennington's studio. A homecraft industry specialising in hand-printed fabrics operated nearby and it may have encouraged him to turn his hand to similar work as a means of overcoming economic hardship. The merits of a new style in textiles had reached Britain with the important Batik Exhibition organised by the Dorien Leigh Galleries in London in 1919.
By the end of the 'twenties Lye was a member of the London Film Society. In operation since 1925, it was the first of its kind to exist anywhere. In addition to film-makers and critics, the Society's committee also accommodated sympathetic artists, including Nicholson, and Lye managed to persuade them to pay the cost of photographing Tusalava. Aside from his admiration for a few films like Caligari, Lye felt very much a pioneer in his process of 'fine art' filmmaking. Even when Hans Richter conducted a workshop in London, together with Eisenstein '(1929), he was unimpressed. The lessons offered nothing new, and in all probability he had absorbed Richter's theories on expressive form, especially that of 'Rhythm' some time before.(10)
LEN LYE
Photo plan from the third section of
Tusalava 1932
Lye's confidence in the direction his work was taking and his standing with fellow-artists in Britain was by now well established. In March 1929 he was appointed to the Hanging Committee of the Seven and Five. Judging from his own entries in the Society's annual exhibitions, Lye's sculpture activities are no longer evident. They appear to resume again only when he settled in America. For the ninth show there were five 'textiles' listed in the catalogue, all by Lye. These presented an alternative imagery to the lyrical naturalism practised by the painters (von Hitchens, David Jones and Frances Hodgkins, and to the consciously 'naive' style of Nicholson and Wood. By contrast, Lye's batiks were 'all derived from my unconscious'.(11)
Paul Nash recollected the impression Lye's work made on him when he first saw it with the Seven and Five: 'I was at once attracted by its unusual kind of life, It had a totally different life from any other of the exhibits. Most conspicuous of any quality was the sense of rhythm, but it had expressed itself somehow eccentrically - not in the tiresome sense, but in the way of utter independence'.(12)
Working in an often unsympathetic environment, marked by its insularity and provincialism, Lye remembers the strong support such a group offered: 'Here was this mix of highly sensitive, strongly opinionated bunch of people. To be part of that swim was terribly important for all of us. We respected each other and although no one else may have understood what you're after, at least people in your own group, although they were entirely different, had a sense of it'.(13)
Among Lye's textiles exhibited in 1929, two were shawls addressed to figures in the literary circle he was now part of. The Laura Shawl was made as a gift to Laura Riding in the same way that its companion the Gertrude Shawl was intended for Gertrude Stein. Lye thought 'The Gertrude shawl was an absolute beaut. The Laura shawl was more or less a copy of Miro, and not as good'.(14) The Fall 1928 number of transition: An International Quarterly for Creative Experiment, illustrated it never the less, and one is impressed by Lye's ability to borrow, without mimicking, devices such as the ladder, and biomorphic forms which were favoured by this painter.
In 1927, Laura Riding had begun the Seizin Press with Robert Graves. They were both lively minds, keen to learn the art of hand-printing and to promote a particular method of word use in their poetry. The first Seizin book was Riding's Love as love, death as death. Published in 1928, the text was plainly-bound and decorated with a design by Lye on the title-page. This was the beginning of his close association with the Seizin Press: and, rather like Andre Masson's 'automatic' drawings for La Révolution Surréaliste,(15) Lye's distinctive bindings became a feature of the Seizin books. A Iittle later, Nancy Cunard of the Hours Press commissioned similar designs by Lye to illustrate the books of Riding and Graves she published in Paris.
He employed photomontage for this work, assembling natural objects he found at Deya in Majorca, and then photographing them. 'One could easily go on forever choosing arrangements of fissured rock, plant or water-flow or whichever, then to take cement, wire, wood or whichever and make a construction of the natural formation to define its exact whatever, and that takes insight', lye observed in his book No Trouble which was published in Deya by the Seizin partners in 1930.(16) They had moved there from Hammersmith that year, and lye joined them for a period, sharing their renegade existence.
LEN LYE
Family Conference 1978
acrylic on canvas, 2105 x 2890 mm.
(The Len Lye Foundation)
By January 1931 he was once again in London, serving on the Hanging Committee of the Seven and Five. The ensuing exhibition contained plans for two of Lye's book covers, a shawl and scarf, and, most significantly, stills of Tusalava. That he regarded his first film as a pivotal concern is obvious. He saw it as 'something to stand on'.(17) Conceived in three parts, it took two years (1926-28) before the first section of nine minutes was completed. This received a single showing at the London Film Society in December 1929, and except for praise he received from Roger Fry, Lye's film appears to have been largely ignored. For financial reasons he was unable to process the second and third parts, and it was not until six years later that he had the opportunity to launch another film.
Aboriginal rock painting motifs
In the meantime he pursued activities as a designer and painter. Oswell Blakeston, writing on 'Len Lye's Visuals' for The Architectural Review in July 1932, drew attention to the common genesis of all Lye's activities over this period when he mentioned: 'Since filming the first section of 'Tusalava' (Polynesian for 'eventually everything is just the same'), Len Lye has created hundreds of plans, diagrams, photograms, batiks all relating to the other sections of his film'.(18)
The batik known as Pond People, one of the vibrant and joyous images on silk, is closely allied to the Photo Plan from the third section of Tusalava which illustrated Blakeston's article. The same nebulous creatures, recalling Miro and Dubuffet, feature in practically identical compositions. A caption to the Photo Plan describes the scenario: 'The Earth Shape (top left hand) is bordered off by a tape line, representing land fringe, from the Sea Shape (bottom right hand). The Land Shape is based on cellular structure and is emanating a flat spreading pattern from the centre of the round mother rocks in Earth Shape. The Sea Shape is grouped round sea flora simplifications and rings of force taken from wave motifs'.(19) In 1930 the New Burlington Galleries exhibited a number of Lye's photograms which may have included such a work.(20)
Blakeston's suggestion of an extended Tusalava infers that Lye was concerned with developing an over-all mythology of evolution which involved film and painting as well as his book designs. That the concept of a larger scheme underlay the major part of Lye's subsequent method is evident from his rediscovery and reworking of earlier paintings in the 'seventies.
In February 1933 Lye exhibited six works with the Seven and Five, two of which (like Polynesian Connection) are among these late 'genetic' paintings. Titled Earth Cools, plants arrive and fire-devil departs and Family, they were both gouaches. The first is animated by biological forms which were 'symbols of the earths' evolutionary values: marble teeth growing in the forming earth; planting sticks arriving with their earth minerals; pollen discharged into the air,. . .'(21) whereas the second, Family, is closely linked with Aboriginal rock drawings.
The standard text by Baldwin Spencer and F.J. Gillen on The Native Tribes of Central Australia (London, 1899)(22) could well have been the main source for Lye's ideas on 'witchetty grubs', which inspired Tusalava: but it was also an abundant source of information about Australian tribal culture. A fold-out illustration demonstrates how the motifs for the rock drawings tend to be either zoomorphic, resembling animal and plant forms, or geometric - often favouring concentric circle patterns. In Family, Lye's stick-like characters appear to borrow from both categories. Furthermore, their black-and-white stylised shapes recall corrobboree decorations of the Arunta tribe.(23) This form of 'body art' associated with movement, and dance in particular, would have held particular appeal for Lye.
To some extent we can gauge the way his imagery was received by a comment which appeared in the Apollo magazine at the time these paintings were exhibited. 'Mr Len Lye. .. has gone back for his inspiration to the patterns of nature revealed by the microscope and to primitive pictography, and . .. uses an abstract. .. language.'(24)
Len Lye in his office
at The March of Time
One of Lye's closest allies at the time appears to have been Humphrey Jennings, an artist whose broad interests (he was also a film-maker and writer) and inspired talk had a catalytic effect on his acquaintances. The poet Kathleen Raine recalled that: 'It was Humphrey who made us aware of contemporary movements in France, who opened to us the pages of Minotaur and Transition, and Cahier d'Art. Later he became involved in the Surrealist movement and the friend of Magritte and Paul Eluard. He held forth on Marcel Duchamp and other makers of the movement of Surrealism au service de la revolution, under whose banner he harangued the young men of our new age. On whatever subject Humphrey held forth he was irresistible. "You must be 1932", I remember his proclaiming in that year; and indeed he "was" 1932, following Rimbaud's injunction (often on his lips), Il faut être absolument moderne. It was from Humphrey we caught that magical awareness of the growing point of the consciousness of the world, which is (or so we then believed) the poetic vision itself .(25)
We know that Lye was keen to secure membership for Jennings with the Seven and Five, but failed to do so. This was in 1934 and by that stage: 'He [Jennings] was doing realistic collages, but his main thing was calligraphy. He was practising Chinese and Japanese brushwork because he reasoned that if you are handling brushes and handling paint, this is the ultimate, this is the end, so you should know how to handle a brush to perfection, how to handle paint to perfection and that's it, you don't have to do another thing. Expressionism. What he said could not have been a better motto for the work that was done by the New York Abstract School'.(26)
Lye's admiration for Jennings may have conditioned his own move towards abstraction as much as pressure from elsewhere. The last exhibition of the Seven and Five that Lye participated in was held at the Leicester Galleries in March 1934. By then, the Abstraction-Creation group in Paris had fired the imagination of Nicholson, who was drawn towards its extreme wing - that characterised by Mondrian. The first all-white reliefs Nicholson made, including one on the 1934 show, unquestionably established him as the leader of the abstract artists in Britain. He swept the Society along in the same direction, vigorously introducing new non-figurative painters to replace those members who still adhered to naturalism.
LEN LYE
Polynesian Connection 1926-7
dye on linen, 935 x 1412 mm.
(Collection of Bix Lye)
The final works shown by Lye with the Seven and Five witness this development. They bore non-committal titles - White Wall Painting; Design on Buff; and Marks on Pink - and in all probability relate to his first 'direct' film Colour Box; which was made without a camera. This was released by the British Government Post Office in 1935. Like Jennings, Lye's imagery now emphasised calligraphy and texture as a language in their own right. In this respect he was pursuing a form of non-objective art alternative to the geometricism favoured by Nicholson; and one which was an important advance towards Abstract Expressionism as it emerged in the 'forties in New York.
Lye does not recall why he left the Seven and Five: but his resignation appears to have coincided with the announcement of a radically new policy, confirming Nicholson's intention to convert the Society completely to the non-representational, and more particularly to that with a constructivist bias. He succeeded: but membership was drastically reduced as a result, and several distinguished artists were dropped, including Frances Hodgkins. Always a maverick in his behaviour, Lye preferred to keep to the sidelines rather than to take a polemical stance or be at the centre of anyone group. When the last exhibition occurred in October 1935 (the first completely abstract show in Britain) Lye had his attention focused elsewhere.
The important break-through in his film-making in the mid-thirties was paralleled by a closer involvement with surrealism, and when the International Surrealist Exhibition opened at the New Burlington Galleries in June 1936 Lye was amongst the British entrants. Initiated by Roland Penrose, the Surrealist exhibition was a splendid attempt to combat insularity and focus attention on progressive developments abroad. The sixty artists created a sensation. According to the weekly Bystander they 'set more tongues wagging in passionate disagreement than any exhibition since the Post-Impressionists first bewildered London'.(27) Accompanied by examples of African and Oceanic art, pictures, objects, drawings, collages and sculptures were displayed by eminent figures. These included Magritte, Duchamp, Picabia, Brancusi, Picasso and Klee. The British participants were headed by Paul Nash, who two years previously had held together for a short time the energetic group of artists known as Unit One.
On the occasion of the International, Nash was joined by Lye, along with Humphrey Jennings, and artists such as Henry Moore, Eileen Agar, Charles Howard, Mervyn Evans and Edward Burra. He was represented by three works - two dated 1930 and described in the catalogue as photograms: Self Planting at Night and Marks and Spencer in a Japanese Garden;(28) and a recent oil painting, The Jam Session (1936), now called Snow Bird. This last work extended the abstract calligraphic qualities of his film Colour Box, and witnessed the important shift of his painting away from the biomorphic and primitive iconography of Tusalava towards the purely gestural.
Of the other exhibitors, Jennings had six items chosen, while the stars - Klee for example - were represented by far more. Herbert Read wrote the Introduction to the catalogue, with the apology: 'The English contribution to this Exhibition is comparatively tentative, but our poets and painters have scarcely become conscious of this international movement'. Lye's period in London had taught him to have similar reservations. 'The main thing with painting in England was the pretty humdrum level of it', he recalled. 'Even now when I look back and I see the reproductions of some of the early English stuff, Paul Nash and people like that, I'd rather skip right back, for my kicks, to where Turner and Cotman were creating imagery .'(29)
The year after the International Surrealist Exhibition, Lye participated in two further group shows in Britain. He was included in the surrealist section of the Artists International Association exhibition in April/May, and in Surrealist objects and poems at the London Gallery in November/December. In 1938, the London Gallery became the more or less official centre for surrealism. Under the direction of the Belgian artist and poet E.L. Mesens, and with the assistance of Jennings and Penrose,it published twenty issues of the London Bulletin between 1938 and 1940 which covered the Gallery's artists and activities.
By the end of the 'thirties Lye had become the best-known experimental filmmaker in Britain, and for a time he was able to devote practically all his energies to this activity. The success of Colour Box had led to one or two film commissions a year from the G.P.O.: enough to equip him with a steady, if meagre, income, as well as provide technical facilities. When financial support declined, even for documentaries, he took a full time position as director for The March of Time series in the U.S.A., and moved there in 1944.(30)
1. Maurice Fort, 'The Seven and Five Society', Artwork, Vol. 2. February 1926, p. 98.
2. Interview conducted by Anne Kirker with Lye at his studio, New York, August 1979.
3. Interview conducted by Ray Thorburn with Lye at his studio, New York, September 1974, Art International, Vol. 19, No.4, 20 April 1975, p. 65.
4. See note 2.
5. See note 2.
6. Daily Chronicle, 18 February 1928.
7. Ezra Pound, Gaudier-Brzeska: A Memoir, reprint from 1916 edition by the Marvell Press 1966, p. 88.
8. See note 2.
9. Ede had a penchant for the work of Gaudier-Brzeska and his biography, The Savage Messiah, was published in 1931.
10. The particular issue of The Little Review mentioned previously included an important article by Richter titled 'Rhythm' (refer to Vol. 11, No.2, 27 February15 March 1926, p. 21).
11. Letter from Lye to the writer, 10 March 1979.
12. Paul Nash, 'The Colour Film', from Footnotes to the Film, edited by Charles Davy, 1937, p. 133.
13. See note 2.
14. See note 2.
15. The chief organ of the Surrealists in Paris, this periodical existed in twelve numbers, 1924-9.
16. No Trouble, p. 24. Lye's book is a witty and freewheeling selection of letters addressed to various people which presents an insight into not only his friendships but also discusses his philosophy and programme of work.
17. NoTrouble, p. 20.
18. The Architectural Review, Vol. 72, No. 428, July 1932, p. 25.
19. Caption to the 'Photo Plan' of'Tusalava', refer to note 18.
20. Information supplied by Herta Wescher in her book "Collage", translated by Robert E. Wolf, Harry N. Abrams 1968, p. 246.
21. Extract from unpublished manuscript by Len Lye, Examples of Fine Art Myth.
22. Brought to the writer's attention by Roger Horrocks.
23. See Spencer and Gillen, figs. 125, 126.
24. Apollo Vol. 17, No. 99, March 1933, p. 100.
25. Kathleen Raine, The Land Unknown, Hamish Hamilton 1975, pp. 49, 50.
26. See note 2.
27. Bystander, 17 June 1936.
28. Marks and Spencer in a Japanese Garden featured as plate 46 in an anthology of essays, Surrealism edited by Herbert Read in 1936, although there appears to be no mention of Lye in the text of the book. The photogram is practically identical to the 'Photo Plan' from the third section of Tusalava mentioned earlier.
29. See note 2.
30. The March of Time was a series of current affairs programmes sponsored by Time magazine.