Havens for Art Nelson, Dunedin and the Growth of Local Art
JOHN CASELBERG
The coasts of Nelson provided the first known havens for Europeans arriving in New Zealand. On 17 December 1642 Tasman hove-to his ships Heemskerk and Zeehaen off Farewell Spit, where he noted 'a great open bay fully four to three miles wide to the east of this small sand point'.(1) The next morning he sailed around the point into what is now known as Golden Bay, anchored that evening near Separation Point; hurried away northward the following afternoon after being repulsed by the inhabitants; then returned south to anchor for three days and celebrate Christmas in the eastern lee of D'Urville Island. Tasman's artist made truthful black-edged drawings of the myriad interlocking ranges and hillscapes seen in both Golden Bay and Admiralty Bay.
This latter name was applied by Cook, during his first world voyage of 1769-70 in the Endeavour. After circumnavigating the North Island and spending three weeks at nearby Ship's Cove in Queen Charlotte Sound, Cook sailed down the east coast and north arong the West Coast of the South Island, following Tasman by skirting Farewell Spit and anchoring east of D'Urville Island. He stayed a week here, exploring the shores of Admiralty Bay and entrances to Pelorous Sound before departing westwards to Australia. On his second voyage, in the Resolution, Cook again plotted the Nelson coastline. In the autumn of 1773 he wrote: In coming from Cape Farewell to Cape Stephens, I had a better view of the coast... and observed... a spacious bay. .. the same that Captain Tasman. . .called Murderers' Bay. . . Blind Bay, so called by me on my former voyage, lies to the South-East of this and seems to run a long way inland to the south; the sight in this direction not being bounded by any land.(2)
Fifty-four years later, D'Urville - also making a second New Zealand visit - investigated Blind Bay by sailing his Astrolabe south past Separation Point; where he soon saw the thickly forested ranges, green islets, golden beaches and sheltered anchorages on the west and the mountains on the east of the bay. D'Urville renamed this Tasman Bay, anchored in Astrolabe Roadstead, explored the steep granite hill-sides nearby, had a friendly intercourse with the Maori inhabitants, and sounded depths as he sailed eastwards from Riwaka to Mapua and Mackay's Bluff. Then, determinedly and skilfully, he forced a passage between D'Urville Island and the mainland, through French Pass into Admiralty Bay. With gem-like clarity his artist De Sainson portrayed incidents and sights observed during this fortnight's visit in January 1827.
A view of Murderer's Bay
in 1642, from
Abel Tasman's original journal
Soon afterwards, in the ferment caused by the arrival of European settlers, whalers and traders, Maori allies of Te Rauparaha from the North Island overcame the local people, obliterating much of their history and their art. These invaders had been driven south by expansion in their home districts; by the need to trade flax in order to obtain the muskets necessary then for survival; and by desire for the prized Maori treasure, greenstone.
Twelve years after the Astrolabe's visit, and carrying an imaginative young artist - Charles Heaphy - on board, the New Zealand Company's ship Tory crossed from Farewell Spit to Ship's Cove, and then investigated Admiralty Bay and Pelorus Sound. Two years later, in October 1841, Heaphy returned from Port Nicholson when three immigrant ships arrived at Riwaka to found the third New Zealand Company settlement. As a surveyor, Heaphy took part in a search of the Tasman Bay coastline and hinterland, looking for a suitable harbour and assessing the land available for cultivation. A ship's boat was rowed eastwards from Riwaka and grounded on the Boulder Bank - despite the reluctance of the Maori guide from Motueka. Those members of the crew who climbed the slope of boulders found before them 'a haven of water' with river flats beyond: the future site of Nelson. Heaphy made valuabe watercolour studies of the district while the settlement was being established.
In 1843 the New Zealand Company Resident Agent in Nelson, Captain Arthur Wakefield, was killed in the Wairau Valley during a foolhardy attempt to intimidate the warrior leaders Te Rauparaha and Te Rangihaeata. Wakefield's successor, William Fox, was a sensitive; watercolour painter. He depicted the landscape from Nelson gazing westward, and from several inland valleys during expeditions seeking arable land among the wildernesses to the south.
James Crowe Richmond
and Dorothy Kate Richmond
in their studio, Nelson
With the shortage of such land, enclosed on three sides by ranges of hills and mountains, Nelson grew slowly. However, as it lay open to the northern sunlight and was protected from the cold moist sub-antarctic airflows that sweep regularly from the south-west over New Zealand, Nelson provided a mild climate in which settlers could unhurriedly contemplate or sketch or later photograph their new surroundings.
Nelson proved a haven also for colonists driven from more turbulent parts. Many came south from New Plymouth after a war of dispossession was forced upon Maori land owners in Taranaki. These refugees included in 1860 J.C. Richmond and his friend John Gully - two self-taught watercolourists who travelled widely, painting landscape views. At first Gully taught art at Nelson College, then worked under Richmond in the Survey Department. After retirement he built a studio and painted assiduously for several years, producing many delicate and beguilingly romanticised outdoor scenes.
Like William Fox, J.C. Richmond became engaged in an active political career; throughout which he continued to paint, retaining a sharp sensitivity to the topography of his adopted country. His eldest daughter, Dorothy Kate Richmond, spent some childhood years in Nelson, visited Europe with her father during her teens, studied painting in England and returned to become an art teacher at Nelson Girls' College in 1881. She travelled to Europe again several times - during one sojourn there becoming friend and mentor to Frances Hodgkins - and settled in Wellington in 1903.
By the turn of the century, the small town of Nelson was frequently visited by artists for painting holidays. It had also become a favoured locality for retirement. M.O. Stoddart - possibly a pupil of Van der Velden - was a frequent visitor from Christchurch. In 1904 the influential 'Impressionist' from Wellington, James Nairn, died in Motueka. Later, during World War I, Hugh Scott (a veteran of Arctic exploration) came to Motueka from Hokitika, where he had worked as a Clerk of Court in the goldfields districts. In 1925 he became part-time art teacher at Nelson College and established the 'Nelson School of Painting' in a carpenter's workshop In Collingwood Street.
Born at Queenstown, Otago, in 1886, Mina Arndt studied painting at Wellington Technical School; then overseas with Lovis Corinth in Berlin. On the outbreak of war in 1914 she returned to New Zealand. In 1917 she married Leo Manoy, a Motueka businessman, and settled in his home town. A studio was added to their home where she worked devotedly until her death in 1926. Mina Arndt will be remembered as one of the most discerning, humane and vigorous of New Zealand painters.

JOHN KINDER
Nelson 1872
watercolour, 115 x 301 mm.
(Auckland City Art Gallery)
The headlands of Otago Peninsula had been observed by Cook in 1770; Otakou roadstead utilised by sealing and whaling ships' captains some decades afterwards; and the inner harbour surveyed by Captain Herd in 1826: but it was not until D'Urville's third Pacific voyage, during which the Astrolabe and Zelee spent a week at Otakou in March 1840, that the locality was portrayed in detail. Then the draughtsman Le Breton painted several picturesque watercolours of the area. At the same time M. Zacquinot, captain of the Zelee, wrote: Otago Bay forms an admirable haven and affords all the safeguards needed by ships: but it has the great inconvenience of being very difficult to enter and to leave.(3)
In March 1844 the surveyor Frederick Tuckett left Nelson by boat with instructions to choose a site in the South Island for a projected Scottish settlement. After a week at Banks Peninsula and an arduous ten week exploration of coastal Otago and Southland, Tuckett exclaimed: 'I have found what I had despaired of in New Zealand, an extensive field for colonisation such as I expected to find when I left England... ' His choice was 'that area of country which included Otago Harbour, the Taieri and Molyneux [Clutha] Plains 'At this time, abetted by the climate, European-introduced diseases had catastrophically reduced the southern Maori population. In July 1844, Maori leaders sold the 'Otago Block' of 400,000 acres to William Wakefield for the New Zealand Company. Soon after his agreeing to the sale, the most influential South Island Maori leader, Tuawhaiki, was drowned at sea.
The first immigrant ships, the John Wycliffe and the Philip Laing, arrived in March 1848 to establish a Scottish Free Church 'Class Settlement' at Dunedin. With a few capitalists, and the conservative elders Cargill and Thomas Burns, they brought several hundred young Scots 'drawn almost entirely from the working classes of the community', who came seeking 'to escape. . . poverty and unemployment at home'.(5)
Courage and perhaps dourness even were needed to survive in a colony which had been planted on an inhospitable site. However, with more settlers arriving and farm land becoming available, Dunedin grew steadily until 1860. Then the discovery of gold resulted in a vast influx of diggers who brought a different vitality to the region.
R.N. FIELD
Plantation
of Trees in
South Canterbury 1926
oil on board, 273 x 343 mm.
(Auckland City Art Gallery)
Painting, too, became imbued with new vigour. Several surveyors had sketched the town and its surroundings, which William Fox had visited and delineated with a primitive veracity in 1849, and again in 1855: But during western exploration in 1862-4, the botanist John Buchanan painted fresh, bold and emotionally-expressive watercolours of alpine Otago and Milford Sound, thus forging a link with the evocative Fiordland pictures created by Cook's artist William Hodges, nearly a century before.
In 1870 the Dunedin School of Art was opened, with a clear-sighted Scotsman, David Hutton, as its first teacher and later its director. Five years later the Otago Society of Artists was founded, largely instigated by William Mathew Hodgkins. A lawyer by profession, Hodgkins was an amateur watercolourist and a discerning student of European art. He was inspired particularly by the genius of Turner and by his disciple, Ruskin. J.C. Hoyle and George O'Brien were also living in Dunedin at this time. Each of these three had a firm individual style. Hoyte painted Arcadian coastal views; O'Brien more brooding, extensive panoramas; and Hodgkins sensed the forbidding structure of the hinterland.
Hugh Scott,
partially paralysed,
painting in his garden
The first Otago Society of Arts exhibition included fourteen pictures by O'Brien, ten by Hoyte, ten by J.C. Power, three sent from Nelson by John Gully, and two by W.M. Hodgkins. By 1892 the society listed one hundred 'artist members. Its annual exhibition that year included seventy-four sketches and studies by the Christchurch-based Petrus van der Velden - the foremost painter to work in New Zealand in the nineteenth century. Of younger painters, Isobel and Frances Hodgkins (daughters of W .M. Hodgkins), M.O. Stoddart and D.K. Richmond were also represented in 1892. By 1895, a pupil of David Hutton, Australian-born A.H. O'Keeffe, had returned from studying in Paris to remain painting and teaching in Dunedin for the rest of his long life. In 1897 Mabel Hill came to Dunedin after marrying John Mclndoe and settled with her husband at St Clair. Sister to the composer Alfred Hill, she had studied in Wellington under James Nairn and taught at the Wellington Technical School. After her husband's death during World War I she painted in a studio attached to her house, taught at the Barn studio with A.H. O'Keeffe, and travelled extensively overseas. At the end of World War II she moved permanently to England. In 1898 Frances Hodgkins left Dunedin on her first visit to Europe, where she would eventually establish herself as New Zealand's leading expatriate painter.
In an article written nearly fifty years afterwards, A.H: O'Keeffe described some of the, painters who had influenced Frances Hodgkins and himself in their youth:
What an archaic age it seems now!... Everything was painted brown and then touched up here and there with some grey, and a man with a red coat in the middle distance. When that great colourist, Signor Neni appeared and others who came later who opened our eyes to colour, there was an improvement.
I remember walking along George Street with James Nairn, who was out from Glasgow. We looked at a picture in a window. I said, 'What do you think of that?' 'Penny plain and twopence coloured', was his reply. Looking at another picture with a visiting artist, I said, 'Nice and soft'. 'Rotten apple soft!' was the rejoinder.
I think the first artist I knew was J.C. Power, whose son, Peter Power, is one of the leading Australian artists. . .
Power himself was a jolly old Irishman, or he seemed old to me then. He painted landscape and had a fancy for those big black pine trees which were prolific in the Woodhaugh Valley and what we called Pine Hill. . . If Power sold a picture, he gave a party. I remember going with a number of other brothers of the brush to visit the old man on Christmas morning. Such things do not happen now.
Another Irishman was George O'Brien, who painted old Dunedin in a very careful way. He was a character, and a lovable one. I remember him coming to see me once when I was painting a crayfish and a glass of beer. He said, 'I do not know anyone else who could treat a glass of beer that way.' The favourite medium of those jovial painters was Old Highland, which was the popular brand at that time. A memorable figure was that of Nerli, rather tall, with a black pointed beard. He settled in Dunedin for a while, and painted many good pictures. He was a true artist in every sense. He had with him a portrait of Robert Louis Stevenson. . . The picture went begging for £8 in Dunedin. Afterwards it was bought by an art dealer and sold to the Edinburgh Art Gallery for £250. Poor Nerli, he was alive at the time! Nerli himself was always good for any fun that came along without thought for the morrow.
Mr W.M. Hodgkins, the President of the Otago Art Society for a period, was a man we all looked up to. He was ever willing with a word of kindly advice. He could not be taken in by the 'tripe' some produced. His own work rang true, and he was ever keen, if he saw merit, to help a sale. He was the means of our purchase of van der Velden's pictures, The Otira Gorge and Old Jack.
An artist of whom we all ought to be proud is Miss Frances Hodgkins, who now takes her place among the best in England... doing work that is original, not a servile copy of Nature, but showing a mind of her own. She is undoubtedly the best artist we have produced, and, as far as I know, she has fought her own battle. . .(6)
Frances Hodgkins had taken lessons from Nerli in Dunedin from 1893 to 1896.
WILLIAM FOX
View of Blind Bay
from Mr Fox's House 1847
watercolour,
220 x 1050 mm.
(The Hocken Library)
Soon after World War I ended, my parents were married at Alexandra, Central Otago. My father had been invalided back from Gallipoli, then qualified in medicine in Dunedin. His grandfather had landed at Bluff in 1861. My mother was born in Dunedin in 1896, her grandparents having settled in South Otago two generations before. Her older brother planned to study painting in Europe, but was sent to France as a soldier instead. He too came home on a hospital ship, his lungs permanently damaged by poison gas.
My father worked with Truby King at Waitati, then moved north to practise, first at Collingwood, in Golden Bay, then at Wakefield, where I was born in 1927. My sisters had been born in Waitati and Collingwood. .
Wakefield lies fifteen miles inland from the beaches of Tasman Bay, at the head of the alluvial Waimea Plain and below the rounded, glacio-fluvial clay and gravel Moutere hills which roll northward from lake Rotoiti and the Southern Alps, deposited by ancient glaciers as an ice-age retreated. These clay hills push to the sea's edge at Mapua, thus barring easy communication for colonists travelling east and west between Nelson and Motueka. Rolled out like congealed porridge in the wedge-shaped gap between two ranges of mountains, they also blocked access south to the interior. Later their soils were to prove suitable for commercial apple growing.
When my father went to Australia in 1927, my mother bought a house in Nelson. From childhood I remember its wisteria-entwined, lacebark tree-walled garden - facing east, towards the warm Maitai Valley hills where the sun rose beyond the bush, overlooking 'Doubles' mountains - and the nearby brown wooden 'Bishop's School' where our teacher was a Montessori-trained English disciplinarian. I recall standing alongside the sunlit northern exterior of the wooden Cathedral on Church Hill; and, later, when this had been burned down, walking on the hill like a miniature Jude the Obscure marvelling amongst stonemasons and the blocks of white Takaka marble which they were cutting and preparing for a new cathedral. Early activities included visiting the mysterious painting studio only a few hundred yards away in Collingwood Street, and outings to the rivers and the sea.
In 1936 I began my nine years at Nelson College, where I was tolerated by most teachers, scorned by the woodwork and physics masters: but befriended - it seems in retrospect - by the lithe, genial, bird-bright art teacher, W.H. Allen - 'Fungus' we called him - whose shared enthusiasms and voluble discussions, especially after World War II began, enlivened four or five of those long years.
DE SAINSON
L'Anse de l'Astrolabe 1826-9
lithograph, 128 x 360 mm.
In the summer of 1936-37 our family made a momentous boat and rail journey, first via Wellington and Lyttleton to Dunedin, where we stayed with my Scottish great-aunts at St Clair; then on by train again into Otago Central. There we holidayed for some weeks in Conroys Gully with my grandmother and my uncle on the orchard the former had bought for her two sons, after doctors had recommended the climate for my older uncle's health.
For a nine-year-old this was an enchanted world: of new dry summer's heat and the new dry scents of sunlight burning on briar and herb and matagouri clump and hill-enclosed orchards; of brown hillsides flashing white and moving alive with rabbits and, at closer quarters, when they were surprised by a stealthy footfall, of brown, yellow and even black rabbits darting into grey dirt burrows beyond brown rock walls built by Chinese workmen - in 'the gold days'; of the white-washed, grapevine-ornamented tiny cob house; of enormous, ripe, juice-filled cherries and apricots and peaches and plums; of scarlet-crested goldfinch flocks flitting among waves of green cherry tree leaves, and of the goldies' acridly-sweet, small, fibrous nests; of a quiet paddock and long evening twilight; and of a burning brown rocky hill (hot with early morning promise as the dew dried) beyond the row of poplar trees lifting up and up into the infinity of the Otago sky.
My uncle was a shy bachelor, a green-fingered gardener and prize-winning orchardist who read widely, wrote verse and plays, and painted. When he sold the orchard and came to live with us in Nelson, he attended Marjorie Naylor's lessons in the Collingwood Street studio and painted regularly, producing a large collection of delicate native plant studies. 'I am not the butterfly you think,' he once said to me in his light sad voice.
A decade or so after that Otago visit, returning from Dunedin as a university student, I came back to Nelson with an Indonesian-Dutch friend who had been recommended by Rodney Kennedy to visit 'New Zealand's finest painter'. M.T. Woollaston was then living with his family in the clay-brick cottage which he had built himself on an apple orchard at Ruby Bay, Mapua.
MINA ARNDT
Head of a Young Woman c1920
chalk, 502 x 380 mm.
(Auckland City Art Gallery)
There on a grassy clay hillside sloping towards the sea, among wattle and fruit trees and flower gardens, in a grapevine-sheltered large room, I met Edith and Toss Woollaston and their four children. Later I saw paintings and drawings which I was to grow to remember and love - for these included evocations of the family - now also my family - and of the hills where I had grown up in Tasman Bay.
A Nelson boyhood had brought longer and longer walking forays into the hills: up the yellow-green pyramidal hill-bounded Brook and Maitai Valleys, to follow the paths of New Zealand's first railway, the Dun Mountain line, which wound, beech leaf-paved, tiringly on through Kamahi forest until it emerged at last on the tree-bare, mineral-larded Mineral Belt, where copper then dunnite had been mined and where the upcurving, tussock-tawny Dun mountain itself dominated the world; further east yet, beyond the Dun-Doubles range, over purple black Maungatapu saddle into the forested wilderness of the Pelorus Valley's headwaters; south from Nelson past the Richmond and Aniseed Valley foothills that guarded massive Mount Starveall, past uplifted angular Ben Nevis (higher than Scotland's original); through Wakefield up to the Golden Downs (not yet obliterated pine trees) and Gordon's Knob (an alpine sentinel which I was not considered old enough to climb, when friends went off before daylight, planning to shoot deer); due south beyond Tophouse's old hotel (candlelight showed a bloodstained bullet-hole in the wall) to Lake Rotoiti and the Travers and Upper Wairau Valleys, where summer snow-flecked black mountains rear northward from other higher glittering peaks; west to the landlocked Motueka river; tributaries, walled in abruptly on the west by the granite and limestone Mount Arthur range; and south-west, at first in my younger uncle's car, to drive dustily alongside the lake-fed dark, green Buller river as it knived through maze after maze of earthquake-shattered, forested ridges, ever tumbling towards the tree-fern wet world of the West Coast.
Finally, after World War II began, with four or five other boys, I made repeated journeys by service car eastwards over the winding Whangamoa and Rai saddles to Havelock, then by launch past sea-wrapped hills and bays and islands to a farm at Okoha (Anakoha), on the outer reaches of Pelorus Sound, where, during successive school holidays we cut 'tawinnee' (tauhinu) scrub with sharp half-axes on a great sunlit hillside facing out to the open sea. We did not realise then that from where we worked each day we gazed on to a waterway that had once been decorated by the sails of Tasman, Cook, D'Urville and the colonists' vessels and by countless Polynesian canoes. Nor did I know that on the first launch trip to Okoha we had passed Mahau peninsula where the Woollastons, Rodney Kennedy and Colin McCahon had been staying shortly before.
Born on an inland Taranaki farm in 1910, M. T. Woollaston first came to Nelson in the summer of 1928 to work on an apple orchard at Riwaka - and to write poetry. For a while he took local Presbyterian services on Sunday afternoons. Soon he met a member of the Nelson Suter Sketch Club, which he joined later in the year. After spending 1929 in Taranaki, he returned to orchard work in 1930, living this time at Mapua. In his autobiographical lecture The Far Away Hills, Woollaston said:
After that fruit season, I went in to the city of Nelson for a time, becoming a pupil of Mr Hugh Scott. Thus was begun what became the regular pattern of my life for the next few years: back to Mapua for the fruit season, and away again to be an art student for a short period: the rest of the year eked out with occasional jobs: on a dairy farm at lower Moutere; casual gardening in Christchurch; door-to-door selling in Dunedin; and, of course, almost annual return to Taranaki. . . After a second season at his Collingwood Street Studio in Nelson, Hugh Scott advised me to go the School of Art in Christchurch.(7)
There, Woollaston formed a friendship with the poet Ursula Bethell; found the School of Art course unhelpful and dispiriting, but was excited when he saw the 1931 Group Show, for:
Here were shown pictures by two men which were unlike any art I had ever seen before. . . They were Christopher Perkins, who worked in the North Island, and Robert Field, then of Dunedin, both Englishmen recently come to teaching appointments in New Zealand.(8)
Trafalgar Street, Nelson, in 1910
Of his arrival in Wellington, Christopher Perkins wrote at the time:
Art Department. Art in a department. What is technical? What is Art? Greek statuary in the Pacific?.. I run out of the Department, I run out the city seeking Art my mistress, like Solomon his beloved. The girls in the Wellington trams are meek, the sight of far-distant snows is uplifting. I throw my concession tickets into a great wind and creep into a boiled shirt.
Academies, clubs, receptions... I slink about, cowed and graceless among the civilised. . .
The grandees of Japan, in the North Pacific, present each other with complimentary poems. Contemplation is their raw material. What is the raw material of a painted picture? Paint? Nature? The first essential is the surface, the raw field you can distort and hurl through space with your tricks of perspective. . .
Enough, I have finished arriving... you can see I am the theatre of a war within and can't speak of the horrors there. As for the outside world, they are telling me New Zealanders are this and that, do thus and thus. I no longer take it in. . . The unpardonable would be to forget that we live from birth to death each on his desert island, where we are vile only when we cease to enjoy it.(9)
Perkins must have stimulated the students at Wellington Technical School of Art. Concerning R.N. Field's work, a reviewer of the 1931 Group Show wrote:
Of all the exhibitors, perhaps, Mr Field threw out the strongest and most insistent challenge to the fetish of mere representation. In his use of colour, the nature of his composition and the idea behind his work, the modern attitude is predominant.(10)
Woollaston later describes Field's work thus:
His pictures, brilliant and heady, were painted with jewel-like full-sized brush strokes, or with rainbow-like spots and scales of pure paint shimmering on unpainted backgrounds of wood or canvas. Here was wild excitement after what, it now becomes plain, had been my long draught of earnest mediocrity.(11)
W.H. Allen and R.N. Field arrived in 1925 to teach art at the Dunedin Technical College, replacing two other Englishmen who had found the positions uncongenial. Allen and Field had entered the Royal College of Art, London, in 1919. The next year, William Rothenstein was appointed principal. 'Bringing new life and boundless enthusiasm', Rothenstein 'revitalised the curriculum' and engaged several outstanding instructors. After graduating, Allen and Field worked at various projects and commissions until 1925, when, engaged together on a mural in Edinburgh, they saw and answered an advertisement for instructors in New Zealand - the result of a scheme initiated by W.S. La Trobe.
The conditions they found here were described sharply by Allen:
The most noticeable thing about the Art of New Zealand is the absence of that pioneering spirit which is so evident in much of the work and the play of this Dominion. In certain branches of agriculture, infant welfare and at rugby football, New Zealand may be said to lead the world, but while we can hardly expect this country immediately to take the lead in matters artistic, it is surprising that artists here should be so indifferent to modern movements in art.
The work to be seen in Dominion exhibitions may be likened to that of an old man - for the most part it is 'safe', represents a past age, avoids all experiment, and is full of sentiment.
It has been said that the New Zealand public has too much common sense to put up with that 'new-fangled nonsense' known as modern Art, but the artist has never been led by the public... (12)
In another article, Allen outlined the reception which Field personally received:
Shortly after his arrival. . . he was invited by the secretary of the Otago Art Society to submit work for the art section of the New Zealand and South Seas Exhibition. . ., but his pictures. . . were all rejected. This was not to be wondered at because his work, with its vitality and breadth of treatment, was singularly free from the pretty superficialities that might have gained him immediate popularity.(13)
However, both artists were soon employed reconstructing, for local display, exhibits sent out from the 1925 Wembley Exhibition - to which they had contributed while in England. Allen's account continues:
For a year or so the art lovers of Dunedin, with true Scottish caution, refused to accept Field's artistic ability on trust and, apart from a suspicion in some quarters that he was slightly mad, his work excited little interest among the public.
TOSS WOOLLASTON
The Artist's House at Mapua c1939
oil and charcoal, 480 x 431 mm.
(Auckland City Art Gallery)
Field himself was to exclaim vehemently:
The constant rebirth of the human spirit in every generation must find new expressions or perish. . . (14)
Within a few years, the influence of Allen and Field had begun to alter the canons of taste in Dunedin. By the end of 1932, Field could review an Otago Art Society exhibition in these words:
It is a great stimulus to find in this year's exhibition a standard of work which leaves the achievement of the past few years far behind. . . There are welcome signs too, of a generous 'leavening of the lump' by the inclusion this time of many works which belong obviously and keenly, though not extremely, to the modern school - a school which it is folly to describe as the mere effervescence of a troubled and restive generation, but which is as undoubtedly the true artistic record of the times as art has ever been in the past.
Field then commented on individual painters' work, describing that of Rita Angus first:
Mrs Rita Cook's most successful landscape Mount Stewart, though built on an older tradition, has a new note in the foreground and middle distance, the whole being a splendid translation of truly New Zealand country. . .
Rodney Kennedy was mentioned next:
Mr R.E. Kennedy, an outstanding member of a group of young painters in Dunedin, has a landscape of unusual interest. He has undoubtedly that 'plus' quality which is present in all works of art. Delightful and rich in colour, full in form, his work has a plastic quality coupled with great decision and interesting technique.
Others whom Field complimented included Olivia Spencer Bower (for 'an amazingly truthful rendering of typical Otago scenery, delightfully fresh and direct'), Mrs Rata Lovell-Smith, Russell Clark, Evelyn Polson (later Evelyn Page),' Gordon Tovey ('a new exhibitor') and the veteran A.H. O'Keeffe ('Everyone looks forward from year to year to the work of his brush'). Field himself exhibited his influential Portrait of Miss Kelsey. (15)
After working another fruit season at Mapua, Woollaston wrote to Field in advance, then cycled south via Christchurch to arrive in Dunedin during that same year: 1932. At the School of Art he found that:
Mr Field was courteous and friendly and made me feel welcome . . . There was no diploma here, students attended because they wanted to paint, carve or model in clay, not because they wanted careers in art teaching. The sense of inequality between old and new, senior and junior students, was absent. Everybody was a person, not just a unit in a system, and Bob Field was the greatest person of all.(16)
Moreover:
The infectious friendliness of the group of young people gathered about Bob Field emboldened me with delight. At the same time I had a sense of being suddenly stranded on too much liberty. Gaspingly, I tried to assimilate this new atmosphere. I asked Bob (how crassly, I was to realise later) how to paint as they did, expecting, I suppose, some new kind of pat formula, some different recipes. His tact and gentle patience in disillusioning me were perhaps the most valuable lessons I had there.(17)
COLIN McCAHON
Ligar Bay 1948
oil on canvas, 876 x 1259 mm.
(Collection of
John and Connie Summers)
These were now the winter months of New Zealand's bitterest Depression years. Before long, Woollaston continues:
My funds ran out, even though I had been selling, first lollies, then sundry household goods, in the suburbs of south Dunedin and St Kilda; so I went to work with one of the brightest members of this group on his uncle's farm on the Otago Peninsula.
The friend, Rodney Kennedy, gave Woollaston lessons and influenced his view of art. Kennedy's own painting, Woollaston says:
. .. appears now to my memory to have been, though formal, saved from mannerism by a rare prediction of the character of certain decorative features in the Highcliff landscape, whose outlines he thickened imaginatively, heightening their impact as for theatre. It was so, too, when he drew the portrait of a neighboring farm boy. His colour was also decorative, but sensitively, excitingly so. With the example of his work in my daily life, I struggled to impose this delightful fairy-like world of vision on my tiresome, tired old skeleton of academic drawing. I did not yet know any means of getting rid of what I had been taught was the only correct way of drawing.(18)
As the summer approached, Woollaston rode north again, revisiting Ursula Bethell in Christchurch. In 1933 he returned to Taranaki and rented a room in New Plymouth where he 'Tried to set up as a freelance teacher like Hugh Scott in Nelson'. Later, he worked as a gardener again, then went south early in 1934 for another fruit season at Mapua.
During this summer Rodney Kennedy rode a bicycle up from Dunedin to work on the orchard with Woollaston. W.H. Allen had relinquished his directorship of the Dunedin School of Art in 1930 and taken his family back to England. Now he had returned to New Zealand and settled in Nelson as art teacher at Nelson College. To Kennedy and Woollaston, Allen 'was a modern, on the side of the angels'.(19) So, for Woollaston:
With Bob Field away in England now in his turn, Allen at Nelson and Rodney willing to come fruit picking again when he found out how much he liked it, Nelson seemed a far better place to be in than Dunedin.(20)
This proved particularly true for Woollaston when he learned that Flora Scales was temporarily living in Nelson. Born in Lower Hutt, she had studied art in London during 1908-12; then in France and Germany from 1928-31. She had recently been attending the Hans Hoffman School in Munich. Woollaston had seen and admired Flora Scales's paintings at her sister's house, in Christchurch. For the winter of 1934 he had planned to return to the Christchurch School of Art. Instead, when a letter came from her sister suggesting that he visit Flora Scales, he did so. Miss Scales agreed to discuss painting with him, if not to give formal lessons. During five visits, Woollaston records: She pointed out the lack in my work of the things I wanted there. Vanishing perspective was routed... In Miss Scales own work I was aware as never before of space in painting. What she has painted, I told myself, was the over-thereness of the object - and it was fully the object that was over there, strongly coloured and amply drawn, no pale diminished visual remnant of it. And so distance, that was so deep in space, came to the surface of the picture. At the same time this indeed corresponded with the feel of the landscape views that I liked best seen from a height In the clear air of Nelson. The immediacy of things far away was intensely exciting. I began a new training along the lines I wanted. Gone was boredom out of the window along with perspective and anatomy. 'Draw for a month before you begin to paint the subject', instructed Miss Scales...(21)
DOROTHY KATE RICHMOND
Beech Trees under Snow, Rotoroa, Nelson 1931
watercolour, 253 x 279 mm.
(Auckland City Art Gallery)
He was lent notes from the Hoffman School. All thought of Christchurch was banished for Woollaston:
My mind sang all day now and my spirit leapt for joy. I read late at night and copied out the precious notes.(22)
He painted the Nelson hills. And he had a new idea: to build his own studio, where he 'would have for subject the landscape at Mapua'. 'After a time,' Woollaston noted:
the strident angularity of both the colours and shapes I had been using began to seem inappropriate to the feeling I had for the landscape. Gradually I became addicted to lower and quieter colours; and this mood lasted for quite a long time. .. My painting had become like a very quiet song hummed or murmured to myself. . . At this time I wrote in a letter that 'I wished to paint the sunlight - but after it had been absorbed in the earth'.(23)
At the end of another Mapua fruit season, Woollaston was lent an unused corner of the orchard by his employer. Here, in the summer of 1935, he built his own one-room, 14 x 10 foot, claybrick studio dwelling. Rodney Kennedy came to help with the garden and to work the next fruit season; then, in the winter of 1936, he organised Woollaston's first exhibition, which was held in a hired shop in Broadway, Dunedin. R.N. Field and Ivy Copeland, another artist-teacher, bought paintings. The teenage Colin McCahon also attended; and long afterwards wrote: There were the paintings, wonderful and magnificent interpretations of a New Zealand landscape; clean, bright with New Zealand light, and full of air. I met the artist himself some years later; I saw the actual Nelson landscape and better understood the discipline imposed by the painter on his subject. I still admire Woollaston's painting. I still remember that first exhibition?(24)
Although he was born in Timaru in 1919, Colin McCahon had spent most of his childhood in Dunedin. He was the grandson of a photographer and landscape painter, William Ferrier (a cousin to the singer Kathleen Ferrier), and belonged, as he has written:
to a gallery-going family and went to all the exhibitions. At this time the big artistic event of the Dunedin year was the large Otago Art Society exhibition held in the Early Settlers Hall.
In the Public Art Gallery, for McCahon:
There was one painting. . . I loved above all else, Frances Hodgkins's Summer. It sang from the wall, warm and beautiful, faces beaming from summer blossoms. It was strong and kind and lovely. When we shifted to Oamaru (it was when I was in Standard Four at school), I took that picture with me in my mind and painted my own version. . . '
The family returned to Dunedin in 1933. McCahon was sent in his own words:
... all too soon to that school for the unseeing, Otago Boys' High. After a long and dismal struggle with my father. . . near the beginning of the second term in the fifth form year... I left high school and enrolled at the Dunedin School of Art.(25)
The Nelson wharves in 1920
While a schoolboy, McCahon had attended Saturday morning classes under Russell Clark, who then had a studio in Vogel Street where he gave tuition and painted commercially. He was encouraged and employed by the son of Mabel Hill, John Mclndoe junior. Some of Russell Clark's method may be apparent in these remarks, which he made later:
I believe. . . that in the time between the drawing of the first sketch and the final painting a kind of mental digestion takes place which simplifies the task of elimination and reorganisation.
And:
I derive the greatest satisfaction from painting a subject which is simple and commonplace.(26)
During his boyhood, McCahon had noted that:
Otago has a calmness, a coldness almost a classic geological order. . . Driving one day with the family over hills. .. to the Taieri Plain, I first became aware of my own particular God. .. Big hills stood in front of little hills, which rose up distantly across the plain from the flat land: there was a landscape of splendour, and order and peace...
I saw something logical, orderly and beautiful belonging to the land and not yet to its people. .. This vision was reinforced by the remembrance of paintings seen in my recent past, paintings of Nelson landscape by Toss Woollaston.(27)
From 1937 to 1939 McCahon attended the Dunedin School of Art, where R.N. Field was teaching again after spending a useful leave in England, studying particularly sculpture and ceramics. Gordon Tovey was now director. Pupils included Rodney Kennedy, Doris Lusk, and Anne Hamblett, who later married Colin McCahon. In the summer of 1937 McCahon and Kennedy rode bicycles to Nelson, meeting Woollaston and working on an orchard at Mapua. Thereafter, McCahon writes:
I did winter terms at the School and worked in Nelson in the summer - tobacco and apples. . . and later still learned to make use of the Nelson landscape in my own work.(28)
TOSS WOOLLASTON
Colin McCahon c1937
pen drawing, 240 x 240 mm.
(Suter Gallery, Nelson)
Among others in Dunedin who benefited from the teaching and example of Allen, Field, Russell Clark or Tovey were H. V. Miller, Max Walker, Tui Northey (Tui McFarlane) and R.N. O'Reilly.
In Dunedin, Kennedy and McCahon constructed two dioramas for the Otago Museum, and worked together designing and producing plays. With their friends they walked tirelessly over the local hills, roaming particularly about the uplands and bays of the Otago Peninsula.
In 1939 McCahon painted his first careful large-scale picture of the peninsula, working from the summit of Peggy's Hill. Recalling his Dunedin years, McCahon later wrote:
It is only now I realise the great good fortune that surrounded my youth. I must admit to awful bitterness and to a hatred of 'them'; this still exists. But my beginnings were fortunate indeed, surrounded by no dealers, few exhibitions, very few where I was at all welcome, no pressure to 'Be with it' or to 'Go Go'. I lived in a certain peace. Actually, no fashions existed at all (and from the Dunedin School of Art at that time, and now, no Diploma of Fine Arts was given). Nothing more came from the School but a love or painting and a tentative technique; the painter's life for me was exemplified by the life and work of R.N. Field.(29)
Something of Field's teaching that influenced McCahon may appear in this extract from an article on Sculpture, published by Field a decade later:
Much can be learned regarding treatment from early Christian carving. . . The early Christian artist returned to the barest simplicity and symbolism. . .
There have been many relapses from the first high ideals of purity of motive and suitability of subject to material, but the germ of true carving and true living remains there for those who are determined to build on sure foundations, to find. Faith, and the power to live the faith, go hand in hand with this determination.
The article ended:
As artists today it is our individual responsibility to select, through the intuition of inspired personality, what is sound and in keeping with the spirit upon which true civilisation is founded.
Where there is no vision the people perish.(30)
Soon after his 1936 exhibition in Dunedin, Woollaston married Edith Alexander, who had attended both the Christchurch and Dunedin Schools of Art (her father was then Dunedin's City Engineer). The two had met during Woollaston's 1932 visit at R.N. Field's pupils' 'Six and Four Club' classes held in Anderson's Bay. After marrying they travelled north to the claybrick dwelling at Mapua. They remained living in that contemplative environment until 1950, isolated to a large extent from the fashions and pressures of urban life. Woollaston painted, worked on the orchard and in an agricultural fertiliser works at Mapua Wharf, read widely, pondered deeply and wrote poems, articles and letters describing not only his family life but his feelings and beliefs as the 'thirties passed and World War II loomed closer.
FLORA SCALES
Overlooking the Bay c1925
oil on canvas, 220 x 296 mm.
(The Hocken Library)
In April 1936 he had stated some of his ideas in the journal Tomorrow:
The antidote to an easy, wistful idealism about life and art is a thorough realisation of the implacable enmity which exists between an artist who retains the intensity of his calling, and the bourgeoisie. . .(31)
Where will the artist come in who absolutely will not kow-tow? He is utterly and irrevocably at war. . .
We are at war with art societies and gallery syndicates. We have got, and will get, nothing from them unless we submit to be patronised, selected, instructed by them, and tacitly acknowledge the greater claim of the socially more important. . .
R. N. Field was also critical of New Zealand art galleries. In an article on Pottery he wrote:
What is the matter with our purchasing Art Gallery and Museum Committees that so few if any museums and galleries in this country have anything worth mentioning of the great work of present day potters . . .
An informed public opinion on this matter could remove from our islands forever this appalling plebeian complacency and even appreciation of pretty-pretty vulgarity that meets us in almost every shop window and sitting room in the country.(32)
During 1937 Art in New Zealand published an interview with Woollaston in which he was asked if he was working as a painter full-time. He replied:
Not by any means... I have been faced with the almost insoluble problem of carrying on my work as an artist and earning a living in this country. I have never felt inclined, nor do I think that I am naturally fitted to climb the social ladder, and thereby gain the approval of the art-fanciers. It has occurred to me that the only other alternative was to pack up and go to Europe. So many of my artist friends have done this, and gained a recognition for their work which has been refused them in this country. But then I was born here and my people are here, and I feel that I have an interest and love for this country, its characteristic landscape, and its people; and my inclination has been to stay here where I find an absorbing interest, which I feel is indissolubly bound to the soil of New Zealand.(33)
The following year, he entered a different debate in Tomorrow:
Artists are often found occupied with other things as well as being artists, and some of their activities may entail side-taking, which is a political act... The soldier chooses his side (does he?) and thereafter has no re-choice but desertion. The artist chooses to remain isolated from the soldier's side, and be an artist by refusal? Then the word you want is snob, not artist; for the artist also has no choice but to obey his condition. He is chosen, by virtue of a peculiar sensitiveness and aptitude not of his own ordering, to entertain whatever comes to him as 'subject matter' for his art; to be completely receptive, or, as Scripture has it, to 'suffer all things,' and not without a sense that glory may come out of it. . .(34)
RODNEY KENNEDY
Otago Peninsula
oil on cardboard, 275 x 350 mm.
(Collection of Pat France)
During the early 'thirties the Bishop Suter Art Gallery in Nelson had provided stimulus from the outside world by displaying a collection of recent British painting being toured by Mrs Murray Fuller; and an exhibition by Australian painters, which conveyed something of the light and colour of their own country. In 1932 Marjorie Naylor had taken over and continued the Nelson School of Painting in Hugh Scott's studio, when after illness the latter retired to a cottage at Ruby Bay, near the Woollaston's home. W.H. Allen became president of the Nelson Suter Art Society. Of him it was soon written:
Mr Allen's presence in Nelson is a stimulus to live thinking in the community. . . about the pictorial arts, for with genial courage he stands firm for the experimenters, the pioneers of further possibilities in outlook and technique without whom we should all die a dull death.(35)
It was probably Allen who persuaded both Toss and Edith Woollaston to exhibit with the Suter Art Society.
By 1938 Fascist forces had invaded China, Abyssinia, Spain and Austria. When war with Nazi Germany was declared in September 1939, McCahon had been about to travel overseas. Soon afterwards, he and Rodney Kennedy went north again from Dunedin to work in the Nelson district. In November at the instigation of a local minister, the Woollaston's had agreed to manage a farmlet for a widow at Mahau Peninsula, in Pelorus Sound. They were joined there later by Kennedy and McCahon.
R.N. FIELD
Portrait of Miss Lavinia Kelsey 1931
oil on canvas, 510 x 407 mm
(The Hocken Library)
Here, the broken and dividing ranges of the land running north-eastward dip into the sea like the fingers of an open hand. Washing a maze of sheltering islands and gently curving hills and promontories, the green sea yet connects with the great oceans of the world beyond, across which Tasman, Cook and D'Urville had all voyaged to find shelter and refreshment. Perhaps the group of painters found some spiritual respite here before setting out on journeys that were different but just as arduous as those the navigators had faced after leaving these harbours.
Woollaston returned shortly to his work on the orchard, while his wife travelled to Dunedin for the birth of their second child. Kennedy, who had suffered from poliomyelitis in childhood, went back to Dunedin to be forced into a Conscientious Objectors' Camp. Later he was to establish himself as one of the leading drama producers in New Zealand, promoting the highest standards for set and costume design and the visual appearance of a play. Woollaston was exempt from war service because his work was regarded as essential employment. Before long, McCahon had settled with his wife in the Nelson district, where he too worked as an essential labourer, and painted.
Marjorie Naylor with a
portrait of Hugh Scott
Thus the background and landscapes of Nelson and Otago and the long hard road in between had helped to forge Woollaston and McCahon into artists who could not now turn aside from the course on which they were embarked - that of expressing the visions they had glimpsed, by means they were still learning, in the terms of local art.
EPILOGUE
A decade after he began studying the Nelson landscape, McCahon painted pictures in Nelson with the titles Marge as the Virgin Mary in the Maitai Valley, Nelson Hills, I Paul to you at Ngatimoti, The Valley of Dry Bones, The Promised Land and Takaka Day and Night. The Promised Land contained an insert of Farewell Spit which McCahon later described as 'the beginning and end of it all'. These celebrations of the land's structure show the same forms as were recorded by Tasman's artist three centuries before. With handwritten captions, insets, and a key, Tasman's artist delineated a tragic incident seen offshore in Golden Bay. Using similar means, McCahon painted a series of tragic works experienced and observed from the hinterland of New Zealand itself.
After eighteen years at Gremouth, the Woollastons returned to the shores of Tasman Bay in 1968, settling at Riwaka, .a mile from the sea. Woollaston had revisited the district several times during his stay on the West Coast ,and quickly responded again to the sunlight flowing among the warm yellow-green hills. Since then he has been able to paint fulltime.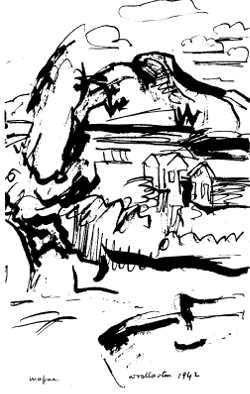 TOSS WOOLLASTON
Mapua
pen and ink, 200 x 126 mm.
(Auckland City Art Gallery)
In the summer of 1976, his daughter Anna made a drawing of the ranges on the eastern flank of Tasman Bay, working from a hut where we were staying in Abel Tasman National Park, high above D'Urville's Adele Island and Astrolabe Roadstead. With this drawing to fire his memory of the district as he had seen it in his Shelley-reading youth nearly fifty years before, within a few months Woollaston had completed a large eight by four foot picture which he titled Tasman Bay 1928.
Two centuries after Cook had sailed past speculating what lay within 'Blind Bay', and 140 years after Heaphy and Fox had delineated its western boundaries, Woollaston created a memorable painting that is emblematic of human interaction with the hill-girt environs of this particular haven for art.
In addition to the cited sources, I am indebted, for information and other assistance to Gordon H. Brown, Austin Dilvies. (Director, Suter Art Gallery), Ross Fraser, Tim Garrity (Curator, Hocken Library), M.G. Hitchings (Hocken Librarian), Rodney Kennedy, John Mclndoe and Edith and Toss Woollaston.
NOTES 1. I.E. Neale, Landfall Nelson Nelson, 1978, p.12 2. ibid p.28 3. O. Wright, The Voyage of the Astrolabe Wellington, 1955, p.27 4. A.H. McLintock, The History of Otago Dunedin, 1949, p,139 5. ibid pp.234, 237 6. Art in New Zealand, No.12, p.157 7. M.T. Woollaston, The Far Away Hills Auckland, 1961, p.30 8. ibid p.31 9. Art in New Zealand, No.2, p.15 10. Art in New Zealand, No.4, p.122 11. Woollaston, op.cit., p.31 12. Art in New Zealand, No.1, p.215 13. Art in New Zealand, No.10, p.188 14. Art in New Zealand, No.13, p.194 15. Art in New Zealand, No.5, pp.125-28 16. M.T. Woollaston, Sage Tea, (unpublished manuscript; unpaginated) 17. Woollaston, The Far Away Hills, p.32 18. ibid p.33 19. Woollaston, Sage Tea 20. ibid 21. ibid 22. ibid 23. ibid 24. Landfall, No.50, p.364 25. ibid p.362 26. Arts Yearbook, Wellington, 1948, p.48 27. Landfall, No. 80, p.364 28. ibid p.363 29. ibid p.364 . 30. Art in New Zealand, No. 13, p.183 31. Tomorrow, 1936, p.22 32. Arts Yearbook, Wellington, 1949, p.94 33. Art in New Zealand, No.10, p.7 34. Tomorrow, 1938, p.352 35. Art in New Zealand, No.14, p.48
COLIN McCAHON
Mapua 1939
pen and ink, 202 x 265 mm
(Auckland City Art Gallery)