Exhibitions Auckland
DESMOND KELLY
The New Image: Twelve Contemporary Photographers
The very informative catalogue to this show of twelve photographers quoted from William Eggleston's Guide. The link with Eggleston's name is appropriate, since one of the strongest impressions the show left was that colour has most certainly come to Auckland photographers. Of the eight exhibitors from the north, the work of seven was in colour. Outside of Auckland all exhibitors used black and white.
Of the three colour processes, the most common is the colour print made from transparencies. Generally, this work failed to involve me in any excitement - the possible exception being that of Christine LIyod-Fitt whose Sunbathers I and II were beautifully printed colourscapes in blues and greys with gentle comment about the colonization of rooftops in suburbia. Paul Gilbert's two prints also had an air of gaiety and freedom.
Two very talented photographers, Gillian Chaplin and Bruce Foster, confined themselves to what were almost exercises in colour. The object of their simplifications I found elusive: so that for me their illustrated surfaces remained surface photography.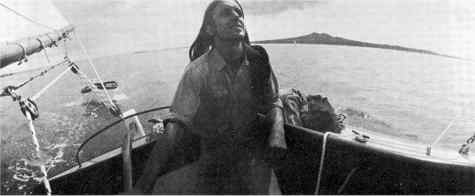 PAUL GILBERT
Untitled
colour photograph made
with a 120 degree scanning camera
The second process, hand colouring, was represented here by the work of Megan Jenkinson. There has been a revival of interest in this labour-intensive form of print-making overseas. It allows more detailed control over colour densities and values; and here an old-world sepia tone and plentiful detail achieved an atmosphere of isolation and separation.
The last process, polaroid, was the vehicle of the strongest work. Rhondda Bosworth, particularly in Polaroid Nude 2, 1978, presented rich, moody colours - this in contrast to her colour print, Maternal Image, which is earthy without being as deep and penetrating as her polaroid work.
All five of Dinah Bradley's pictures were polaroid; and she uses the material with understanding. Tutu and Clothes are immensely evocative pictures exploiting subtle richnesses of colours in the darker range and making images of strength, simplicity and mystery. To look at them is to become involved imaginatively; they unlock feelings and thoughts beyond the level of considered intelligence so that one experiences the pictures rather than analyses them.
The black-and-whites are of a more uniformly high standard, showing an ease in the use of materials engendered by long years of practice. Terry Austin shows two carefully-executed design pieces; and Gavin Colthart intrigues with two very strong images of a persistent dream-like theme. Their understatement leaves a real desire to know more; and a wish to see more of this young medical student's work.
Laurence Aberhart shows three of his excellent photographs of buildings. Made with a direct, very careful Walker Evans approach, and an Eggleston-like concern for bilateral symmetry, these superb prints repay careful study. Another excellent printmaker, Jim Payne, shows two series, each of four consecutive prints. At first glance they appear to be the same negative printed four times: but they are sequences. looking at the differences is like watching the minute hand on a clock. Time is present in these series; all things change and the world is a place of infinitely small variation.
Peter Peryer continues his idiosyncratic style. In an exhibition of immaculately-presented and hung work, his three photographs (following his instruction) have been pinned to the wall and are uncovered. They appear to be on a document paper of reduced tonal range and have a gruff solemnity about them. They are more peasant-like than previous images, with a mute, robust strength. He develops continually whilst remaining a photographer of great individuality whose work is his recognisable signature.
The show is of the highest standards of workmanship and presentation - expected of Peter McLeavey and the curator of this exhibition, Peter Ireland. It has the frustrations of small size (small representation for the photographers); and it largely omits the social and documentary side of the medium. More importantly, it affirms the level of black-and-white photography and illustrates a spirit of exploration in colour work. It reports that photography is alive and well throughout the country: but that Auckland is, securely, its centre.
It is important for photography that a dealer gallery of this stature should mount such an exhibition. Sales have been made to people buying photographs for the first time. Once before in the past year this gallery held a photographic exhibition (Laurence Aberhart, a one man show) and its entry into the photographic market may be a significant step toward that broader interest in photography which has been such a feature of the European and North American art worlds in the last decade.