Bridget Armstrong
BRIAN McNEILL
Wife, mother, working actress. . . the middle years of a rich star-clustered career. . . now married to novelist Maurice Shadbolt and 'totally happy here'. . .
Armstrong drops theatrical names like ninepins: not so much to impress as to illuminate and chart a bustling if wayward course. It's shop-talk mainly. The flops, successes - the glittering prizes - theatre-chat over the teacups, which is partially true, yet saved from that end alone by the passion and commitment running hard beneath: for let it not be denied that the lady has succeeded.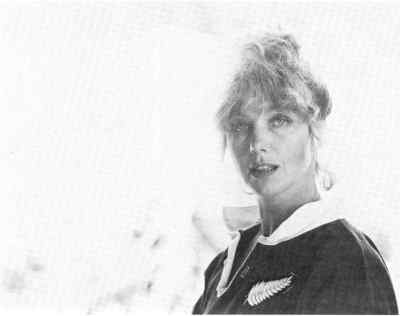 Bridget Armstrong
(Photograph by Alastair Grant)
In England I achieved most of my goals,' she tells us. 'The West-End, television - the major movie.' We have seen her recently on the box with Patrick Cargill and in the Lord Peter Wimsey series; more recently still in TV2's Gather your Dreams; and soon she'll be appearing in the film version of Roger Hall's stage play Middle Age Spread (due for release early in 1979). In Auckland we have watched her on stage in David Rudkin's harrowing play Ashes at Mercury 2: a performance justifiably praised. And after that, at Mercury 1, we saw her as Amanda in Coward's Private Lives: a performance justifiably damned (she says it herself).
A case of mistaken identity. . . from rags to realisation. . . an actor laddie of the Old School
A few months back, those of us who remember the New Zealand theatre of the 1950s would have fallen about in confusion at the mention of Bridget Armstrong: muddling her up with Brigid Lenihan or otherwise thinking of her in tandem with Paddy Frost or Nyree Dawn Porter - the class of '56.
Miss Armstrong was born in Dunedin and after a dutiful Catholic upbringing went to Otago University where she was chucked out of the Home Science course. She'd wanted to be a dress designer; not that that was the cause of her split from authority, for later, when serving in that long running English 'soap' Compact she designed all her own costumes (a welter of mini-skirts and knee boots). 'But in the 'fifties, in New Zealand, if you'd wanted to be an actress well!' And as a teenager how did she know that that was what she wanted? And even younger? 'Galloping home along the gutters beside granny after a Saturday matinee of Bless the Bride?'
But the urge to perform during those early years was there: and so, fortunately, were the teachers. The Otago University Dramatic Society had recently acquired the services of that gloriously Irvinesque figure, John V. Trevor. Trevor's presence alone would have been a boon to any young actress with half an eye to the Haymarket. (I can remember, even now, his final broken exit as Shylock in the Players' production of The Merchant of Venice. He was a remarkable man, with whom I later had the pleasure of working in Australia.) For a young actress just getting into her stride Trevor's rich vocalisation and likable personality must have been a godsend.
Bridget Armstrong with Liddy Holloway
in Ashes by David Rudkin
(Mercury 2, 1978)
First nights... the wrong star is born. . . widening horizons
Miss Armstrong had just turned eighteen and 'Dick' Campion and the New Zealand Players beckoned from across the strait. Her first show with the company was Salad Days and true to the romance and sheer panic of it all she was obliged to step into the lead role at three hours' notice. The following day the Waikato Times informed both her and the public that: 'A new star had been born... A young Jessie Mathews in the making.' Miss Armstrong, mistaking the magic name of Mathews for the less magic one of Tessie O'Shea (whom she detested) spent the rest of her morning-after skulking beneath sheets.
Armstrong stayed with the Players for two years, both with the main touring company and later in the School's Quartet along with George Webby, John Hunter and Peter Bryan. She played everything, from Anne Frank to Elizabeth the First, and it was during this time that she first met and worked with Paddy Frost and later with Nyree Dawn Porter: a young actress/model who at that time had been engaged by the Players to fill a cheese-cake role in The Solid Gold Cadillac.
Bridget Armstrong
with Alistair Sim and Ron Moody
in The Clandestine Marriage
(Savoy Theatre, London)
Only in her last year with the Players did Armstrong meet up with her alter ego Brigid Lenihan, little knowing that by the mid-1970s her own name would be immutably coupled to the memory of that fine actress - for the real Brigid Lenihan died some twelve years back. Chris Sheil, who played opposite Miss Armstrong in the Mercury's Private Lives said to her one evening: 'You are very like "Biddy" Lenihan now'. The same colouring as she had maybe? That similar first name? And now that same command of voice and presence. As for the others: Paddy Frost got her bursary to LAMDA just six months after Bridget Armstrong and the three of them, Paddy, Bridget, and Nyree, teamed up in London. In those days LAMDA was crammed full of young Americans all aping the worst excesses of Marlon Brando, so that anyone with the remotest ear for the King's English would be guaranteed the choicest of roles. Miss Armstrong thrived.
A pot-pourri of parts. . . Geilgud confronts the Comedienne. . . KM gets into the act
What Britain has done with Armstrong in the interim is at first aid and abet her young comedienne image and then later knock it away from under her feet and insist that she forget the commercial tricks and find her true centre as an actress - a stage she has now reached by dint of hard work, harder knocks, the maturity of age, and a series of fortuitous encounters with other actors and directors of quality.
The first film she ever appeared in was The Amorous Prawn with Derek Nimmo. It was a light enough trifle and probably indicative of the sort of 'kooky' part a young blonde actress would be called upon to play in the swinging 'sixties. She considers that the role that changed all that - 'away from the popsy ladies' - was Sneerwell in Sheridan's School for Scandal: a BBC television production directed by Stuart Burge in which she played Lady Sneerwell not as an ugly old hag but as one 'totally stricken' and 'totally bald'. She'd worked with Burge earlier in a production of Charley's Aunt, with a cast that included Donald Wolfit and Bernard Cribbins.
Another thing that helped her out of the rut of typecasting was her decision to go on to the 'fringe'. By the mid-1960s London's alternative theatre scene was firmly established. Charles Marowitz at the Open Space, David Halliwell at Quipu. The Lamb & Flag, the Theatre Upstairs at the Royal Court and the Soho: all doing enterprising, non-commercial work and giving the actor a chance to extend his/her range outside of the pressures of television and away from the commercial gloss of Shaftesbury Avenue.
Bridget Armstrong as Maria Grekova,
with Rex Harriso Platonov in Chekov's Platonov
(BBC Television)
Disappointments often turn out for the best. Back in the West End she'd been cast in a very glamorous production for H.M. Tennent playing opposite Tony Britton: but for some reason or other Britton didn't like the way she was shaping up at rehearsals and called in David Merrick to pass judgement. Merrick gave her the sack and Armstrong found herself out on her ear - but not before that most powerful of West End producers Hugh Beaumont had watched her at work. A few months later Beaumont recommended her to John Gielgud, who was coming in under the Tennent banner to direct the new Ustinov play Half Way Up The Tree.
The play was by no means brilliant theatre and Robert Morley, for whom the piece must have been written in the first place, ended up by rewriting most of the script to suit his own somewhat florid tactics. But she did get the part; the play did run for. some fourteen months at the Queen's Theatre (the longest run she was ever in); and she did, above all else, get. the opportunity of working with Gielgud.
Now had Beaumont not seen her in rehearsal in that 'other' play and had he not remembered her as the girl that had been given the sack, she would never have been considered for the Ustinov. After all she was now thirty-five - whereas the Ustinov part called for a ravishing sixteen-year old Norwegian au-pair. Even apart from all this the role might just have turned out to be another kooky comedienne: but Gielgud worked on her mercilessly; often keeping her on behind when the rest of the cast had left the theatre.
Bridget Armstrong in Private Lives
(Mercury Theatre, 1978)
'It's a disgrace what you're doing', he told her: 'You're leading the audience on to excessive, unreal laughter. . . You're a very clever child but you're full of the most appalling cheap tricks, and you must never, ever, think that you're funny.' (Gielgud was himself appearing at that time rather unhappily in Moliere's Tartuffe. 'I can't get a laugh,' Gielgud told her. 'I can't get a laugh. I'm so unhappy in Tartuffe. I can't even get an exit round.')
The role that Armstrong admits she enjoyed the most was in the English television production of KM & LM. This was a dramatised documentary on the relationship between the writer Katherine Mansfield and her friend, whipping-horse and hand-maiden Leslie Moore. (Apparently South Pacific Television has twice screened the production over here on Kaleidoscope, though it could probably do with a more favourable slot than is given to that programme.) She played Katherine in the production of course: and like everybody who's had even the vaguest dealings with that remarkable and still lively ghost she became 'hooked' into the character. In her journals KM expressed on several occasions a yearning to return to New Zealand. What then could be more natural for Armstrong, when wearing copies of her clothes and when speaking her lines to be wooed to the same conclusion - Mansfield and Shadbolt both providing the fire-power.
Without the wooden leg. . . the voice of the matter. . . the way ahead
In 1976, the Richard Fleischer movie The Incredible Sarah was screened to an expectant public. The film sank without trace. No blame to Miss Armstrong who played the 'other woman' Marie; nor to Glenda Jackson who valiantly attempted the re-creation of Sarah Bernhardt against incredible odds. No wooden leg, for a start: so no wonder the film and Miss Jackson collapsed at the box-office. Reader's Digest, who put up most of the money for the movie, apparently balked at the prospect of an amputee heroine. Middle American decency triumphed and the dirt, earthiness, talent and wickedness of Miss Bernhardt's life and loves resolved itself into a bland Gigi-like spectacle of gorgeous gowns and wholesome mediocrity. To condense is one thing. In the case of 'The Divine Sarah', to deprive her of her most famous prop is quite another; although in all fairness to Reader's Digest it must be admitted that Bernhardt's 'leg' only arrived at the end of a long and otherwise physically unmarred career. The Incredible Sarah then was Miss Armstrong's 'major movie' and it did give her the opportunity to work with both Richard Fleischer and Glenda Jackson.
In the theatre, voice more than anything, matters. One of the first things Armstrong found in London when working with the big names was that they all, almost without exception, went to voice classes. Armstrong herself studied first under Iris Warren at LAMDA and then later under Francis Norberg whom she found 'immensely strict in class but wonderfully encouraging when "out front" at performance'. Voice is the one thing Armstrong finds lacking in the New Zealand theatre - 'There is simply no one to turn to.' And she went on to say: 'With every great actor it is always the voice... Where would Rex Harrison be without his voice? Celia Johnson? Always the voice.' Penelope Keith (now recognised by everybody from the television series The Good Life) was first introduced to Miss Armstrong in a hall at Wimbledon. She was running the Wimbledon branch of the Young Conservatives, and as Armstrong said: 'She certainly didn't look like an actress in that setting. I remember turning away from her and thinking, poor thing, she'll never make it. But look at her now! She is such a hard-working actress. She always learns her lines. Rock solid on camera. No fluffing. And she goes to voice classes.'
Where to now? When I last spoke with Bridget Armstrong she had just finished Private Lives and the film of Middle Aged Spread. She was, as she said, 'exhausted'. Doubtless by the time this article appears she will again have committed herself to a further round of film and theatre engagement. She has one major ambition left. To be accepted into Peter Gill's new company at Hammersmith. Outside of the National and the RSC this is one of the more sought-after theatre companies in Britain. Whether it be in Britain or New Zealand one feels that Bridget Armstrong will never entirely divorce herself from the 'big name' theatre. She is very much a product of the West End - of the magic of star names and star vehicles. On the other hand, she is not averse to doing the unexpected: like returning to New Zealand; appearing as a dramatic actress; marrying one of our more successful novelists - and furthermore, confounding us all by being something other than a blonde 'kooky' comedienne with a confusing name.