A Modest Modernism
An Interview with Juliet Peter
Juliet Peter is, along with her husband Roy Cowan, a significant figure in the Wellington modernist art scene. Cowan's first exhibition was at the French Maid Coffee shop in 1947, while both artists exhibited at the Helen Hitching Gallery, which opened in 1949 and was the first modern dealer gallery in Aotearoa. Peter and Cowan were key players in the Architectural Centre Gallery, which first opened its doors in 1953 and was the primary venue for 'experimental' art in Wellington.(1)
Their careers follow a typical path for modernists of their generation: early training in New Zealand, and then travel to England for further study after practicing for a short time as artists in their home country. Peter and Cowan both started as painters, but after exposure to pottery and printmaking in London at the Slade (Cowan) and Hammersmiths (Peter), they shifted their efforts to these art forms, both of which were gaining prominence back home in the 1950s.
JULIET PETERSheep Sale 1944 watercolour and ink on paper, 550 x 718 mm. (Private collection, Auckland)
On their return to this country in 1955, their most significant contribution to modernism was probably in terms of studio pottery - both through their own pottery, and their contribution to the New Zealand Potter magazine which they helped start in 1957. They are notable early stoneware potters who created ceramics outside the dominant tradition of stoneware that developed from Bernard Leach's writings about Japanese ceramics, and which might be called Anglo-Oriental pottery. However, both Peter and Cowan worked as painters and printmakers, and their work in these fields, while less recognised, is still an important contribution to modernism in Wellington.
Damian Skinner started by asking Peter about her early background.
JULIET PETER: Well I was born into a farming background in mid Canterbury in 1915. I had a wonderful childhood on a pioneer farm in that area and managed to escape any formal education. In those days it was customary for the country families to have a governess for their children, but in the late 1920s it all broke up with the death of my mother and the illness of my father and the farm was sold. Along with my older siblings, who even at that early stage were anxious to get out and see the world, and an aunt who acted as chaperone, I was gathered up and taken to England. We hit the financial chaos of the 1930s - if you know anything about that. Ultimately my sister who had married during that period wanted to come back to New Zealand and I came back too.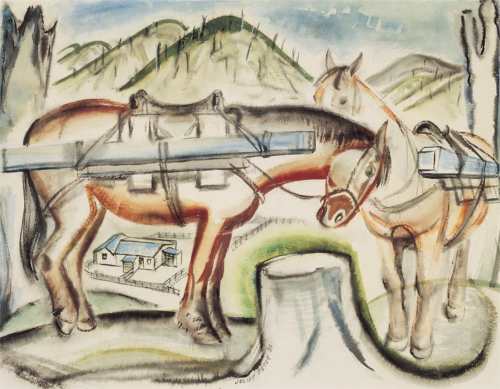 JULIET PETER Packhorse - Farm Near Hunterville 1950 watercolour on paper, 548 x 707 mm.
DAMIAN SKINNER: How did you come to attend art school? J.P.: We were staying with an aunt and uncle who were still farming in Canterbury, and the aunt - a practical, wonderful person - said to me 'Now dear, what do you want to do?' I mumbled that I didn't know, and she said 'Well dear, you have talent. How would you like to go to the School of Arts in Christchurch?' I probably said that would be just too wonderful. Being a busy, knowledgeable, practical person, she went off to Christchurch and then there was a free, four-year place waiting for me at the School of Art. She found a place for me at a student hostel where someone had to withdraw owing to illness. In no time at all I was embroiled in working for a diploma in fine arts, and, well, that's the end of that part of the story. D.S.: Who were your teachers at art school? J.P.: The head of the school was the awful Richard Wallwork whom I detested. I waged warfare with him the whole time I was there. D.S.: What was so bad about him? J.P.: He was - his art was so dreadful, and he was a nasty little man. I just had no time for him at all. D.S.: What sort of work did he do? J.P.: He did horrible oil paintings of the Kaikoura Coast. D.S.: Obviously in a very traditional, academic way.
JULIET PETER Poodle, Hyde Park 1951 lithograph, 301 x 421 mm.
J.P.: Absolutely. My real teacher was Francis Shurrock, whom you may have heard of, and who presided over the modeling room in the School of Arts. He was unable to teach sculpture because the school, headed by Richard Wallwork, didn't allow him the funds. He was a marvelous man. Instead of attempting to teach sculpture he provided for his students by talking to them and broadening their minds - blowing their minds, that was the term. He was my best ever teacher, and I think his influence has spread to a lot of people. I was actually taking the painting course at the School of Art but a lot of my time was spent in the modeling room. D.S.: Who taught you painting? J.P.: Cecil Kelly, Archibald Nichol and for composition, Richard Wallwork. D.S.: What was Cecil Kelly like? J.P.: Well, Cecil Kelly did his best but I'm afraid that some of his students, me in particular, would turn up late in his class and leave early. D.S.: Why was that? J.P.: Simply because he had the idea that you would sit down and copy the subject that you saw in front of you. I had other ideas, that I could use the subject but I wanted to do something else with it. I didn't want to sit down and just copy a piece of landscape. D.S.: What about Archibald Nicoll? J.P.: He was good up to a point for drawing. There was also Colin Lovell-Smith who taught antique drawing. He was always very helpful and very sympathetic.
JULIET PETER Helen Hitchings, London 1954 lithograph, 325 x 385 mm. (Private collection, Auckland)
D.S.: How much did you know about the artistic developments that had taken place in Europe in the 20th century? J.P.: Hardly anything really. The library was only full of old thumbed through books. I can't remember that there were any up-to-date books at all. We were also studying the history of art. Unfortunately I struck the period when they were concentrating on the 19th century which is the part that never really appealed to me. D.S.: Who taught art history? J.P.: Richard Wallwork gave the lectures, another thing that didn't endear him to me. D.S.: What was the Christchurch art scene like at this time? J.P.: Oh it was quite lively. We had a sketch club and Bill Sutton was a fellow student at the time, although he joined the teaching staff in a temporary capacity while I was still there. And I had many friends outside the art school, including Rita Angus, Doris Lusk and Olivia Spencer Bower. D.S.: At the time what passed as the most interesting and exciting kind of art that you could do? What were people most interested in producing? J.P.: It was landscape, and probably Rita Angus had a very profound influence on that, along with Olivia Spencer Bower and Doris Lusk and Bill Sutton. D.S.: What do you think they were trying to achieve in painting the landscape? J.P.: They were trying to take it a step forward beyond the art society's concept of landscape. Design came into it. We all wanted to get away from the photographic approach and bring in some personal input. We were getting away from the idea that you had to view landscape as if you were a camera. We were taking the elements and adjusting them towards an individual point of view.
JULIET PETER Hall of 40 Warwick Ave with Lulu! 1954 lithograph, 460 x 360 mm.
D.S.: Were there any people you can think of who were influential in terms of the idea of design? J.P.: I suppose art history came into it. Of course we became familiar with the Italian Primitives which must have seeped through. Then there was a Canadian exhibition, a travelling exhibition bought out by Arthur Lismow. The Canadian traveling exhibition provided an absolute window into another way of doing things. That had a profound influence on us all, on everybody.
About that time the Christchurch Group was formed and that was a very important annual exhibition. It was the art exhibition. Thinking about The Group, it had been formed at an earlier date and others were just absorbed into it - at a later stage Roy was, too - and their exhibition was the art exhibition of New Zealand. It took place once a year in the old Durham Street Art Gallery, the Art Society Gallery. The Group put on a tremendous supper and sold tickets - quite expensive tickets - and were able to finance the supper on the sale of tickets. It became the thing to go to. Bill Sutton insisted that there be alcohol and dispensed the beer. By then I lived in Wellington but I used to go down for the occasion and help with the catering and the serving of food. Olivia Spencer Bower was a very competent person to sit at the sales desk. But if the opening didn't provide enough funds, if at the end of the day there was no profit, there would be a levy on all the artists taking part. I remember an apologetic letter from Bill Sutton saying that the levy for that current year was one shilling and nine pence. So we all paid up.
JULIET PETER Clifton Road, London W9 1951 lithograph, 500 x 380 mm.
D.S.: The School Publications job came up in 1947. J.P.: The job was advertised, and I got it. D.S.: Tell me about the School Publications department. J.P.: Well they started off in what had been the Hotel Cecil at the end of Lambton Quay, almost opposite the Railway Station. I think a remnant of the building is still there. And then it moved to new premises in the old Loner Mercantile building which has been demolished and is now a service station. But it was on the top floor of that building and it had a staff of John Ewing, from the Education Department. He was the managing editor, and Mrs Pat Hathaway who, I think, had been a teacher, and she was in charge of the School Journals. Then later on Cliff O'Malley came as art editor and later Roy Cowan came as additional art editor, and so the staff gradually built up. D.S.: Were you the only illustrator working in 1947 with them? J.P.: There were several artists, including Mervyn Taylor. I was the official illustrator on the job but a great deal of work, quite a bit of work was farmed out to other illustrators. And George Woods and Mervyn Taylor are two outstanding ones and also others like Yvonne Mendall, who was a very talented person. D.S.: When did you meet Roy Cowan? J.P.: When he joined the staff at School Publications. You see the staff was, they were designing new material for the schools including the primary bulletin, post primary bulletin and also island publications for Samoa, the Cook Islands. Roy was handling those. You see they'd recruit new staff as they were bringing out new publications.
JULIET PETER Still Life with Fish and Homage to Abstraction 1956 oil on board, 563 x 763 mm. (Private collection, Christchurch)
D.S.: What training had Roy had before he came to work at the School Publications? J.P.: He had been through training college and after leaving training college I understand he had the better part of year or part of a year as a teacher in Petone. He couldn't stand it and got out. D.S.: The School Publications obviously grew as more and more publications were being produced? J.P.: Yes, it grew all the time. D.S.: What relationship did it have to the Education Department? J.P.: The Education Department was housed in the largest wooden building down the road, and we were completely independent. Perhaps once a year somebody came and checked up that School Publications was behaving, and went away again. But really we had no contact - minions like us had no contact with the bosses in the department with a capital letter. D.S.: Who came up with the ideas or the story lines or the subjects that you would make bulletins and various kinds of publications about? J.P.: Oh, Mrs Pat Hattaway who was the editor of the School Publications as such. But other editors, you know a number came in who supervised the primary bulletins and the post primary bulletins and all the extras, the Cook Island publications and Samoan journals, and so on. D.S.: School Journal was going at this stage? J.P.: Going in four parts. That was why in addition to a staff illustrator they had to have a number of outside illustrators, because I would not be rushed over anything I did. D.S.: Did you get to pick and choose what you would illustrate? J.P.: Oh quite a lot, yes, most of the time. D.S.: And then other things would be contracted out? J.P.: Contracted out to suitable people who would do them. D.S.: Could people send illustrations and designs to you that they had already been done, that you might publish? Or was work always sent out to people? J.P.: No, it was always sent out. D.S.: So it was commissioned work? J.P.: Commissioned work.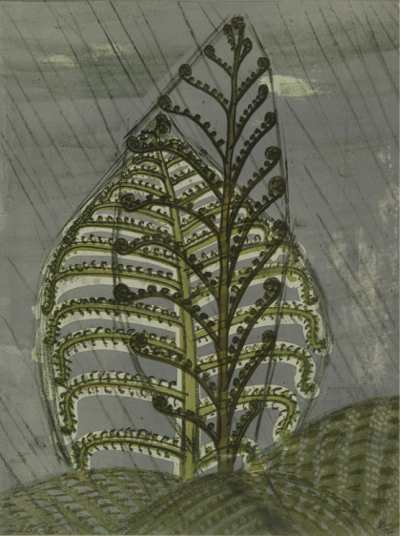 JULIET PETER Fern Fronds 1957 lithograph, 490 370 mm.
D.S.: Were most of the illustrators who worked on a freelance basis located in Wellington? J.P.: Yes they were. They needed to be, really, because they had to come and receive the scripts that they were going to illustrate and be briefed on it, if necessary, and then do the work and return it. D.S.: Were photographs used at this time? J.P.: No, hardly at all, hardly any that I can recall. That came later. D.S.: Why was that, do you think? J.P.: It may have been the cost of reproducing - you see the illustrators worked in black and white all the time so the cost of producing a photograph may have been beyond the capability of the Government Printer at that period. You see, for the most part, colour hadn't arrived when I was still working for them. D.S.: How long did you work for School Publications? J.P.: I left to go to England in 1951, beginning of 1951, and that really terminated my job as staff artist. D.S.: What did you do in London in 1951? J.P.: I studied at the Central School in South Hampton Row in London, life drawing and illustration which didn't really do anything for me. I think I'd got past being taught much about illustration. I'd learnt the hard way and it was mainly life drawing. D.S.: Had you received a scholarship or anything to study there?v J.P.: No I hadn't. I'd saved on my School Publication tenure of work. I was quite well paid considering. I had the ranking of a clerk in the lowest orders but to me it was a great salary. So it enabled me to be independent. D.S.: Why London? J.P.: It seemed a natural place to go. D.S.: And why that school? J.P.: Because Central School taught a variety of subjects. The first time I took lithography while I was there. I think that was the big attraction because I was very interested in printmaking and I wanted to go to a school that had a grounding in it. But actually it wasn't a good grounding because they had two professional ex- printers as tutors and that really was not the way to learn about lithography, having somebody to do it for the students. So when I went back to London in 1953 I went to the Hammersmith School of Arts. D.S.: This was while Roy was at the Slade? J.P.: Yes while he was at the Slade. I only went there one day a week and my tutor was Alistair Grant who I've since learned was the son of Duncan Grant and, oh somebody - a woman who was equally famous. I didn't know at the time. His method - he was a very competent artist and he didn't have a press of his own and his days at the Hammersmith School were spent using the school press and facilities and in between times he would attend to his students and answer any questions. But for the most part he got on with producing his own prints and that was the way to learn. That was wonderful, he was there for advice but you could watch what he was doing and why.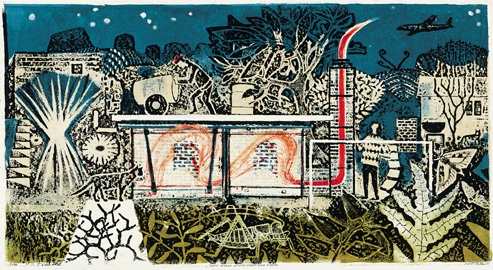 JULIET PETER World of the Night Kiln Firers 1973 lithograph, 500 x 925 mm.
D.S.: Before I ask you specifically about your time in London, I'd just like to ask you a little bit about the Wellington art scene from the time you come up, from 1945 through to 1951 - 1952. You were producing your own work at this time as an artist? J.P.: Oh yes I was. D.S.: Alongside your work as an illustrator? J.P.: Intermittently, because illustration kept me very, very busy and in between times I did other things - like a project for the early Listener illustrations too, and outside my official time. So I hadn't terribly much free time but I made use of it. D.S.: Where did you show your work? J.P.: At the Academy of Fine Arts, until later we started up the Architectural Centre Gallery and Centre Gallery 2 and Centre Gallery 3. Oh, and also at the first Helen Hitchings Gallery. Helen was a friend of ours. D.S.: Can you tell me about Helen Hitchings and her gallery? J.P.: It was a big barn in a building in a street that has disappeared now, the building long disappeared. It was quite roomy and she had all sorts of painters that had never been heard of then, like Colin McCahon and Toss Woollaston, and sundry bits of pottery that a few enterprising people had made here and there, in Dunedin and elsewhere. And furniture - Ernst Plischke chairs of which I'm sitting on one. Over there's another.
But she was very ambitious. Douglas McDiamid was also prominent in Wellington at that time, and Barc of course. When Douglas when to Europe it fired Helen's ambition to go to Europe, and she conceived the scheme of making a collection of New Zealand art of that period and taking it with her to London and finding a gallery to show it. She thought it would be easy - it wasn't - but she was still there when Roy and I first arrived in London. She was a great help because she had an apartment in Oakley Street in Chelsea and we stayed for our first week or two with her in London. D.S.: Her gallery - she had regular exhibitions of work? J.P.: No she didn't. She didn't work that way at all. The idea of regular exhibitions hadn't caught on, nobody thought of it. No, she had a stock of work and people. If she sold anything, which was rare, she could replace with something of the same person but sales, I think, were very meagre. I can't remember that they featured much in the gallery. D.S.: Was the gallery a focus of artistic activity in Wellington do you think? J.P.: No I don't think it really was. It was a climb up stairs and the focus of activities at that time settled on the Academy of Fine Arts. D.S.: What did the people in the Academy think of Helen Hitchings's Gallery? J.P.: I don't think they thought of it at all. It probably hadn't impinged on their thought process. D.S.: So it was just a certain number of people in Wellington who knew of Helen Hitchings Gallery and associated with her? J.P.: That's right. D.S.: What about the French Maid Coffee House? J.P.: Oh that started it off, yes. I think Helen's gallery sort of followed - well, the idea probably arose through the French Maid Coffee House and - It's difficult to quite pin point the connection but certainly the French Maid was the first. The Hitchings Gallery was second. And then following on after Helen had gone overseas and the Gallery had become a carpet room or something, the next step, three, was the Centre Gallery One and Centre Gallery Two and Centre Gallery Three. And we had a hand in starting Centre Gallery One and then we sent overseas. Then Centre Gallery Two may have started in our absence but we came back and joined in it for Centre Gallery Three. It moved up Lambton Quay - or down - but up Lambton Quay I think. D.S.: Where was it located when it started when you were around? J.P.: In the National Art Gallery there is a beautiful poster that Roy did for Centre Gallery Number One. It was marvellous, it just showed the outside of the building from the street, transparently, with all the stairs going up inside and the whole fixtures and fittings of it and it was bought by the National Art Gallery some years ago. So if you ever locate that, you can get an idea of what Centre Gallery One looked like. It was terribly funny. D.S.: What was your impression of the Academy of Fine Arts? J.P.: Oh well, I exhibited in it when I first came up because it was the only possible venue but periodically I would resign from it because there was so little offering, and then realign myself with it. Because it did have a very good period later on under Constance Kirkcaldie and Guy Ngan, when it was really the place to show. D.S.: What date would that be? J.P.: Oh, the 1970s I think. It revitalized itself and under those people, and one or two others, they made full use of the very fine gallery, which it really was a wonderful place to show work and the lighting was good.
JULIET PETER Suburb, Wellington 1959 Egg tempera on hardboard (Private collection, Wellington)
D.S.: Who were the important artists working at that time before you left for London? J.P.: Well Barc of course, you must know quite a bit about Barc. D.S.: Can you tell me your experiences of her? J.P.: She conducted a little - on Saturday afternoon she would throw open the top floor of her apartment in Hobson Street and invite various people to come along and draw, draw each other or draw models - not unclothed models, but clothed models. Barc wouldn't get into drawing from the nude. And it was very pleasant. We worked hard and of course she had the idea where we learned to do quick sketches of each other which was very good practice. D.S.: Who attended these afternoons? J.P.: George Woods was one, possibly Mervyn Taylor - I'm not sure about that. I think Douglas McDiamid at times. Lorna Ellis. There were others but I've forgotten who they were. D.S.: I assume that stylistically the artists who gathered were not similar in their artistic approaches? J.P.: No they were perfectly free to approach what they were doing in their own way. It was just the practice that was important. D.S.: Were you part of the Thursday Group? J.P.: We founded the Thursday Group. D.S.: Can you tell me about that? J.P.: The Thursday Group arose when the Hitchings Gallery was defunct and the French Maid Coffee House must have been becoming defunct, I can't remember why or how. There was a group of architects who decided to open the Architectural Centre in Wellington and they had a room - that was the building that Roy depicted so well - but they were looking for another group who would be interested in using their rooms in the building - it was one large room really - at odd times, say once a week. And they got in touch with me. Now, who's that other person, you know that person who lived in Wadestown? D.S.: Not Avis Beere? J.P.: No, it wasn't Avis. This person went back to England - she was very keen on art and somewhere I'll have her name in one of my address books, but it won't come to me. But anyway, the architects approached us and we brought in others and so, and it was called the Thursday Group because our allocation of using the room was a Thursday night. So the Thursday Group got its name. D.S.: What sort of people were part of the Thursday Group? J.P.: Well I'm just thinking. Jackie Fahey and George Woods again, more or less the people who would have been at Barc's. D.S.: And it was organised around drawing, wasn't it? J.P.: Yes figure drawing, portrait and figure. D.S.: Did you have models? J.P.: Yes we did. We were lucky, we had a fine model. I can't remember her name but she was a lovely model and thoroughly enjoyed the evening along with the people drawing her. D.S.: Were there many other New Zealanders in London when you and Roy were there in 1953? J.P.: No, not many, can't recall any in particular. We did have two friends, one was Nan Reid and her husband, I've forgotten her husband's name. They were living out in Chelsea and we were quite friendly with them. D.S.: Did art school in London affect your work? J.P.: Oh it must have. For instance, I did learn lithography and pottery and it's completely changed our whole approach to the arts. D.S.: What were the big concerns that artists had in London during this time? J.P.: Well of course abstraction was coming in and that had no appeal to me. I was a figurative artist and I wasn't going to change simply because of the fashion. In a way, to cope with changing fashions in the arts, it seemed a natural bed for us to take up pottery, ceramics. You can say that the arrival of the fashion for abstraction did make a huge difference for us because it shifted us to printmaking and ceramics. D.S.: What was happening in ceramics during that time? J.P.: There was some good work being done and that hooked us too. Bernard Leach and Shoji Hamada were prominent and the people who were following them. So that was another hook, and we could see that that was a lively art, that didn't depend on fashion. D.S.: Why didn't it seem related to fashion? J.P.: Well it was not - it was not gimmicky. Can't put it fairer than that. D.S.: Does it have anything to do with the functional aspect of ceramics? J.P.: Oh yes, yes. Yes it did and of course when we started off we could survive very nicely by turning out endless coffee mugs and platters and casseroles and practical things. D.S.: Did you exhibit while you were in London? J.P.: Yes we did. There is a painting we found the other day that Roy exhibited in the Young Contemporaries exhibition. We were young contemporaries at that stage, believe it or not. D.S.: Why did you decide to return to New Zealand? J.P.: Roy had two years leave of absence from School Publications. I had gone earlier and had a one year leave but I had resigned on my return. He came back because he did have this contract. It was very hard coming back, but we did it. And then by that time we had so much luggage with us in the way of a printing press and a small pottery kiln that we had to find somewhere to put it all. A friend lent us a car and we cruised around and looked at various possibilities and settled on this place in Ngaio. I would hate to tell you how little we paid for it. D.S.: Tell me about the Architectural Centre Gallery when you returned. J.P.: We were involved in putting on the exhibitions over a long period of time. Somewhere I've got a poster or two depicting some of the important people that were showing there. We gave Toss Woollaston, now Sir Tosswill Mountford Woollaston, his first showing in Wellington. Roy conducted the correspondence on behalf of Centre Gallery Two I think it was. And humble Toss Woollaston who we knew in Greymouth, came up to Wellington, bought his pictures with him, conducted his own opening and it was such - he's got the gift of the gab and is a marvelous talker and the audience was so enraptured that he sold everything. There were his early paintings with red stickers all over them, so he sent a message to Edith his wife to come up from Greymouth and see the show before it finished. And when the last day came he closed the show with another amazing speech, and he was made. That was the advent of Tosswill Mountford Woollaston in the North Island. D.S.: What sort of response did you get to your printmaking? J.P.: Very good, very good. We could sell them regularly. Between the pottery and the printmaking we could survive quite comfortably. D.S.: Where did you sell the prints? J.P.: Oh we used to put on our own exhibitions from time to time in various different galleries. I think most of them have disappeared now. D.S.: Do you remember the Willeston Gallery? J.P.: The Willeston. I seem to remember at the very beginnings we might have had something in - yes we did, we did have something in the Willeston Gallery in their first opening exhibition I think. D.S.: It was Graham Dowling. J.P.: Yes I remember that distinctly. When he opened the gallery I think we were among the first people to show there. But galleries came and went and of course there were various spaces like that place above Cuba Street, the Display Centre it called itself. Yes that was where we bought Brent Wong's painting. It was up a flight of stairs. It opened calling itself Display Centre, I'm certain of that. And then I think it moved into another part of the building but still called itself the Display Centre. That's how it went but I remember us having a very large exhibition of ceramics in the second one, so we must have been well into doing the ceramics at that time. D.S.: What sort of ceramics were you making? J.P.: Oh long dishes and decorated dishes and coffee mugs and casseroles and hanging things. Functional and ornamental. D.S.: And the decoration? J.P.: Figurative. Design too, I mean. We started as earthenware potters and then quite early as Roy built kilns we switched into stoneware. It was much easier then to work with earthenware clays and glazes. D.S.: Was there any connection between your pottery and your printmaking? J.P.: Not really, no, you can't connect them. My printmaking was more figurative than pottery designs would have been. D.S.: Did you feel yourself to be part of that tradition of pottery that was emerging from the theories of Bernard Leach, and the Japanese influence? J.P.: Only up to a point, because we found ourselves having to be pioneers in finding clays, processing clays, developing glazes out of sometimes raw materials. A lot of that went on. We were too busy with the process and going with what the process could provide, rather than allowing ourselves to be interested - involved in someone else's particular style. We had to accept what came our way and what turned out after we'd fired it. It was very much a process of finding out by doing it and accepting what the results were. D.S.: Did you ever incorporate any Maori material into your work? J.P.: No not at all, but what I did use and consistently use was the tree fern spiral because we've got those growing all around us. And that was where the Maori started off with their spirals and so I didn't hesitate to take the tree ferns for my spirals. D.S.: Was your style of decoration common at the time? J.P.: No I don't think it was. People were using free decorations by dribbling and splashing glazes on. In a way a form of abstraction of pottery I suppose. I think we've always kept to a fairly figurative approach because that's a more natural approach to us.
1. For more information on the Wellington art scene in the 1940s and 1950s and the Architectural Centre Gallery, please see Damian Skinner, 'Making Modernism: Helen Stewart and the Wellington Art Scene 1946-1960' Art New Zealand 96, pp.102-106.