Pictures at an Exhibition
Trusttum does Mussorgsky
CONAL McCARTHY
'As a painter', said J. W. M. Turner, 'you need a reason to paint.'(1) Since the separation of art from craft in the eighteenth century, one of the challenges for artists, now freed of the demands of patrons who determined subject matter arid style, was deciding what to paint.(2) In the twentieth century the creative autonomy of modem art was such that this freedom could become a burden. Over the summer of 2002-3, Philip Trusttum was cleaning his studio. Having finished a series of works, he was, as he put it, 'between stools,' and looking around for a subject.
Philip Trusttum in his studio, Christchurch, 2004 (Photograph Brian High)
Then in early February, his friend, the art historian Jonathan Mane-Wheoki, phoned him. Organist Martin Setchell needed paintings for a solo performance of Mussorgsky's Pictures at an Exhibition scheduled for the end of May. Could he provide the images? At first Trusttum was taken aback by the request. He was familiar with the piece, but its imagery was far removed from his usual subjects: 'I thought, witches? Bullocks? They don't come into my sphere. . . '.(3) But here was a readymade subject with plenty of scope for his protean energies. Trusttum took the job on, and, with his characteristic enthusiasm, set to work.
In three short months he produced 70 large canvases which were transferred to video by film maker John Chrisstoffels for the multi-media concert at the Christchurch Town Hall on 31 May, 2003. Trusttum's canvases were hung in the auditorium and in the foyer, and Setchell played the magnificent Rieger pipe organ while the painter's images were projected onto a large screen in sequence with the music. The event was an unqualified success. 'This is Russia in the raw', exclaimed Ian Dando in The Listener. The Sunday Star Times described it as an 'artistic and musical triumph', while The Christchurch Press enthused about 'brushstrokes fired by music'.(4)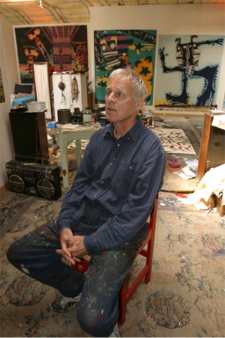 Philip Trusttum in his studio, Christchurch, 2004 (Photograph Brian High)
The paintings were recognisably Trusttum's, but the subject matter and mood were very different and the style reflected an exotic breadth of sources. Troubadour, for example, depicts a minstrel standing in front of a castle holding his lute, an illustration of a specific section of Mussorgsky's score called 'Il Vecchio Castello' (The Old Castle) in which listeners can hear a Sicilian serenade. The figure's brightly-coloured, schematic body is painted with a stark, spikey silhouette which appears stamped onto the plain unstretched canvas, giving the figure a prancing energy all of its own. With a music sheet alongside and notes, words and letters scattered about, the figure seems to dance and sing - we can, as Adrienne Rewi put it 'listen in colour'.(5) While its genesis is pure Russian Romanticism, the image references an extraordinary diversity of influences, from Medieval illuminated manuscripts, to modem art to motifs from African houses.
But Trusttum was not finished. By early 2004, the series had expanded to 140 images. In June, Pictures at an Exhibition was mounted for the opening of the Fuel Festival at the University of Waikato's Academy of Performing Arts, and again a couple of days later in Hamilton's Cathedral Church of St Peter. This time the shows were accompanied by a major exhibition of over 20 works from the series. Simultaneously, a smaller number of works were displayed at Auckland's Warwick Henderson Gallery. Art critics were positive, reading the paintings as traces of an artistic event as well as an independent corpus of work. Zane Holton in the Waikato Times described the 'choreography' of line, pattern and colour and T. J. McNamara in the New Zealand Herald praised the insistent lyrical rhythm of the 'great romping exhibition'.(6) While standing on their own as individual images, the paintings take on another dimension in time-based performance, not so much as illustrations of music, but a synthesis of visual and aural art. Trusttum's prodigious output, often seen as a drawback in terms of the minimalist aesthetic 'less is more', could be seen as a positive advantage in this format-rather than being isolated on the wall the digital images tumble out one after another on the screen as a kaleidoscopic tapestry.(7)
PHILIP TRUSTTUM Gnomus 2004 Oil on canvas, 1800 x 2200 mm.
Pictures at an Exhibition, the result of an unusual collaboration, represents a new chapter in Trusttum's long career. Since he emerged on the New Zealand art scene in the late 1960s, a protégé of Rudolf Gopas at Ilam, Trusttum was regarded as a neo-expressionist and grouped with Philip Clairmont on the margins of mainstream concerns with land and identity. Though his early abstract works were read in a psychological vein, he has generally been regarded as a 'friendly expressionist' whose domestic subjects, warm colours and loose brushwork conveyed an optimistic energy in contrast to the dark empty landscapes of McCahon and the tortured figure studies of Fomison.(8) While this bright colour seemed out of place next to the chiaroscuro affects of the 'harsh light' favoured in hard edged realism, others appreciated Trusttum's skill as a colourist - he was a painter's painter, someone who eschewed questions of the national and the textual in favour of a straightforward approach to image making'.(9) Trusttum's style was, according to critic Peter Leech, marked by a signature rather than a style; rendering it undigestible in the art market. This position somewhat outside current fashions has at times consigned Trusttum to the byways of New Zealand art history, a discourse formerly driven by cultural nationalism and now in thrall to opaque versions of postmodern theory that, since Foucault's 'death of the author', has been underwhelmed by expressive accounts of the personal.(10)
In the 1980s and 1990s Trusttum continued to be a prolific painter who worked in thematic series drawn from the immediate physical environment of his Waimate farm. As Gordon Brown commented, his work was like a 'notebook of personal experiences', a diary that recorded his interests and surroundings: houses, gardens, tennis, horses, farming, children and so on.(11) His voluminous output of big canvases were, more often than not, bought by private collectors and seen in large corporate spaces rather than public collections. Apart from infrequent survey exhibitions, notably at the Sarjeant Gallery in Wanganui, it was difficult to get a sense of the overall development of his work, such was the scale and volume of his output. Now living back in Christchurch, and as active as ever, Trusttum continues to be underestimated.(12)
PHILIP TRUSTTUM Women 2004 Oil on canvas, 1800 x 2200 mm.
Then came the commission to 'do Mussorgsky.' Setchell described the event as reversing the original creative process: Hartmann's art inspired Mussorgsky's music which in turn provided the impetus for Trusttum's art.(13) It was artist Viktor Hartmann (1834-73) who was Mussorgsky's muse. Hartmann was a Russian genre-painter, designer, illustrator and architect who, known in the west chiefly through Mussorgsky's music, was an important figure in nineteenth century Russian cultural history.(14) Hartmann's neo-Russian style, based on his studies of medieval architecture and ornament, fuelled the development of a national school of painting, just as Ruskin's sketches of Venice inspired the English Gothic Revival. This turn from foreign subjects to the native soil and folk culture also affected musicians, among them Mussorgsky. A member of Balakirev's 'mighty handful' of composers, Modeste Mussorgsky (1839-1881) came to prefer the Russianness of Moscow to the classical European capital of St Petersburg. Though now considered Russia's 'greatest musical dramatist,' Mussorgsky died in his forties in poverty leaving behind a relatively small oeuvre.'(15)
When Hartmann died at the age of only 39, the critic Vladimir Stasov organised a large memorial exhibition at the Academy of Artists, the large neoclassical building on the banks of the Neva in St Petersburg, early in 1874. The exhibition comprised architectural drawings, and designs for ornament, craftwork and jewellery as well as an assortment of sketches of colourful characters and scenes of Russia and western Europe done on his extensive travels.(16) Mussorgsky was heartbroken at the premature death of his friend. After visiting the exhibition, he quickly composed some music in the form of an 'album series' with leaves or impressions - the pictures - loosely joined together by a promenade motif which suggests Mussorgsky himself rambling among the works at the exhibition.(17) Mussorgsky's music, like Hartmann's lively scenes of Russian life and legend, reworked native folklore in a rough, exotic new style that broke free from German conventions and 'created a new Russian language in music.'(18) Little known or performed at the time, Pictures at an Exhibition became better known in the 1920s through Ravel's orchestration of the original piano suite.
PHILIP TRUSTTUM Catacombae 2004 Oil on canvas, 1800 x 2200 mm.
Though aware of Mussorgsky's music, it was actually the text that hooked Trusttum into the spirit of this piece. Recalling Eve de Castro-Robinson's comment that her music was inspired by words, Trusttum started with the titles of the 10 sections of Mussorgsky's score. He began with sketches, the result of extensive research from books and the internet. Images from medieval Europe, Asia, Africa and the Americas furnished him with the materials to build up rich compositions that served not only to complement the music but also stood as evocative and powerful works in their own right.(19) Working on the floor of his Peterborough Street studio, Trusttum laid out his canvases on the floor and started with the basic composition in black felt pen, gradually filling in areas of colour with acrylic paint.
Many of the figures were built up from letters and words, in English, Latin, and Russian Cryllic script. The sheer size of the works (1.8 by 2.2m) was necessary to give them a sense of grandeur - hung together they sprawl over the wall like banners in a carnival procession. That they have an aural quality - they seem Ioud as well as big - is due perhaps to the fact that Trusttum worked with twentieth century Russian music blaring: Glazunov, Stravinsky, Prokofiev, Khachaturian, Scriabin, Liadov and many others. His interest in Russian art too is clear from the geometric design, bright colour and jewelled surface texture of the paintings-there are echoes of icons, Chagall, Kandinsky, and Malevich.
But the final paintings transcend their original setting and astonish with the fecundity of their imagery. The Russian witch Baba Yaga, for example, is only briefly sketched in Mussorgsky's music, but Trusttum shows her in a number of variant forms: a foul hag riding a pestle, a bizarre 'hut on fowl's legs', and a hairy spider-like creature bristling with weapons and heraldic flags like the goddess Khali found in Hindu mythology. The pictures are not literal illustrations but highly personal and endlessly inventive variations on a theme: playing children bicker and shout in the Tuileries Gardens of Paris, canary chicks prance and leap like meccano figures from a ballet. A Polish cart with its heavy wheels drawn by huge brown bullocks (bydlo), constructed from the letters of the word 'lumbering,' plod across the canvas in time to the slow march of the music. Two bearded Jews, the wealthy Samuel Goldenberg and the weedling pauper Schmuyle, meet and talk in a cloud of speech bubbles.
PHILIP TRUSTTUM Babayaga 2004 Oil on canvas, 1800 x 2200 mm.
The first portrait of Pictures at an Exhibition is titled 'Gnomus'. Mussorgsky's music was based on Hartmann's design for a wooden nutcracker in the form of a grotesque gnome with crooked legs. It captured the awkward, stumbling gait of a lame figure along with what Stasov called its 'savage shrieks.'(20) In one of the works from this group(21) Trusttum has drawn an ugly, heavy limbed figure in the style of Philip Guston, but its mane of red hair and martial arts pose has an oriental feel that reminds the viewer of Japanese woodblock prints. The Latin title appears in appears in a text box in the bottom comer, while the creature's cry becomes a trailing scarf set against the yellow background.(22)
In another section, Mussorgsky paints a picture of old women talking and quarrelling in the French market town of Limoges, the music conveying the sounds of a busy fair with the chattering speech of the women. Trusttum's response is a group of stylised figures each constructed from the word' g-o-s-s-i-p': the 'g' is the head with open mouth, the 'o' the neck, the 'ss' and the 'i' and 'p' the legs. Despite this formal restriction of design, the women are eminently expressive-mouths gawp open in derisory laughter, arms are raised in garrulous excitement, and the legs, which also form miniature townscapes, stamp and shuffle. The fragmentation of the figures and the splintered words and letters of their speech, like a Constructivist collage, are rendered in lively blue, green and red.
The most macabre imagery from Pictures at an Exhibition is found in 'Catacombae'. A surviving sketch from the original exhibition shows us Hartmann exploring the Parisian catacombs by lamp light. Death was a strong theme for the ailing Mussorgsky, as seen in his song sequence Songs and Dances of Death. The composer's interpretation of the scene is rather more dramatic-he imagines the skulls glowing in the dark, adding the comment, 'with the dead in a dead language' (Can mortuis in lingua marta).
PHILIP TRUSTTUM Gate of Kiev 2004 Oil on canvas, 1800 x 2200 mm.
Trusttum is more than equal to the challenge here, ransacking pictures of mummies, black magic and the occult to give us pictures of death that are chilling but beautiful. In one group of images we see skeletons huddled in niches, and in another, skulls, made up from the shape of the letter 5, drawing back with bony fingers a curtain or a rope decorated with small skulls-all rendered in stark contrasts of white, black and dark blue. In yet another group, the artist. has painted striking close-ups of skulls, where the cranium, eyeless sockets and grinning teeth are reduced to bare, geometric elements in flat areas of black, blue and red. These paintings, meditations on death immediately apparent quite apart from the music, show Trusttum transcending the original material by giving full rein to his imagination.
PHILIP TRUSTTUM Troubador 2004 Oil on canvas, 1800 x 2200 mm.
Mussorgsky's majestic finale, with its sounds of hymns, bells and Slavonic church music, was inspired by Hartmann's well-known drawing of a grand entrance to the city of Kiev designed in a 'massive old Russian style' with coloured brickwork, kokoshnik arch, and a cupola modelled on a pointed Slavonic helmet.(23) 'It is a wonderfully expressive moment,' writes Orlando Figes, 'a picture of all Russia drawn in sound, and a moving tribute by Mussorgsky to his friend.'(24)
Trusttum paints a complex architectonic form, constructed from the letters 'K-I-E-V', with arches, columns, and pinnacles dwarfing the puny figures below it and framing an opening into the landscape beyond. The large, flat areas of brick-red colour contrast with the delicate tracery of musical notes and the iron grill work which is taken from the original design but, in Trusttum's version festooned with grisly heads inspired by London's Temple Gate. In other works in this group, the motifs are rather more contemporary. Bloodied heads and tortured bodies are paraded with playing cards, a reference to the US assault on Iraq, and a reminder that barbarity is not confined to medieval Russia. Throughout this series, striking contemporary references remind us that whatever the ostensible 'subject', the pictures have a personal genesis and meaning. 'I'm a painter,' Trusttum declares, 'these works are for myself'.(25)
With Pictures at an Exhibition Philip Trusttum was forced to respond to a prescribed topic for a public event. This kind of job, more akin to the traditional patronage system than the modem idea of the artist as solitary intellectual, has its advantages. With this series we can see that his practice has been stimulated by a new realm of subjects and imagery far removed from his usual domain; a musical odyssey that has taken him back to his European heritage into a kind of 'Pakeha mythology' that is expansive, rich, and colourful. Trusttum's surprising foray into new territory reminds us that we cannot discount the 63-year-old painter. It demands that we do not disregard his work as a painterly anomaly in the days of new media and art-as-text. Like the medieval guild-craftsman, Trusttum can produce art to order, yet ultimately makes things just for himself. Being given a subject to paint, as Trusttum himself put it, 'stops your own windows clouding over'. With such results, let's hope that somebody gives him another opportunity to keep the skies clear.
PHILIP TRUSTTUM Troubador 2004 Oil on canvas, 1800 x 2200 mm.
1. Philip Trusttum is fond of quoting from the modem masters and this is one of his favourite epithets from J. M. W. Turner (1775-1851). Conal McCarthy, Philip Trusttum interview, 24 June, 2004. 2. Larry Shiner, The Invention of Art: A Cultural History, University of Chicago Press, Chicago 2001. 3. McCarthy, Trusttum interview, 2004. 4. Ian Dando, 'Minus the Bear: Pictures at an Exhibition', The New Zealand Listener, 21 June 2003, p, 53; Paul Ellis, 'Concertline: Imaginative Organ Concert Stunning', The Star, 4 June 2003; Anna Dunbar,' Arts: Brushstrokes Fired by Music', The Press, 21 May 2003. 5. Adrienne Rewi, 'Listen in colour', Sunday Star Times, 25 May 2003. 6. Zane Holton, 'Reviews: Pictures at an Exhibition', The Waikato Times, 24 June 2004, T, J.. McNamara, 'Portals leading to Another World', The New Zealand Herald, 7 July 2004, Bll. 7. Martin Setchell and Philip Trusttum, Pictures at an Exhibition, video and DVD performance, Christchurch Town Hall, 2003, This kind of synthesis has periodically been advocated by artists and writers like Pater, Kandinsky and the Abstract Expressionists who, by stressing the musical quality of visual art, opposed the atomised separation of 'art' from the other 'arts'. 8. Justin Paton, 'The Friendly Expressionist', New Zealand Listener, 6 April 1996, pp. 38-39. For examples of the' slight contemporary assessments of Trusttum's work, see: Hamish Keith, P. A. Tomory and Mark Young, New Zealand Art: Painting 1827-1967, Reed, Auckland 1967, p 27; Gil Docking, Two Hundred Years of New Zealand Painting, Reed, Wellington 1971, pp. 198-200; Peter Cape, New Zealand Painting since 1960: A Study in Themes and Developments, Collins, Auckland 1979, p. 55; Hamish Keith and Gordon Brown, An Introduction to New Zealand Painting 1839-1980 Collins, Auckland 1982, p. 214; Michael Dunn, A Concise History of New Zealand Painting, Bateman, Auckland 1991, pp. 127-8. For a recent scholarly assessment of his work, see Helen Joy Taylor, The Art of Surprise: Philip Trusttum's Development and Style, MA thesis Art History, University of Canterbury, 1992. 9. Gerald Barnett, 'From Living: Philip Trusttum at the Sarjeant', Art New Zealand 60 Spring 1991, pp. 66-69. 10. Peter Leech, 'Style and Signature: The paintings of Philip Trusttum', in Philip Trusttum: Selected Works 1962-79, Sarjeant Gallery, Wanganui 1980, pp. 18-26. 11. Philip Trusttum: Selected Works 1962-79, Sarjeant Gallery, Wanganui 1980, p. 16. 12. The most recent of these was the Sarjeant's Remix, curated by Paul Rayner. Recently, Olivia Kember described Trusttum as 'underrated'. See: 'State of the Art', New Zealand Listener, 15 May 2004, pp. 16-21. 13. Martin Setchell, 'Programme notes: Pictures at an Exhibition', St Peter's Cathedral Hamilton, 2004. 14. Y. Kirichenko, 'Hartmann, Viktor', Grove Art Online, Oxford University Press, 2004 [accessed August 15 2004] http://www.groveart.com 15. Orlando Figes, Natasha's Dance: A Cultural History of Russia, Allen Lane/The Penguin Press, London 2002, pp. 171-72. 16. Caryl Emerson, The Life of Mussorgsky, Cambridge University Press, Cambridge 1999, Preface. 17. Michael Russ, Mussorgsky: Pictures at an Exhibition, Cambridge Music Handbooks, Cambridge, 1992, p. 4 18. Orlando Figes, op. cit., pp. 176-77. 19. Conal McCarthy, 'Pictures at an exhibition: An interview with Philip Trusttum', Hamilton, June 2004. 20. Orlando Figes, op. cit., p. 182. 21. Trusttum produced five different groups of figures in total for the Gnomus section, with several variations on the basic theme, which are included in projections during live performances. 22. The musical descriptions in the following section are taken from the synopsis of Russ, Mussorgsky: Pictures at an Exhibition. 23. Michael Russ, op. cit., p. 48. 24. Orlando Figes, op. cit., p. 182. 25. Conal McCarthy; interview with the artist, June, 2004.