Exhibitions Wellington
REBECCA RICE
Tatau Natalie Robertson Neil Pardington E.T.A.
From Robbie Williams to Ben Harper, GQ magazine to Sony advertisements, the Polynesian tattoo is receiving global exposure in an age where everyone is trying to be different yet be part of the world. This convergence and resultant inextricability of the local and the global in twenty-first century cultures, as manifest in the history, origins and practice of Samoan tattooing, was an issue reflected in Tatau at the Adam Art Gallery which opened in association with the conference, Tatau/Tattoo: Embodied Art and Cultural Exchange 1760-2000. Tatau featured 43 large-scale photographs by Mark Adams and an experimental short film by Lisa Taouma, entitled Maesina Samoa: Stories of the Malu.
MARK ADAMS, 12. 2. 1982. Farwood Drive, Henderson, West Auckland. Uli. Tufuga tatatau: Su'a Sulu'ape Paulo. 1982 RA colour print, 1200 x 1500mm
In colonial representations tatau were often depicted as fragments of design, abstracted from the body into which they are inscribed and the culture of which they are part. Mark Adams' photographs of pe' a stand in sharp contrast to this tradition and are based on a 25-year association with tufuga tatatau (tattoo artists) of the aiga Sa Su'a (tattoo family).
This long-term friendship has resulted in a view of tattooing as a remarkable process of artistic creation. The scale of Adams' photographs, shot on large camera with 8 x 10 inch film, provide intense detail, confronting the viewer with the various stages of the tatau operation. The violence enacted upon the body, the piercing of the skin and the embedding and intermingling of blood and ink is documented, while on closer investigation healing scabs can be discerned alongside these freshly-made wounds.
MARK ADAMS, 19. 11. 1991. Velvet Crescent, Otara, South Auckland.Fatu Feu'u. Tufuga tatatau: Su'a Sulu'ape Paulo. 1991 RA print, 1000 x 1200mm
The fact of pain in the tatau process is a recurring point in Lisa Taouma's experimental film, Maesina Samoa: Stories of the Malu, where females reveal that the pain of childbirth is nothing compared to receiving the malu. The film presents an imaginative reconstruction of the mythological origins of the Samoan tatau, but what it does in addition and most effectively is provide a documentary account of contemporary Samoan women's experience of the malu that complements Adams' focus on the male pe'a.
MARK ADAMS, 22. 11. 2000. 'Authentic Tribal Arts', Spiegelgracht, Amsterdam. Tufuga tatatau: Su'a Sulu'ape Paulo, 2000 RA colour print, 1200 x 1500mm
The video and photographs recontextualise the tatau, particularly the male pe' a, both in terms of the body and the situation of migration. Adams' photographs of men either receiving the pe' a or modelling the finished product are placed firmly in the contemporary domestic environments of immigrant Samoans living in suburban Auckland. Beer and cigarettes, china and patterned wallpaper, television sets and family photographs provide the background for this practice. This effectively negates the notion of an 'out-of-time' custom and highlights the distanced and markedly cross-cultural context of these complex scenes.
The photographs also record the tufuga tatatau, Paulo Sulu'ape II's artistic drive for experimentation and reinterpretation of tatau. Adams' later photographs, such as those of the ethnographic art dealer in Amsterdam, Michel Thieme, record the shift of Paulo's practice from the Southern to the Northern hemisphere. Thieme's pe' a fights for space on his body alongside a veritable plundering of 'primitive' imagery including genuine Marquesan and Borneo tattoos, as well as the more mundane (and explicit) European varieties. His stance echoes that of the primitive warrior, casting a self-conscious eye toward the conventions of colonial representation.
LISA TAOUMA, Maesina Samoa: Stories of the Malu, 2003 Video still
Other photographs of palagi with pe' a or variations of the malu capture more of a white trash vibe rather than a feeling of 'genuine' intercultural exploration. Although taken in Holland, the couples with Samoan tatau photographed in their lounge surrounded by Teletubbies and wide screen TVs, could just as easily be from the New Zealand suburbs, emphasising the cultural indeterminacy of contemporary European societies.
The globalisation of Samoan tatau was a subject of much concern at the conference and the issues raised reverberate in the exhibition. Many, understandably, still see these cultural borrowings as appropriation and are adamantly opposed to palagi receiving the tatau or indeed to any innovations of this cultural practice. Nonetheless, there has been a tradition of tattooing non-Polynesians for the last 200 years and the issue seems now to be more of a question of control, rather than allowance. Further, when is a tatau not a tatau and merely a tattoo? If one receives the marks on the skin without an appreciation of the cultural relevance or significance of such marks, are they potentially just carriers of a design and not a pe' a or a malu? And as the photographs testify, the process of enactment is always an act of reinterpretation. This, at least, seemed to be well understood by Paulo and Adams.
Issues surrounding cultural property have perhaps been more hotly debated in New Zealand over the last few decades than in the Pacific, yet the marketing of our culture remains a subject of investigation for many artists. Natalie Robertson's tiki tua and Neil Pardington's vacation at Bartley Nees Gallery explored the way that cultural heritage is marketed and defined to overseas and locally.
NATALIE ROBERTSON, Souvenir, Aotearoa # rima (rock art), Tiki Tua, 2002 Lambda colour photograph, 810 x 810mm,
Robertson's beautifully photographed kitsch tourist scarves blur the line between the artefact and art object. At first glance, it seems the scarves themselves are on display, but by photographing them, she reclaims these souvenirs as art objects and makes them available for scrutiny not only as aesthetic items, but also as potential carriers of cultural meaning.
Many of the scarves contain a cartoon-like map of New Zealand and relate to Robertson's earlier work series such as pokai whenua (travel the land). In that series, street signs were photographed as they referenced historical events, peoples and places. Here, they occur as signposts identifying the surrounding icons that illustrate New Zealand and connote a degree of New Zealandness. In Souvenir, Aotearoa #Waru (souvenir of New Zealand) signposts direct our attention to scenes on the scarf, which include proof of civilisation, civic buildings and city views, juxtaposed with signs of the 'native', a meeting house with Maori maidens in traditional dress.
Indeed, the majority of the scarves depict solely that which is considered 'native' and unique to New Zealand: Maori culture and native flora and fauna. Souvenir, Aotearoa #tekau depicts native birds alongside Maori art objects, illustrating the linking of Maori culture with nature, a link that historically allowed the positioning of Maori as part of 'naive' nature over which colonists sought hegemonic authority. Still another scarf, Souvenir, Aotearoa #rima (rock art) places Maori culture firmly in the past, the map of New Zealand being framed by writhing pre-historic creatures presumably drawn from the 'primitive' practice of Maori rock art.
For Robertson then, the marketing of New Zealand's cultural heritage is shown to be one that relies on elements of the exotic and all things Maori, rendered contemporary on silk scarves lusciously re-presented as glossy lambda colour prints.
NEIL PARDINGTON, Fountain 6, Fountain series, 2002 Colour photograph, 265 x 397 mm
Pardington draws our attention to that particular mecca of New Zealand tourism, Rotorua. On the surface he appears to shift the focus from Maori, however intricately they are associated with this destination, presenting instead 10 photographs of the multicoloured light display and dancing fountain at the orchid house. Yet the fountain is framed by a structure that strongly resembles a whare and this returns our attention to the tourism that earns Rotorua its bread and butter: the genuine Maori experience of hangi and dancing shows. We are reminded of the crassness that sometimes accompanies the marketing of Maori culture to foreign tourists that has earned Rotorua the nickname of Rotovegas.
The implication of Vegas in Pardington's fountain photographs, with its connotations of money, glamour and glitz, seemed to be echoed in part by Mamie Slater's installation, My Room, at Enjoy gallery. E.T.A. was curated by Lisa Tullet and brought together a playful blend of artists and works that took the theme of 'arrival' as their starting point.
Slater enlisted eight metres of hot pink angel satin and 90 metres of tinfoil to transform a normally unexciting doorway into a gaudy and magical entranceway.
Slater's work seemed less about the notion of 'arrival' than the process of 'arriving'. The expectations of the journey and the idea of travel as an act of personal transformation that is more imaginary then real seem to be invoked in the act of passing through her installation.
Likewise Glen Hayward's 3D trompe l'oeil boxes, titled Lounge-records/books, trick the eye into believing they are real. Constructed out of custom-wood these objects, rather than indicating a set point of origin or destination, sit outside of time and space, stranded by their non-functionality, which is at odds with their visual verisimilitude.
Inside the gallery space, the cloying scent emanating from Gary Peter's work Der Märchenwald, consisting of one hundred air-freshening Magic Trees, turns the gaze back towards New Zealand, travel and tourism, commenting on the sanitised, clean-green image of this country that is marketed both locally and abroad. Daniel du Bern's In the Garden has a more sinister edge to it, the black box sitting in the midst of a forest clearing, repeated on DVD and photograph, promises more of a dark, David Lynch-like alternate reality, rather than an ideal or desirable tourist destination.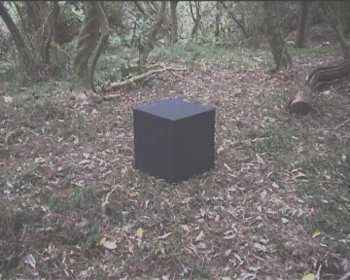 DANIEL DU BERN, In the Garden, 2003 Photographic print, mirror glass, DVD
These issues of tourism, culture and globalisation have been reflected in various shows around Wellington recently, at dealer and public galleries as well as artist-run spaces, making it seem that these issues themselves might well have become marketable commodities in the current art world.