Exhibitions Auckland
JON BYWATER
Ani O'Neill South Upfront Wallace Art Award Follow the White Rabbit
The centrepiece to Ani O'Neill's show Fresh 'Eke (Sue Crockford Gallery) is a large octopus, 'Eke Nui. Crocheted in an off-cuts motley of blues, yellows and oranges, it slumps with beady-eyed dignity over a three-tiered plinth, tentacles stiffly, stuffedly snaking towards the parquet. Its soft toy self-possession makes its gallery-white prop more believably like a seabed rock than the fishmonger's tray where a real one might be more readily spotted in town. Like the rainbow-coloured constellations of baby octopi who swarm across the walls around it, it is done in wool. Only a few centimetres across, these others bring to mind the tiny edible sort that might turn up in some rum cha dish as much as they do the reef they help to sketch in the room. Elsewhere in the show two coral-orange antlers with plastic dolls hands wave' Arae Mai' and' Arae Ra' and frangipani flowers in bottles sit high on the wall.
The warmth, brightness and personal, by-hand qualities of O'Neill's materials and technique heat the whole installation. Her works might be read in the mode of classic feminist art - of the Miriam Schapiro / Judy Chicago stripe - as conceptualist reassertions of a feminine or Islander-associated craft form, but they work not so much as statements as demonstrations of the differences between, say, macho industrial finishes and those of another kind of skill set.
Fresh 'Eke is indeed a fresh progression from the handicraft abstractions the artist has been showing for some time. Making representations, she frees the wool and craft methods from having to bear too much import on their own. The confidence of the pleasingly unlikely scale and subject bring her modelling to life, and by referring outwards more, the work has more to give.
A text presented with the price list briefly summarises the place of the octopus in Polynesian mythology, as creator of rocks, and the rock of all rocks, the land itself. Adding to an already absorbing set of objects with a Pasifikan style, a more specific possible significance is shared.

South 09 200mm x 600mm
Contemporary urban Polynesian culture is celebrated in South at Artnet Gallery in the Otara shopping centre. A project by photographers James Pinker and Mark McClean, it is also a collaboration with the local community. The artists took the photographs that make up the show on site, building a temporary studio to work with any passers-by who wanted their photograph taken. In return for giving their image to the artists, the participants got back a free print.
A mixture of group shots - families and friends together - and individuals as well as some ambient location shots, the series builds up a brightly-lit grid of local colour, street personalities, school pupils in uniform, shoppers, parents and grandparents. The predominantly brown faces of the suburb's demographic and the particular sportswear fashions sample a microclimate of contemporary Auckland culture.
It's a simple but engaged and engaging set up. The trade-offs seem to balance out neatly between the different things that are there for some of the participating subjects - a free family portrait, a slick public appearance - and the things there for this writer visiting from the central city. I get a chance to share the viewing with its primary audience, the locals, who have had the chance to represent themselves, at least in body language and clothing, which prominently includes proudly sported local gang signs and tattoos mostly illegible to the interloper.
Back in town, UpFront, a 'foyer art project', inhabits venues like Atrium on Eliot which, with its English-on-Avon name, is as culturally distant from the Otara shopping centre as the bus ride is long. Coordinated by curator Hanna Scott as part of the AK03 festival for Elam School of Fine Arts, five of the seven artists are recent MFA graduates from the university.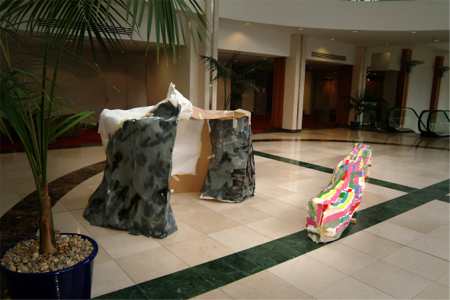 Richard Maloy's contribution to theUpfront project
As is often the case with such ventures, the ability of art to remain visible outside the gallery, under the high ceilings and amongst the polished surfaces of those high traffic non-places, was a test for the work.
Some pieces work quietly. A flatscreen on the wall of a walkthrough, Hye Rim Lee's work has her hollow Toki character blink or batt its eyelashes and mime feminine hand-to-mouth gestures - coyness or kiss blowing - the wireframe skeleton showing everything and nothing about how the animation works. Jae Hoon Lee plays out his scanned skin theme with a pixelated super enlargement on some automatic sliding doors. Like tie-died mandala wallpaper, its pinks tone with some pink marble, taking a fresh range of metaphorical possibilities from its location, but relying on the title to give the casual viewer any idea of what this visually mild intervention may be about.
Deliberately invisible perhaps, Jessica Pearless's additions to the Quay West window glass disappear further, camouflaged as unexceptional, site-sensitive commercial design, restrainedly elaborating the sandblasted motifs already there. Paul Cullen physically annotates a corporate garden, quite generically hamming up the visual tropes of ordering and classification, running the risk of appearing to presume to know better.
Scale can be crucial in the foyer. Glen Hayward's shiny model com cobs, for example, run into trouble, not quite large enough to be loud, but not small enough to pack the surprise of illusion. Larger and flamboyantly playful, Richard Maloy's piece is a kindy-painted mini-golf course, nicely and absurdly contrasting its campy cardboard casual with the glossy built-to-last, permanent fixture art sharing the space.
Also working big and bold, Rohan Wealleans makes a Kabakovian sculptural joke in an empty shop space, hammering up some stage prop planks that barricade against an attacking monster (perhaps the location-cursing monster that drove off the previous tenants?). Giant squid-scaled tentacles in iridescent purple and pink have suckers that coordinate with the rack fasteners that pepper the walls. A red powder pentagram and candles look as though they might have been added in by someone else, or are the narrative prompt that, Night of the Living Dead-style, has brought on the curse of the attack.
This year's Wallace Art Award winner and a selection of finalists hang at the Auckland War Memorial Museum. The award is characterised by painting, but some of the most appealing points of the show are the odd objects - Kirsten Dryburgh's spiderweb-wrapped toy handgun and Megan Hansen-Knahori's Fourteen Cuddly Toy Jesus Crosses: Cry For Everything Bad That's Happened, whose coloured fluff even manages to overpower the nearby pompom piece by glitz master Reuben Paterson.
The winning work, a painting by Jeffrey Harris, is a dream image of an elephant-like character with hoop earring (strongly reminiscent of Max Ernst's iconic and clunky Célèbes, perhaps as filtered through the technique of his fellow golden great of European surrealism, Joan Miró). Harris's 1970s reputation was made in a neo-expressionist mode (which looked great revisited in Think Colour, for example), so it's not so strange to see another vintage artistic mode worn so boldly. This still surprising, unfashionably styled image, though, clearly stands out amongst some of the runners up, which seem bound by rather timid views of the current possibilities for painting. Some dish out meaningful symbolism (as if a women's clothes brand weren't able to make fun of such things on billboards all around town), while others peddle the revaluation of the decorative as a kind of modest formalism - something starting to seem an overplayed line by now, academic in the worst sense.
At Artspace, this year's 'new artists' show, Follow The White Rabbit, takes us into uncharted realms of the academy, breaking a widely held taboo by including people not yet out of art school. Avoiding the worthy in favour of the wacky, Tobias Berger casts the bias in his choices as being for a 'darker direction', giving a turn to 'the more idiosyncratic, self reflective and mysterious' over 'conceptual, and politically conscious art'.
Most testing to the taste barrier is a strain of Victorian mysteriousness - wraiths & roots and fairy magic - usually embarrassing to the sober on-show glare of a gallery like Artspace. To varying degrees, Marina Cains, Gary Burkon and Amber Louise Magon, Kate Harsant, touch on PreRaphaelite / symbolist mystery and fantasy. The Bhutti Fairies form an outer limit of hippy cultural expression, hanging a ragbin cubbyhouse from which they have distributed gifts to visitors.
The feel is often wide-eyed and exploratory, even I-don't-quite-know-where-I'm-going-with-this. We get to see people thinking aloud, coming up with fragments that could be used to explore meaning effects. Ryan Chadfield's set of sculptural aphorisms, for example, is a field of objects that slide between intricate fabrication - a bathing cap made of teeth, a double-heeled football boot cup, - and selected junk - a stained and distorted roll of toilet tissue, a mangled plastic bag, a blutac form holding a coin.
At the more 'worked out' end of the scale, established artist Peter Madden's assurance shows in his Rorschachian, bleedingly mirrored column of cut out butterflies and moths. A wall painting by the currently ubiquitous Misery, a graf/ comix-style advertisement for herself, uses the sweet & sour recipe of cute & evil. Her eye candy's assertiveness lines up next to a head on, fresh-from-the-film-course video soliloquy by T van Dammen, an invitation to think through the cinematic gaze in feminist psychoanalytic terms.
Mia Ou's Evidence is also striking, less explicitly investigating film theoretical ideas through an evocation of silent film violence with recist and misogynist overtones.
Elsewhere there are eccentric machines that are about looking, like Zina Swanson's video-in-bottle homunculus device, Chris Hargreaves' home-guard video funnel, and Joanna Langford's charming 'Lolipop', a world on stalks of picnics and chateaus, conifers and motorised vignettes, of lenses and shadow.