The Elusive Modernist
Steve Rumsey's Camera Club Photographs 1948-1964
GORDON H. BROWN
From 1949 Steve Rumsey participated in the Camera Club movement, first in Auckland, then Wellington during 1953, 1954 and the first half of 1955, and again in Auckland until 1964 when family commitments and his venture into commercial photography curtailed his Camera Club involvement.
In the years following the Second World War the Camera Clubs in New Zealand still promoted images imitative of the Pictorialist photographers who, rather than seek out features characteristic of photography as a medium, still clung to the pictorial values associated with painting as practised during the last decades of the nineteenth century and the first decade of the twentieth century.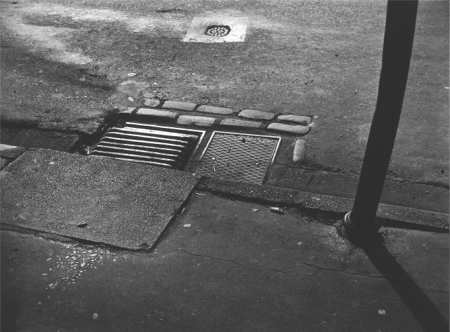 STEVE RUMSEY Design no 20 1954 Silver gelatin print, 297 x 380 mm. (Collection of the Photographic Society of New Zealand)
In the recent exhibition, Ideas and Images: Steve Rumsey and the Camera Club Movement 1948-1964, curated by Damian Skinner (1) and shown in the Lopdell House Gallery, Titirangi, the old values of Pictorialism were encapsulated in J. W. Chapman-Taylor's Forest Vision of about 1947, but aesthetically its vision belonged 50 years in the past. As with other members of the Photographic Societies and Camera Clubs it was as if the contribution of George Crombie and the early work of George Chance had become set as the fixed ideal up into the 1960s. The virtues of the Camera Club philosophy existed with the encouragement of technically well-produced photographic prints. Amateur photographers joining a Club were taught the rudiments of composition, darkroom practice and how to present and title their finished prints for exhibition.
While there had been a few photographers who, like Thelma Kent, had eased themselves out from under the prevailing Pictorialism into a naturalism more attuned to the mechanics of the camera, when it came to exhibiting their work it was still expected to fit into the artificial genre categories laid down by the Societies and Clubs. Under these conditions, maintaining one's independence as a photographer was not always easy. Around 1948, when Steve Rumsey first visited the Auckland Camera Club, such detrimental attitudes could still affect the work submitted by such a stalwart modernist as Frank Hofmann for, when confronted by the Club's prevailing conservatism, maintaining one's highest standard as an individual could still be restrained by this peer pressure. In a situation very similar to that affecting young modernist painters who, without any other venue available to them for exhibiting their work, submitted their paintings to the vagaries of a selection committee in the hope that it would be shown at the local art society's annual exhibition (until dealer galleries became established during the 1960s), so too for the period of Rumsey's membership of the Auckland and Wellington Camera Clubs, other venues for displaying photographs were hard to come by.
STEVE RUMSEY Infinity 1949 Silver gelatin print, 382 x 295 mm
One such chance came in October 1965 when Jack Crippen, then art master at Auckland Grammar School, invited Rumsey to show a selection of his photographs in the new Jubilee School Library. By the time the first photographic gallery in Auckland opened during 1975, Rumsey's commercial imperative had channelled his former urges as a modernist photographer into more practical directions. When the opportunity arose he took on jobs that allowed him some of his former freedom of interpretation, photographing potters, painters, printmakers and their works for Kees and Tina Hos during the early years of the New Vision Gallery, but though there were exceptions, the range of these photographs were restricted and generally less adventurous.
As a youth Steve Rumsey had attended Saturday morning art classes during the early 1940s at the Elam School of Art, first under A. Lois White, then Ida Eise and in 1943 he changed classes to Wednesday evenings for life drawing under John Weeks. While attending these classes Jack Crippen had been the relieving tutor. In 1946, as a sixth former, Rumsey won the Auckland Grammar School drawing prize. By then he had taken his first photographs with a Kodak Folding Brownie. As the result of creating an insect collection for a school project, Rumsey met the Auckland War Memorial Museum's entomologist Graham Turbott who arranged a job for him fumigating the museum's insect collection. In 1947 he purchased from Turbott, for the sum of £5, a half-plate camera and a 120 Zeiss Roll film camera.
STEVE RUMSEY Test Strip Design (Photogram) 1952 Silver gelatin print, 303 x 207 mm. (Collection of Te Papa Tongarewa Museum of New Zealand)
At Auckland University in 1948 Rumsey studied Botany, Zoology and Chemistry and joined Photo Soc, the university's photographic society. With John Barton, President of Photo Soc, he visited the Auckland Camera Club for the first time and undertook subsequent visits. Among the photographs displayed he found an immediate affinity with the work of Frank Hoffmann.
While on a University Ecology Studies field trip to the Bay of Islands he photographed rock pools. The Professor of Botany was so impressed with these photographs that he gave his support to Rumsey when he applied for the job as photographer at the Mt Albert Plant Research Station. At Graham Turbott's recommendation Rumsey photographed a beetle for Don Spiller. On the strength of this photograph Rumsey obtained, at the beginning of 1949, the position of photographer at the Research Station, remaining there until early in 1953. In 1950 he resumed his university studies part-time. He rejoined Photo Soc and for his entry into the annual competition won the Gevaert Medal.
STEVE RUMSEY Barry Woods at Retouching Desk 1953 Silver gelatin print, 280 x 375 mm. (Collection of Te Papa Tongarewa Museum of New Zealand)
Steve Rumsey joined the Auckland Camera Club at its first meeting in 1949. From the start he rejected Pictorialism, though there were times when he did accept the challenge of the Club's set subject as the source for his images. One such early photograph was on the set theme of 'Darkroom Dish Tongs and Measuring Cylinder'. Another early photograph, produced the year before he joined the Auckland Camera Club, was Architectural Design (1948 )with its incidental use of architectural decoration inside the Auckland Museum.
The less appealing features of Camera Club membership was countered by the presence of a few men to whose photographs Rumsey could relate, such as Frank Hofmann, Case Beck, Olaf Peterson and Clifton Firth in Auckland and Barry Woods, Farmer McDonald and Geoff Perry in Wellington.(2) This rapport was particularly true in the field of portraiture, the one area where the dominance held by Pictorialism over the membership had begun to weaken. Over the first period of Rumsey's membership of the Auckland Camera Club Frank Hofmann had been establishing new standards for professional portraiture, a stimulus he shared with Clifton Firth and similarly with the work of Geoff Perry during his time with the Wellington Club.
With such character portraiture the print that stands out among Rumsey's work is that of Michael lllingworth, titled The Eye of the Artist (1963). But of equal interest are those photographs that show the person portrayed in their working environment. Of these the Decisive Moment (1962) shows the potter Len Castle pondering a large pot on which he has been working and, in some ways more imaginatively informal, Barry Woods at Retouching Desk (1953). Rumsey got to know Woods well when in Wellington and they boosted each other in their modernist approach to photography. This partnership is brought out in the double (Picassoesque) viewpoint portrait Face in Space (1953) that Rumsey did of Woods and Barry Woods' Impression of a Friend/Portrait of a Young Man (1955). In respect to both these portraits it is worth comparing them to Brian Brake's Richard Farrell, pianist (1947) (3) to appreciate just how quickly trends were capable of changing at this time. Between the immaculate calm of Brake's double imaging and the two photographic prints as named above by Rumsey and Woods a disturbing surrealist element had entered their visually manipulated prints.
STEVE RUMSEY Man on Ramp 1952 Silver gelatin print, 381 x 260 mm.
But rather than in portraiture, Rumsey's independence as a photographer decisively appeared with Infinity (1949). With this work the idea of creating photographs based on preconceived abstract ideas had already begun to form in his mind. In this photograph the concept of 'infinity' is implied by two almost contrary means, the half-spiral of diminishing flat-planes, each plane overlapping the next and by the five sharply pointed shafts take on perspective- like characteristics that are aimed at a small triangle that contains the infinite centre of vision. A similar visualised idea of repetition on a single image is conveyed in Pin Design (1951) where a lively pattern is achieved by the simplest of means. Using the even simpler means of a photogram made without employing a camera, is the abstract Test Strip Design (1952) in which the image is produced by laying three sheets of heavy L-shaped paper on the light-sensitive photographic paper and exposing each carefully placed piece of paper to the light source.
While Rumsey was working at the Mt Albert Plant Research Station Theo Schoon joined the Station's farm staff during 1952. Rumsey was prevailed upon by Schoon to make proof-prints from his Maori cave drawings and geothermal mud pool negatives.(4) In their discussions about photography Rumsey was intrigued and stimulated by all the new ideas Theo Schoon introduced to him - it was only later that Rumsey realised that many of these ideas came from the Bauhaus writings of Laszlo Moholy-Nagy - and these discussions helped Rumsey clarify his thoughts on 'photographing ideas'. One of Rumsey's photographs from that year is Man on Ramp (1952) which makes dramatic use of an acute-angle shot and dark cast shadows for its visual design effects.
STEVE RUMSEY Tissue Culture 1957 Silver gelatin print, 508 x 405 mm. (Collection of Te Papa Tongarewa Museum of New Zealand)
In March 1953 Rumsey moved to Wellington to a position with the Wildlife Division of Internal Affairs. He joined the Wellington Camera Club, but his idea of photographing 'concepts' caused rumblings among the members. While his photograph of St James Church, Lower Hutt (1954), as representing the idea 'Symbol' was far from being wholeheartedly accepted, that representing a 'City' became the most readily accepted of all his 'abstract theme' photographs in spite of its modernistic neutralised, though accurate title, Design No 20 (1954). This 'famous "Drain" picture' was recommended for its 'realism' as a 'modem trend'.(5)
In October 1954 Rumsey returned to Auckland and the livelier atmosphere of the Auckland Camera Club. For the next two years Rumsey worked in the commercial arena. He did, however, voluntarily photograph native masks and carved food bowls for two exhibition catalogues for the Auckland War Memorial Museum. In August 1956 he rejoined the staff of the Mt Albert Plant Research Station, but in his spare time he began photographing artists, potters and their work and others involved in the visual arts in Auckland. The most challenging of these are within Rumsey's ploy of photographing abstract ideas, such as in Man and Atom (1957) which included the potter Barry Brickell and Male/Female (1958) where the emphasis is on the vibrant Marie McMahon. Slightly apart from these is a photograph that reflects the science of his work place, the skilfully patterned Tissue Culture (1957).
STEVE RUMSEY Male/Female 1958 Silver gelatin print, 503 x 285 mm. (Collection of Te Papa Tongarewa Museum of New Zealand)
What Damian Skinner has achieved as the curator of Ideas and Images is to bring to our attention an undervalued photographer and the opportunity to assess his standing within our recent history. His didactic approach of matching ideas to images undoubtedly sprung from the scientific attitude associated with his early work. At first glance this might suggest a medley of isolated viewpoints in his approach to photography, yet on acquaintance with his work, this is not so. Underlying his photographs are several features that convey his individuality. There is the partial reframing of the central images - the columns and lintel in Architectural Design, the straight lines parallel to the right and bottom edges in Infinity and reversed in Test Strip Design, or the dark shadow that occupies the left side of Man on Ramp - within the outer limits of the photograph without loosing the modernist importance of each contributing image within the overall pattern that gives unity to a photograph. The angle used to capture the subject is important, so is the essential play of light and dark in delineating images in order to enhance the defining nature of the photograph's essential pattern as this gives form to the work. These are the elusive elements that need to be grasped in Steve Rumsey's work.
1. My text has relied heavily on Damian Skinner's ground-breaking essay for my basic information and on my conversations with Steve Rumsey. 2. Steve Rumsey endorsed inviting independent judges to Club meetings for their views on the photographs displayed, men such as architect and amateur painter Vernon A. Brown, the art master Arthur C. Hipwell and the photo-journalist Robert (Tom) Hutchins. 3. Brake's photograph is reproduced in William Main and John B. Turner's New Zealand Photography from the 1940s to the Present, PhotoForum, Auckland 1993, p. 50. 4. One of Theo Schoon's thermal mud-pool photographs is produced in William Main and John B. Turner, op. cit., p. 55. 5. Extracted quotes in Skinner's essay from The Developer & Enlarger, Vol. xix, no. 3, September 1955, p. 11.
STEVE RUMSEY The Eye of the Artist 1963