Exhibitions Auckland
ANNA MILES
The miniature billboard that tops The Gauntlet, a model of Auckland's Boston Rd railway station, included in Brendon Wilkinson's new show Pieces, flaunts a brand of flavoured milk. The message, 'Primo - Go with the flow', swirls over the billboard's psychedelic spirals. Below in this familiar trackside setting, Wilkinson has introduced thumbnail-scale, camouflage-clad US soldiers thrashing a bleeding horse, stamping on the head of a civilian and pelting another with bullets.
This exhibition ostensibly follows a shift in Wilkinson's practice. As Taranaki Artist-in-Residence at the Govett-Brewster Art Gallery in 2002, Wilkinson produced Pile of Illusions, an entirely black-and-white model of a murder scene set in Pierre Koenig's famously photographed Case study house #22 in Los Angeles. The introduction of this icon of American modernist high style to Wilkinson's catalogue of local sites (Waihopai listening base, a post-Tarawera eruption Maori village, Mt Eden prison, Sky City Bus Terminal toilets) has been interpreted as a departure. As Greg Burke comments in the Govett-Brewster publication on Wilkinson, 'The new model reflects a new subject for critical enquiry that has developed out of the residency: consumer culture's relationship to architecture and design.'
BRENDON WILKINSON The Gauntlet 2003
However Wilkinson's current show with Ivan Anthony suggests categorising his interests according to the sites he chooses is difficult. The four locations included here range across the highly specific and local, to the unidentifiable and possibly fictitious. The Boston Rd railway station sits alongside one other small trackside scene, a model of a violent outburst amid the whiteness of the Lake Grassmere Salt Works, and a vaguely modernist house situated in a mountainous region. This latter model (A Thousand Titles) is home to two more bloody horse stabbings and ironically supported on two prefabricated sawhorses. In its bodgey DIY modernism and remote, difficult to identify tussock-surrounded situation (Kaimanawas? Death Valley?), this house is the antithesis of the Koenig house that dangles photogenically over the LA grid. Wilkinson's feeling for site appears richer and more ambiguous as the subjects of his models range more widely.
While the Pieces exhibition plays with disparate locations, it also meddles with continuity. The portion of central Auckland rail corridor that features in The Gauntlet for instance is just up the track from the Mt Eden railway station that Wilkinson depicted in his An Arm and a Leg work of 2001. The closeness of these two models is underscored by their matching supports. Both sit on wood veneer-topped, steel-legged school desks. Will Wilkinson gradually work his way along the entire central Auckland track? The artist's reflexivity about model making encourages some sense that the persistence of the railway subject pays tribute to the non- academic relentlessness of model train enthusiasts.
Comparing the older and more recent Mt Eden railway works, the acceleration of violence is clear. In An Arm and a Leg, brutality is reserved for the extremities. The severed limbs at the edges suggest the violence of slicing into a particular moment in time. In The Gauntlet, Wilkinson adds cruelty to animals plus torment of humans (some are impaled by trailing bullets that resemble miniature javelins). Among the work's most grisly details is a gateway pieced together from severed, almost imperceptibly small body parts. Wilkinson is not only working with a heightened violence, but violence pervades the way he assembles these models. As much as his modelling is meticulous, the cut-through at the edge of these scenes remains raw. The eye moves abruptly from perfectly rendered grass verge to glue sloppily squelching from the laminated layers of each model's roughly sawn sides.
Wilkinson's bitter incorporation of 'Primo - go with the flow' connects The Gauntlet with his early models like the Heaphy landscape inserted in a can of 'Progress' brand infant formula. His eye for the sick poetry of consumer culture is obvious, but ranging across the disparate sites he has chosen, from urban wastelands to modernist jewels to colonial landscapes, something else is evident. Just as the slogan 'Go with the flow' suggests a lackadaisical disinterest in taking anything much seriously, Wilkinson's models foreground rich wells of insensitivity. His immersion in environments and brutality continues with a fascinating unpredictability.
Wonderland at Artspace, installation by Jason Lindsay
The occasion for speculating on Wilkinson's work was heightened in a dramatic way by the presence of Wonderland, an exhibition of around 20 landscapes (including Wilkinson's own Pile of lllusions), across the road at Artspace.
Compared to the near-combustible control displayed in the individual works of Wilkinson, an exuberant lightness characterised the assemblage of Wonderland. The exhibition was animated by the release of various kinds of curatorial stranglehold. The first thing to go was the curator's literal framing role. New Artspace Director, Tobias Berger handed the installation of the show over to Elam sculpture student, Jason Lindsay. Berger's interest in Lindsay was spurred by Re-enspacement, his show at George Fraser Gallery earlier this year. Lindsay took to this potentially upstaging role with generosity.
What Berger predicted might look something like a Ponsonby design store eventually materialised as a rough-and-ready multi-level plinth creeping around the edges and throughout the space with all the comfort of a well-worn modular sofa. The continuity of Lindsay's display device transported this extremely wide-ranging survey of model-making in contemporary art all around the room. Somewhat reminiscent of the conveyor belt that carried all the things of consumerism (electric blankets, golf trundlers, Kenwood blenders) on Bruce Forsyth's TV show, Generation Game, Lindsay's installation provoked interesting connections with other ways in which Artspace has been configured this year. The labyrinthine plinth compared with the walkway installed in the gallery for the Nicholas Jasmin exhibition that was later recycled for the Daniel Malone exhibition.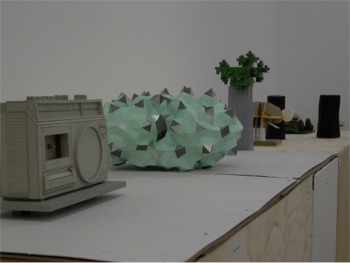 Detail of Wonderland at Artspace (left to right) Ricky Swallow, Jenny Murphy, Tommy Stockel, Rene Lück, Stephen Birch, George Chang
At first this shoe horning of so much work into Artspace (the model- clogged large room was complemented by spectacular films by Art Basel prize winner, Saskia Olde Wolbers, and Oliver Husain in the small rooms) appeared likely to flatten the particularity of each artist's engagement with the model. Yet, the combination of impeccably assembled films, with the improvisatory installation and a number of extremely rapidly constructed, maquette-like models (Peter Robinson) was engrossing. Similarly Berger's 'no big deal' approach to the inclusion of young local artists (Lindsay, Nicky Campbell and George Chang for example) alongside more established international artists gave the exhibition a fresh charge.
The shedding of various forms of curatorial armature was also evident in other recent exhibitions. At Room 103 Gallerie, the work of three German artists associated with Capri, a Berlin artist-initiated space that runs out of a former flower shop, floated in with a refusal of any flourish befitting the show's Flat Earth title.
As the accompanying statement put it: 'To some [flat earth] is simply a state of mind. At a stretch, the contemplation of flatness may allow us to imagine life on a saucer. We might simply cut a hole and crawl from Auckland to Berlin and back again.' The back-again will occur when a return exhibition featuring work by three New Zealand artists, Douglas Kelaher, Warren Olds and Sriwhana Spong, is staged at Capri.
Flat Earth's emergence as a low-key Goethe Institut sponsored exhibition 'facilitated' rather than curated by Jon Bywater and David Hatcher, is the result of complex gestation. Originally the show was conceived of as a contribution to Artspace's yearlong 'Foreign Agents' programme, that was later abandoried. The Cultural Provocation conference, set to open at University of Auckland's Manukau Marae on Friday 29 August is another piece of Foreign Agents fallout that has developed a life of its own.
Of the three Capri artists, Ina Bierstedt, Bettina Carl and Alena Meier, it was Bierstedt's work that appeared most interesting in this curatorially reduced setting. Bierstedt presented photographs of framed puzzles from each floor of a five-storey old people's home in Berlin. These sometimes signed and often piece-missing images of a generic chateau, Mediterranean fishing boats, a Swiss chalet and a white horse prepared for dressage were accompanied by a snake on the floor composed of 48 luridly packaged budget chocolate bars of a type commonly found in former East Germany.
Saskia Olde Wolbers, Placebo (2002) DVD video still
There is obviously a lot to gain from loosening heavy-duty forms of curatorial armament associated with the touchdown of national exhibitions in foreign countries. Not every show would want to approximate the structuring of a Toi Toi Toi or Cultural Safety (judging by the demise of Foreign Agents, that era in the history of national shows may be over). However, the contrast between Wonderland and Flat Earth suggests that new and interesting shows do not come about by loosening the curatorial reins alone.
Auckland University of Technology's current School of Art and Design Gallery XSpace Gallery, is also home to a curatorial rejigging. The Pilot Project run by artist and Visual Art lecturer, Christopher Braddock, has recently shifted its emphasis from 'curated thematic exhibitions to an emphasis on students developing their own studio practice in the context of group exhibitions'.
An early result of the altered Pilot approach, Carousel, a lively exhibition by seven final year students, opened at XSpace in June. The XSpace area, adjacent to a busy AUT staircase, was dominated by an improvised marquee, ('we call them worlds'), by self-described 'Bhutti fairies', Yani Ferens and Zoe Hainge. Like Jason Lindsay's work at Artspace, the space-hogging properties of the Bhuttis' large, scarf, bead and glitter-adorned construction were benevolent. Claiming that, 'Spontaneity for Bhutti just is!', Ferens and Hainge conducted an array of encounters from their makeshift marquee, all the while maintaining a retail-like cheerfulness of demeanour. Next year three new galleries will open at AUT, including a large space for contemporary experimental art and design practice with national and international focus. It will be interesting to see how the relationship between these spaces and the exciting Pilot Project develops.
Out west in Land Marks, an exhibition at the Corbans Estate Art Centre, Allan McDonald exhibits five large scale black and white ink jet photographs alongside seven newly printed silver gelatin photographs taken from the 1950s-70s by late West Auckland historian, Jack Diamond. In addition to his photographic work, Diamond published on local subjects including Waitakere's Kauri River dams, Maori history and legends, prehistoric archaeological sites, brickworks and ballads. McDonald became aware of Diamond's photographic archive while working on a video projection commission for the recently completed New Lynn Community Centre. In this variation on artist as curator, McDonald selected from seven thousand Diamond negatives held in the twenty thousand strong J.T. Diamond collection at Henderson Library. As edited by McDonald, this shared preoccupation with local history is explored in one lacquered ceiling room of the Corbans villa to intriguing effect.
McDonald's photographs are drawn from his ongoing observation of Auckland's expansion that takes in sprawling developments on the city's outskirts as well as in-filling along the city's rail corridor. The large prints pinned to the walls here, from the latter project, depict the current state of the built environment at various intervals along the track. The world around a gabled Victorian signal box at Newmarket is effaced by the wallpaper-like effect of an adjacent trackside Tuscan apartment development.
Jack Diamond, Boy in pit (1955) / Allan McDonald, Old Platform, Glen Eden (2003)
The small Diamond photographs interspersed between McDonald's crisp digital prints are more varied in subject matter; the New Lynn clock, only two railway stations, a house, a street, an industrial building, a boy in a pit, a new subdivision. The lone woman waiting in Sunnyvale (Westbrook) Train Station (1970) looks like a companion to the man in a bowler hat waiting in Rita Angus' Cass. The emptiness of the Diamond scene contrasts with the compression of the rail corridor pictured by McDonald. From this point in time, where tracksides are richly grafittied or walled up by apartments, the spaciousness of the 1970s begins to look much like the 1940s. Obsessively packed into a particular room, this show about particular places points to their small window of recognisability.
Weighing aspects of his practice against Diamond's, McDonald appears to be scrutinising the terms of his engagement with progress. As in Wilkinson's work, it becomes apparent that despite the obvious fascination with particular sites, these do not provide a reliable guide to the artists' interests.