Open Plan
Tobias Berger Brings Down the House at Artspace
MALCOLM BURGESS
Between shows is often an unexpectedly rewarding time to visit a gallery. As the scenery shifts, the bare bones of the building and the work itself are refreshingly exposed. Like mirages, unintentional mini-shows spring up like eddies, as if this is just the way dust behaves in such a place.
Although Money for Nothing - the first 'signature' show of Artspace's new director, Tobias Berger - has long since left the building, the Karangahape Road gallery manages to keep up the frenetic energy as it prepares its next.
As always, you can depend on the gallery for an experience, even when nothing's 'showing'; and that's not counting the permanent sound sculpture in the stairwell - always pause for thought, if not for breath. The doorbell chimes at regular intervals as assistants exit and enter and, in Berger's office, the only view of the square public gallery is through a CCTV screen; together, these elements make for a video and aural installation without even trying.
In the same year the Pentagon admits having shut down the psychic warfare unit it ran for 23 years until 1995, Berger has announced his own intention to break down institutional barriers. While it's a square he wants to reconfigure, and not a sinister polygon, Berger is likewise putting an end to the practice of 'remote viewing', with plans afoot to open up the space between the public and the office space. Temporal walls are also in line for toppling: a pop-in room will allow visiting artists to arrange small shows at the drop of a hat, instead of having to get in line for a long, drawn-out schedule stretching stubbornly into the future.
Money for Nothing, installation at Artspace, March 2003, showing (left to right) Rirkrit Tiravanija's NE TRAVAILLEZ JAMAIS (2002), Seth Siegelaub's Artist Contract (1974), Andy Warhol's Marilyn, Andy Warhol's Shopping Bag (1964)& Peter Blake's Babe Rainbow (1974). The television installation is Christian Jankowski's Point of Sale (2001)
Berger comes to these shores with a considerable international pedigree. At 34 he has curated the 8th Baltic Triennial of International Art in Lithuania, the biggest contemporary art exhibition in Eastern Europe, and held the position of curator at the world- renowned Museum Fridericianum in Kassel, Germany, home to Documenta, the even more famous international art extravanganza.
His connection to New Zealand includes Toi Toi Toi, which first ran in Kassel before voyaging to Auckland's New Gallery.
Berger is glad to have taken the job as director of Artspace - his first directorship. He describes the' gallery as a 'small, very important institution where you can be very flexible on the one side, but you also have to work in every matter. Artspace is great because it is really the most important institution in New Zealand for contempory art'.
Money for Nothing, which ran from March 6 to April 12, was Berger's chance to establish his personality and interests, in so far as showcasing the kind of artists he favours and the direction he wishes to steer Artspace during his tenure.
The show featured works from the '60s and '70s by Billy Apple, Robert Watts, Andy Warhol and English Pop artist Peter Blake intermingled with the more contemporary video works of Christian Jankowski and Santiago Sierra. In a film by Nomeda and Gediminas Urbonas the volunteer employees of the Lithuanian Saving Bank - the last state-owned bank in the country - sing and dance to the Abba classic 'Money, Money, Money' a day ahead of the bank's privatisation. The girls are dressed like Robert Palmer's Simply Irresistible chorus girls, and might have fit in snugly at the opening of Kiwibank.
Swan song: The staff of Lithuania's last state-owned bank sing and dance to Abba's 'Money, Money, Money' in Nomeda and Gediminas Urbonas' Karaoke 2000
You've also got to wonder if Rirkrit Tiravanicia ever saw the legendary Grafton Road graffiti, 'Unemployment Is Not Working' with his homage to Brassai, a photograph of the writing on the wall, 'NE TRAVAILLEZ JAMAIS' (never work). The New Zealand contingent includes Samoan Eimi Tamua's strip of Kentucky Fried Chicken stores, David Hatcher's evocation of our stockmarket turbulence, plus works by Lauren Winstone, Violet Faigan, Andrew McLeod and Kate Newby.
If art is an abstraction of meaning, and money is an abstraction of value, there is a danger that each can become so caught up in its own vocabulary that its ultimate status as 'placeholder' for both becomes muddied and eventually forgotten. Which is why an exhibition that explicitly tackles the subject of art and money's connection - and therefore that of meaning and value - is a welcome shock to the system. Berger says the exhibition may have been challenging, but it succeeded in engaging audiences, who tended to stay for a reasonable length of time and also return for repeat viewings.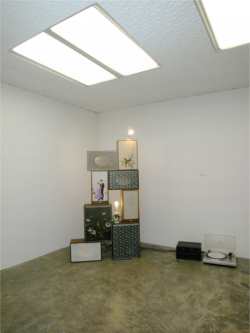 VIOLET FAIGAN Untitled 2002 Speakers, turntable & amp, dimensions variable
He is also pleased to have been able to introduce Artspace's public to artists like Robert Watts - whose work includes the correspondence surrounding his 1970s attempt to trademark the word 'Pop Art' - because 'they are so important for their time but never really shown in a gallery'.
Including video art by Santiago Sierra and Kristian Jankowski in a show that charts the influence public institutions and dealer galleries have upon each other also raised the issue of how audience tastes develop. 'You don't see a lot of dealers showing videos in New Zealand. . . it's a little bit underrated at the dealer level. Therefore it's good to show these controversial or funny pieces over here because they are quite different to the kind of art that is done here, especially at the universities at the moment.'
In one of Sierra's works a line is tattooed on the backs of six Cuban men standing in a row, each paid $US30 for the honour - a meditation on transactions like prostitution as paradigms for work and globalisation. 'When he did it in Havana, the tattoo had a totally different connotation than in Europe. In Havana there's certainly much more of a macho, sailor kind of thing going on. But in Europe where this piece was mostly shown tattoo is more about beauty and individualism.' In New Zealand it has again a totally different connotation - that of belonging to a certain society or a tribe, he says. 'It was interesting to see the audience's different perceptions of that piece, and how people really looked at it.'
Money for Nothing also demonstrated Berger's desire for Artspace to become more political. This applies as much to the space itself - 'more researching about what we are and what our role is here' as to daily political events. 'There's a lot of art out there about identity - about being Chinese or Maori etc. - but not a lot which I would call political art, with certain agendas and certain standpoints. It would be nice to work with this kind of art, but it's difficult to work with something if it's not there.'
The show also took advantage of Berger's background in art history and economics. Although he acknowledges that the show spans four decades of radical change in the link between art and the economy, he prefers to describe his interest in the era as more about 'reception history' than 'art history'. 'Certainly, people like Kate Newby would not be there without people like Billy or Andy - which is really a compliment to Billy in that he's still there, still fresh and looks perfect in a show like this.'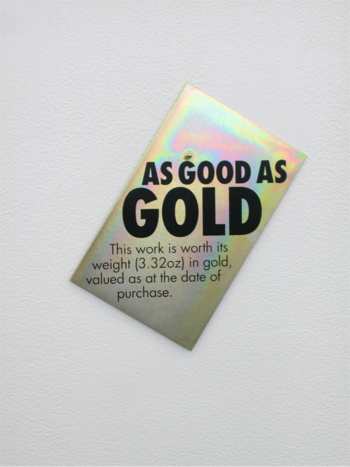 BILLY APPLE As good as Gold - detail 1992 Datasign & metal
Despite surface similarities, Berger says attitudes to art and value have certainly changed over the years. 'I think it's more open today. Everybody knows that art is business. You don't really have to put a dollar bill on a canvas anymore to say that this thing is worth a lot of money.' Instead, he says artistic investigation into the connection only gets deeper. 'It's like every science. Research goes on and from one big idea a lot of small ones develop and make it interesting and go more into the details and depths.'
As an example, Berger compares Andy Warhol's Coca-Cola motifs with Eimi Tamua's take on KFC as a Samoan artist living in Auckland who is aware of the brand's fascination for Pacific Islanders. 'It is more specific and detailed but also says a lot about globalisation and changes of taste.'
Interestingly, Berger's frank reductionism brings a certain vitality to the discussion of contemporary art; vast, sweeping considerations surrounding art give way to experiments involving discrete particles of meaning. Money for Nothing was a timely discussion of the interworkings of art, money and value as well as the relationship between public institutions and dealer galleries.
As part of the growing 'K'Road art quarter' - which features a number of dealer galleries - Artspace has waved the white flag over the conceptual rift between selling and showing art. While Artspace can by its very nature experiment beyond the parameters of commerce, by putting on shows like Money for Nothing, it is constructively engaging the wider art world by acknowledging its role in the creative value chain.